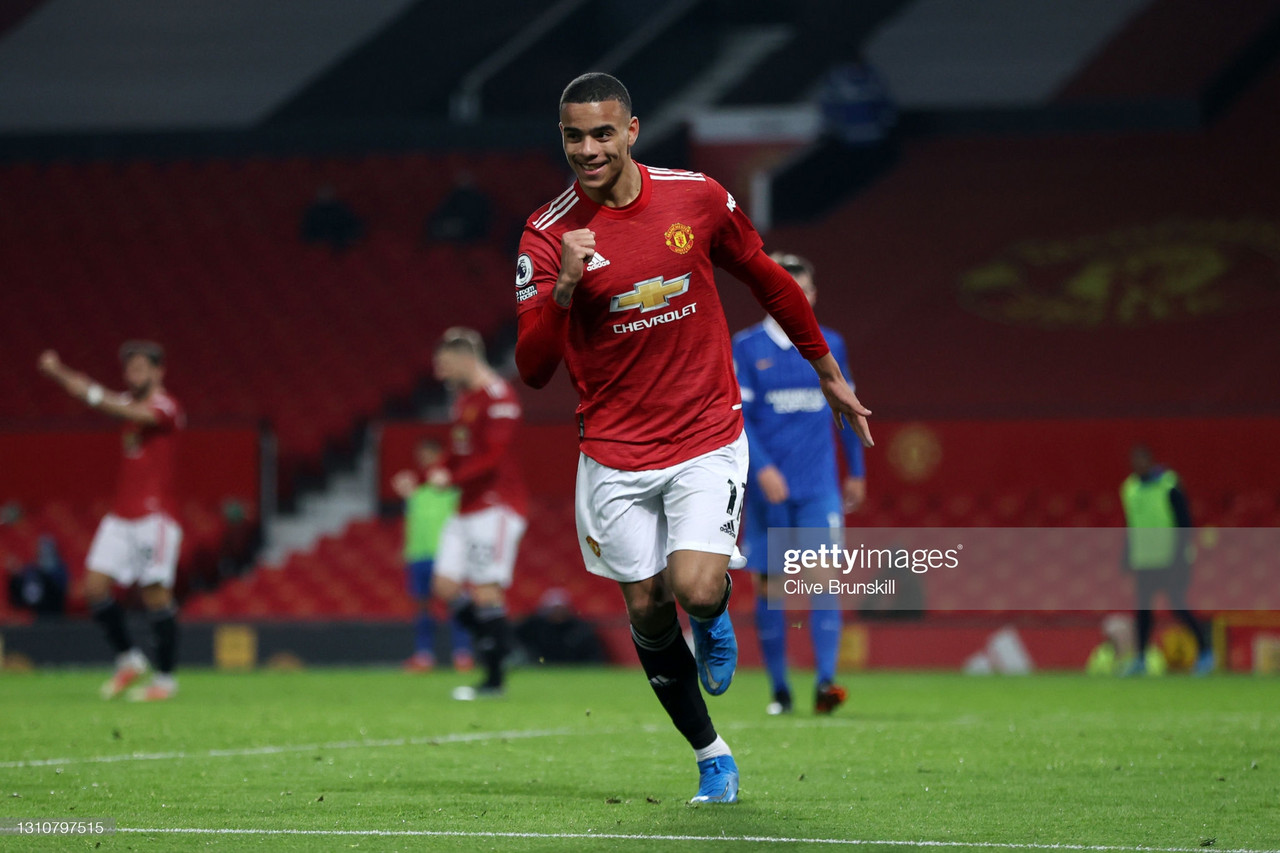 Manchester United beat Brighton & Hove Albion 2-1 in the Premier League to put them four points clear of third placed Leicester City who sit one place behind them in the league.
Danny Welbeck opened the scoring for Brighton after heading in a rebound following a Dean Henderson save.
Marcus Rashford levelled up the game in the second half with a neat finish for Ole Gunnar Solskjaer's side. Mason Greenwood completed the comeback for The Red Devils after heading in Paul Pogba's scuffed effort.
This result leaves United in second place, however for Brighton their relegation battle continues. A loss for them means that they stay in 16th, six points away from the relegation zone. That's also now four losses in their last six, they have won the other two games, as for United that's four wins in their last six with two draws.
Next up The Reds travel away to Tottenham Hotspur and for Brighton they welcome Everton to the AMEX.
Former United player, Welbeck, opened the scoring for Brighton, he got on the end of a Neal Maupay cross, although, his initial effort was saved by Henderson.
However, Welbeck was on hand to put in the rebound on the 13th minute.
It could be said that this was against the run of play with United being the more dominant side in the opening few minutes. The Reds had a couple of chances before hitting the woodwork in the ninth minute when Greenwood's half-volley effort smacked off the right post.
The goal seemed to have rocked United with them unable to reply in the first half. Brighton looked to be the more comfortable side heading towards the end of the first half.
Both sides were exchanging blows but The Seagulls kept United out and went into the break leading 1-0.
Graham Potter's side managed to hold onto their lead until the 62nd minute when Bruno Fernandes set up Rashford, who finished calmly to bring United level. Brighton may have felt slightly disheartened after this equaliser, especially after Robert Sanchez and Lewis Dunk combined to keep Pogba and United out a minute before the goal.
Eight minutes later the ball fell to Fred who saw his shot deflected awkwardly, nearly catching the Brighton keeper out. Luckily for the stopper and the away side, the ball looped over Sanchez and over their net.
Just a minute later, Brighton caught United on the break and found themselves in the United penalty area. Harry Maguire's tackle on Welbeck called for a penalty, however, after a VAR check, it was deemed that the challenge was fair.
Many fans and pundits do feel like once again, the decision was wrong.
United continued to press for a second, in the 77th minute, Edinson Cavani saw his shot saved with Greenwood again getting involved, like Fred, he saw his shot loop over the bar and this time onto the roof of the net.
Greenwood kept pestering the Brighton defence and he finally got his reward in the 83rd minute. Luke Shaw, Fernandes and Pogba were all involved in the build up of the goal.
However, a scuffed volley from the French midfielder led to the ball being headed in by the 19-year-old, even with the goalkeeper and Dunk on the goal-line.
Greenwood's late goal was enough to kill the game off with United winning 2-1. They remain second, 14 points behind leaders and rivals Manchester City.
Hope:
Yet another game this season where United went behind and had to create a comeback to win the game. Solskjær does come from the 'Fergie time' era, where United became a team well known for their late goals and famous comebacks. Has he made his squad into a team full of players who are willing to give it their all to turn games around? Maybe.
The question on United fans minds will remain, why are we going behind so much this season? When you look over at United's 'noisy neighbours' Manchester City, they're leading the league, they've won many titles recently and its rare for them to go behind. What have they got that United are missing?
Its hard to say. But, what can be said is that, it is an improvement on last season. And with more positive recruitment and by bringing in the right players, can United keep on improving and can they finally breach that gap between them and City?
Positivity, belief and optimism
We'll have to see. United fans should be positive today. Yes, United should probably be beating these sides, three, four maybe five nil. However, over recent years, the chances are that United probably wouldn't have turned this game around and wouldn't have created yet another comeback.
The consistency at United isn't perfect but it's getting there. It'll certainly be interesting to see if United can get a trophy as well as seeing where they are at this point next season.