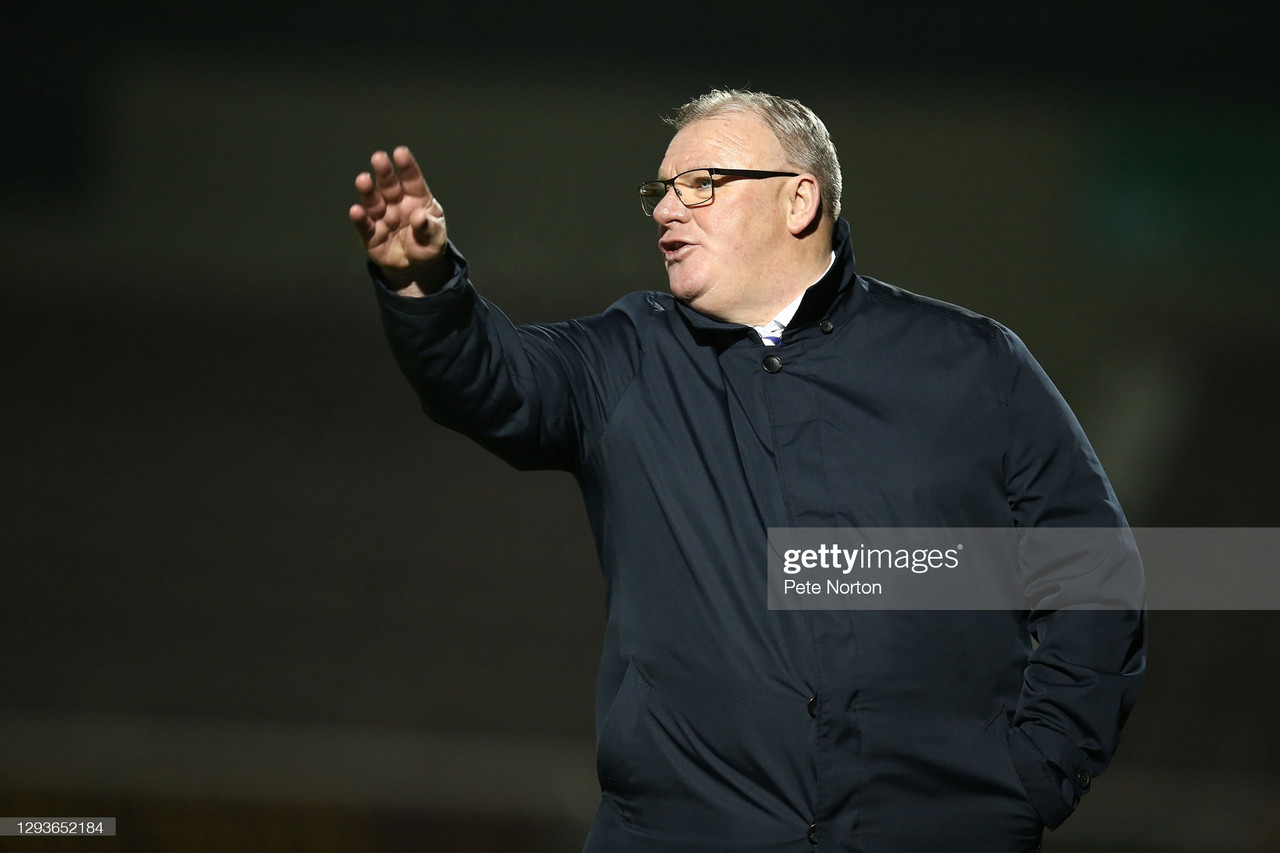 Gillingham will take on Blackpool in League One action on Easter Monday in a crunch game in the race for a play-off spot.
Blackpool currently occupy the final position in the top six and, despite having games in hand, are one point above the Gills. A win could see Gillingham move into the top six with just seven games of the season remaining.
Ahead of the match, Gillingham manager Steve Evans spoke to the press. Here are five of his key quotes.
On being viewed as play-off contenders
'We are comfortable with it. Lots of managers have had lots to say, that they do not like the way we play – two in particular – but surprise surprise we beat them. The ones we do respect will say it properly.
"Wednesday was a big win – the only team in the country and the boys knew we had to win. It was not our best performance, but it was certainly up there in terms of effort and commitment.
"There are lots of twists and turns to come – there are some teams set but there are more team fighting for it and the players are enjoying every moment."
Evans has always had confidence in his side, but now they are being taken a little bit more seriously by their opponents. The Gills were in the top six for a brief period last week, beating Wigan Athletic on Wednesday before the rest of the league played on Friday, and they are now a genuine threat.
Evans has maintained that he does not care what other teams think and he will focus on himself and his own team. That could be a great mentality to have for the run-in.
On his team's style of play
"I woke up on Thursday and people were talking about long ball in the Wigan camp. They had more long balls than we did and that is a statistical fact. I looked at when we went to Lincoln – does he not watch Jordan graham, Dempsey, MacDonald?
"I just think people have to talk and make reasons when they have big money to spend, and they do not spend it very well. But we have to concentrate on ourselves and in recent times we have gone with more players in midfield and more width. We will not be afraid to do something new at Blackpool if it helps us get a win."
With Gillingham's recent success has come a lot of criticism. Opposition fans and staff have berated their tactics of apparent long balls, but the comments are well off the mark, according to both the stats and Evans.
Wigan played more long balls than Gillingham last week, and the Gills rank 13th for the most long balls in the division – bang in mid table. The criticism is strange, but doesn't seem to bother Evans.
On team spirit
"In any successful team, team spirit goes a long way. I have been lucky that every team I have managed has had team spirit nothing short of outstanding.
"I still speak to former players regularly now – one of my players at Mansfield has just sadly passed away and I shed a tear because he was a proper guy. I loved him. But we build team spirit – without it you do not win games. It is not the coach or manager but team spirit and trusting players. I would trust my players anywhere."
Team spirit is naturally massive to any successful club, and it is clear Evans has it in abundance at Gillingham. It is a key ingredient and fans can see how high team spirit is at Gillingham. Players have spoken of it, and it is clearly benefitting the team.
On Neil Critchley and Blackpool
"They have a very talented group. A few injuries, but they have a big squad that he can play any 11 from. When I spoke to him earlier in the season, I said it is difficult to get the backing he is getting, but he wanted to get back to boardroom level. You still have to deliver results and performances and he has done that.
"Blackpool are in terrific form; I was not surprised when they beat Peterborough as comfortably as they did, and it gives you an indication of how tough our task is. It is a big task, but we will work as hard as we possibly can, and I can ask no more.
"The first challenge is they have very good players. I gave Jerry Yates his Football League debut, and he is having a wonderful career. He is destined to go and play higher, but they are not a one-man team; they have pace and power all over the team, can play a number of systems at different times and they are very good at working the ball through the lines. They take their chances when they come. It will be a tough afternoon, but one we are looking forward to."
Blackpool, like Gillingham, are one of the form sides in the division, and this may be the toughest game for the Gills in a while. But Evans is full of respect for the team, manager Neil Critchley, and what Blackpool are doing.
He is well aware of the task at hand.
On what a win would mean
"A win would be the best result of the season. We have been to Lincoln in recent times and Ipswich, but we fancied ourselves. The respect I have for the coach and chief executive at Blackpool is huge.
"It would mean we go back in the play-offs. There are a lot of games to play, and teams cannot all win, but before Hull we wanted four and if you said no would I take four from Blackpool and Shrewsbury I would say yes because we would be right in the mix. And if we are in the mix, my players will handle it, and I am not sure the people that keep wanting to talk will."
A win could take Gillingham into the play-off spots and would give their play-off hopes a huge boost. With every passing game and win, Evans' side get one game closer, and fans are starting to dream. Monday could be huge.