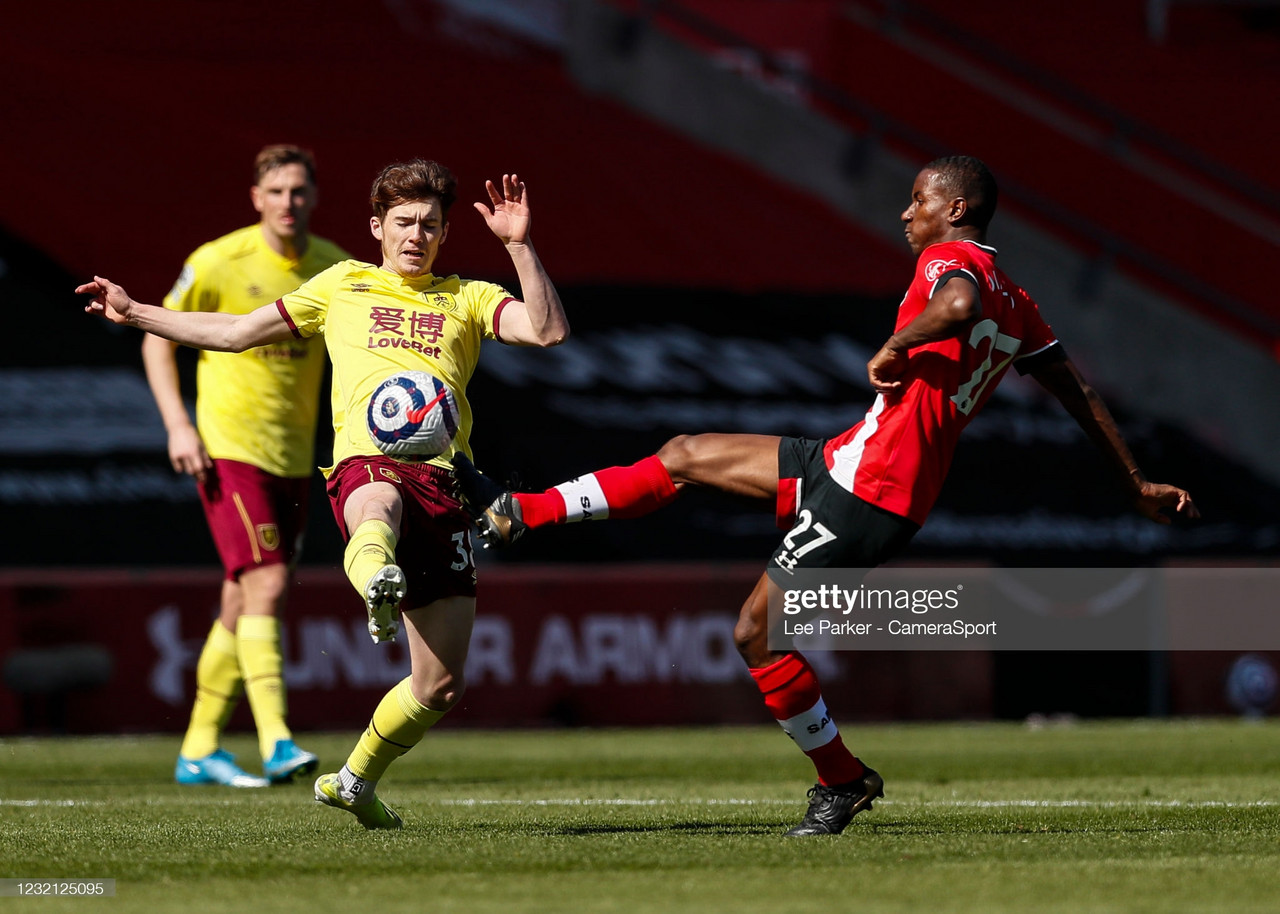 Saintly
It's worth remembering that Southampton's first eleven is excellent; they were sitting at the top of the table in December! Burnley just happened to be facing a strong Saints team, featuring the return of Danny Ings. Their main eleven is top-half standard; a lack of squad depth is what lets them down.
The hosts grew into the game and finished the half really strongly. They are the masters of the high press and tempo style of play, and they really demonstrated that after a sluggish start. Ings gives them a vibrant punch in attack, legitimising the high-press tactics.
Let's also remember that if you created a combined eleven of players on the field, very few in claret and blue would be making the final cut. So, with two teams looks to take the game by the scruff of the neck, it should have been Southampton who eventually got the upper hand.
Ralph Hasenhuttlwill be want to push forward from this position with some summer investment. Unfortunately, he hasn't been heavily backed by the ownership, thus far, and the current state of the world will leave all football clubs short of their expected revenue.
Not all bad for Burnley
Burnley were fantastic in spells of Sunday's match. They wanted to play on the front foot, pressing intensely and passing the ball with purpose. It was a style that has been steadily building over the past couple of months.
The Clarets looked comfortable in keeping the ball on the floor, but their second goal was a great use of route-one football. Chris Wood reacted well to a long-ball from the defence, flicking the ball to Matej Vydra - and it was a clinical finish from the Czech international.
At 2-0, the Clarets were in cruise control but a well taken finish from Stuart Armstrong was a blow. That two goal lead was halved within minutes.
Ben Mee had a nightmare for Ings equaliser, trying to overcomplicate his response to a routine ball over the top. James Tarkowski desperately tried to cover his partner but Ings sold him for a hotdog before slotting the ball past Nick Pope.
Southampton dominated after the interval, before Burnley fought back strongly towards the end - missing out on a spot-kick.
Fans were quick to bemoan the fact that Burnley let a two-goal lead slip but some negativity was rather over the top.
Firstly, Burnley very rarely give away such an advantage under Sean Dyche. The defence has been lauded for its ability to hold onto leads and frustrate opponents. It is allowed an off-day in that regard.
Secondly, Burnley are not notoriously involved in five-goal thrillers! That's twice in 2021 now, following the win against Aston Villa in late January.
Imagine losing 1-0 with 30% possession and no shots on target. These kind of performances, where Burnley don't look like scoring, will be familiar to supporters. It can be a draining feeling. This wasn't draining by any stretch of the imagination - quite the opposite in fact.
A case for the Burnley defence
Burnley's defending came in for a lot of criticism on social media. Tarkowski and Mee have been imperious in a deep-block. They put their bodies on the line and clear every ball.
However, it's a different narrative when Burnley try to play higher up the pitch; it's much harder to defend higher up the pitch than it is in your own eighteen yard box. That's partly why England manager Gareth Southgate has a preference for players at top-six clubs, where the style is usually to play on the front foot.
Mee, in particular, lacks pace and technical precision when on the ball. He is excellent in a deep-block because he can see everything in front of him while nailing the defending basics. But he doesn't have the skillset to play as comfortably in a high-line.
Long story short, the defence might not look as good when Dyche wants his players to break out of his rigid unit. The more risk you apply to your tactics, the bigger the reward and the harder the fall. Proactivity could create Burnley two or three more chances in a match, but it could also give more openings to the opponent.
There is something refreshing about what Dyche has been building. Performances against Brighton & Hove Albion, Everton and Leicester City illustrated this mentality shift to great effect.
Fans often bemoaned the lack of an attacking plan when the opponent is sitting deep and it seems that Dyche has been working on one. With quick ground passes and inviting long balls, Burnley can create opportunities and they can move opponents around.
The 4-0 thumping at the hands of Tottenham Hotspur showed the other side of the coin; going toe-to-toe with superstars is rarely going to end well. Dyche's deep-block organisation still has its time and place and Burnley should never be afraid of going back to basics.
Burnley have been here before, stuck between what has worked well in the past and what they should be aiming to achieve.