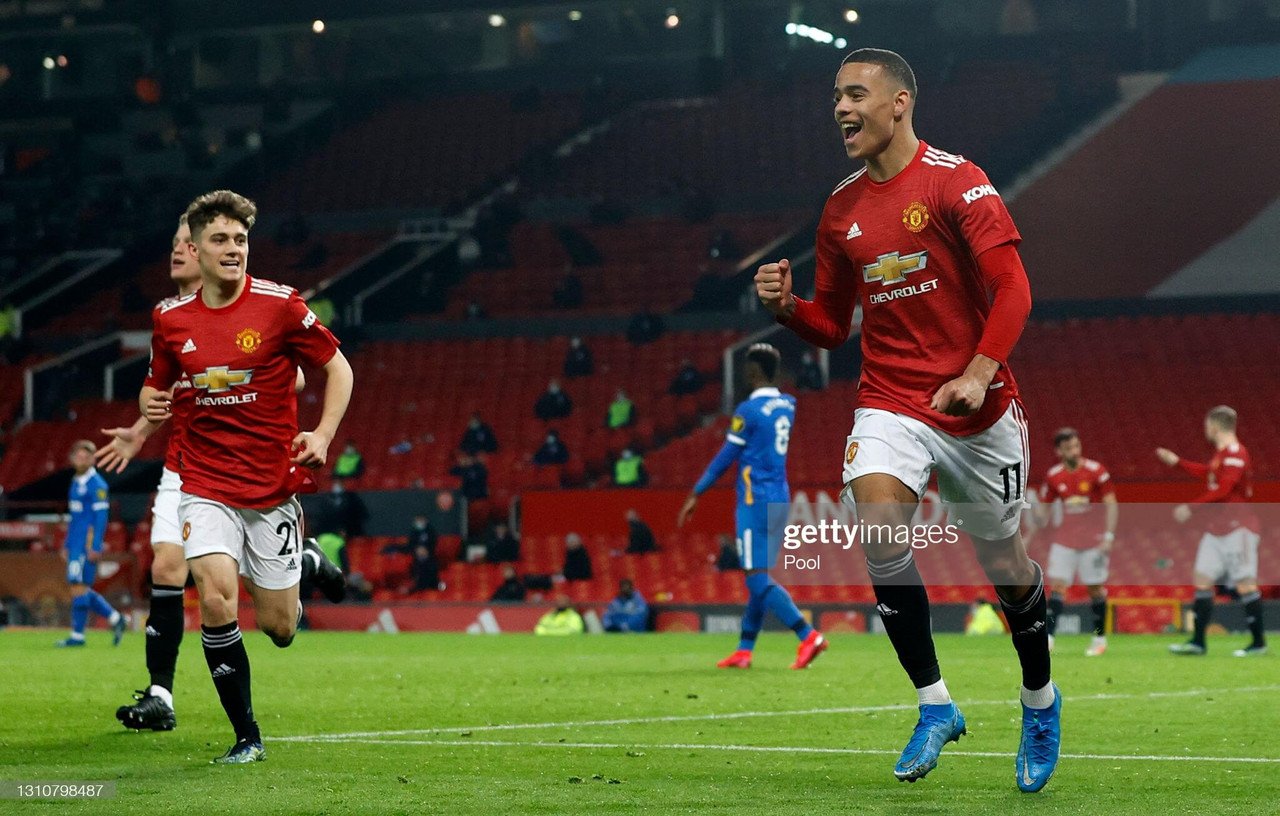 In what was a difficult return to Premier League action for Manchester United, the Reds managed to come out victorious against Graham Potter's Brighton.
After going behind in the first half, United lifted their performance in the second interval in order to score twice and get the all-important three points.
There were clear tactical aspects in this game which will be discussed in this article, including the approach which saw United score their second goal.
Brighton strong in defence
Although Ole Gunnar Solskjaer's side had initial dominance in the game, after Danny Welbeck's opener in the 13th minute, The Seagull's showed a strong defensive performance - both in their block and when transitioning.
Potter's team had bags of energy and looked to overload United when they entered wide areas of the pitch, as well as remaining centrally compact for the most part.
While their defensive block was not perfect (and we will delve into how United exploited them), in defensive transitions Brighton were very quick and organised in getting back into shape to ensure United couldn't take advantage of them.
In this example, we see that the Brighton players do not only get back quickly in the transition - but they are also organised and have players covering both wide channels and central areas and this leads to a turnover as Mason Greenwood attempts a difficult switch of play.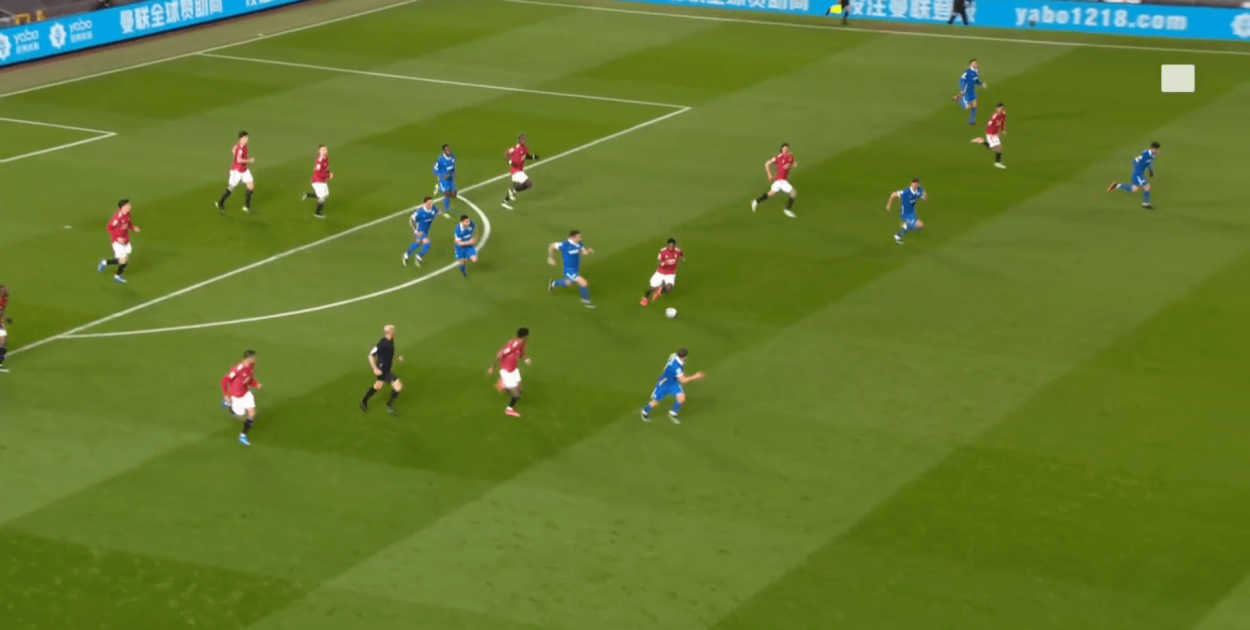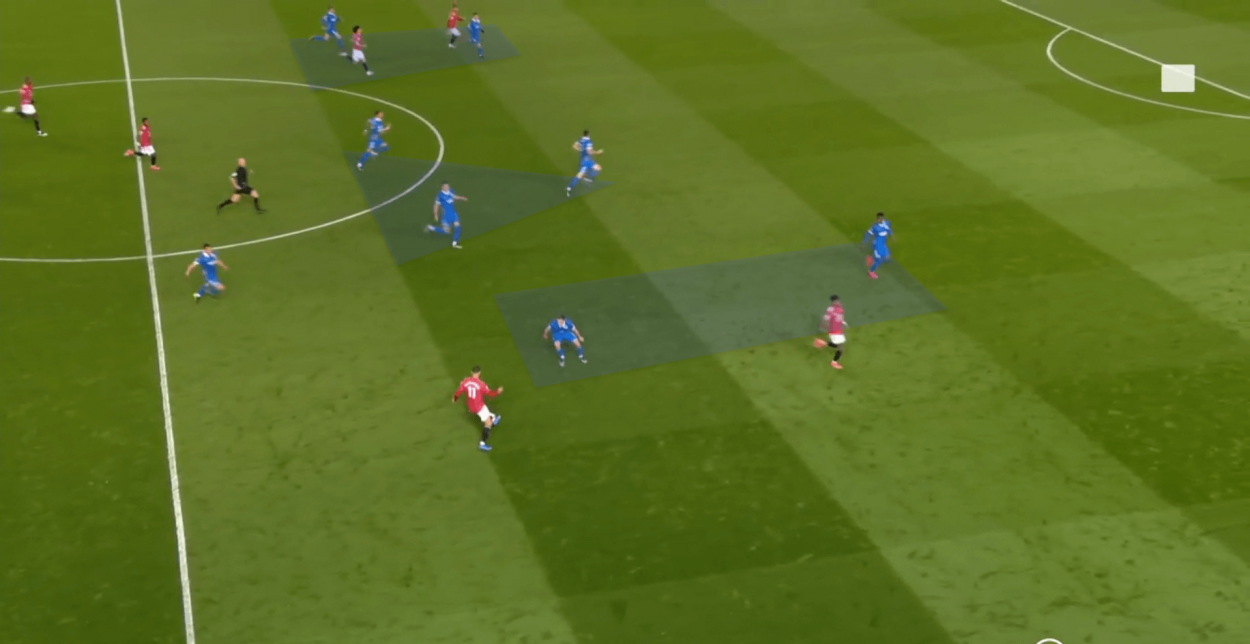 However, Brighton left spaces in behind their defensive block and this was eventually taken advantage of by United, but not straight away.
United in wide areas
Throughout the game, United rarely attacked through central areas - in fact, according to WhoScored, just 26% of their attacks came centrally. This was ultimately due to multiple factors but Edinson Cavani was one of those.
The Uruguayan managed to complete just 12 passes in the 82 minutes he played and just four of those were forward passes. He lacked movement and the necessary hold-up play to allow United to progress the ball centrally.
However, United did have some enjoyment in wider areas, even if Brighton defended well for the most part. Solskjaer's side often were able to bypass the wide press from Brighton players with quick one-twos but then were unable to conjure up anything in the final third due to multiple factors such as poor movement and a lack of execution.
Here, we see Aaron Wan-Bissaka and Bruno Fernandes playing a quick one-two and it leads to a good crossing situation for the right-back but he wasn't able to beat the first man with his cross.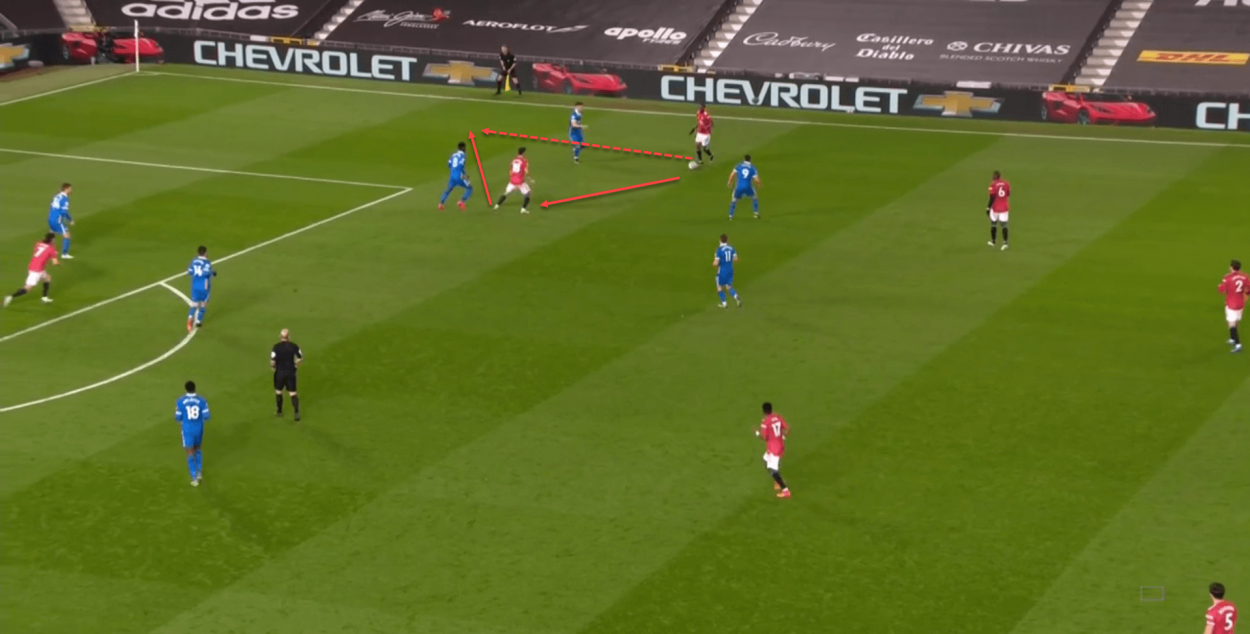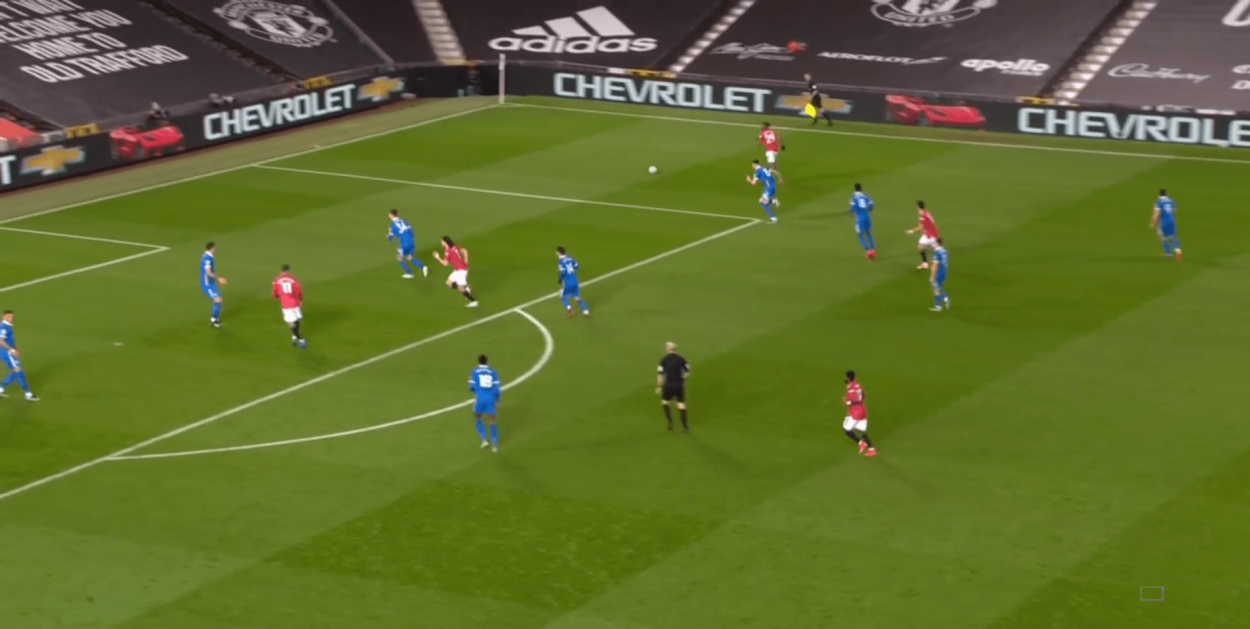 Runs beyond Brighton's backline
While there was a lack of movement from the forwards in the first half, it was clear that in the second half, there was an approach in order to exploit Brighton's backline.
There was often space to exploit behind it and Fernandes ran into this kind of space four or five times throughout the second period, Greenwood also looked to exploit this space on occasion. It was in the 83rd minute where Fernandes was found in behind by Luke Shaw which led to the winning goal - Donny van de Beek's movement helped this move come to fruition.
The Dutchman only came on a minute earlier, but his movement into a wider area dragged Ben White with him and created ample space for Fernandes to move into. Fernandes then found Paul Pogba at the far post, his mis-hit shot found Greenwood inside the area, whose anticipation was excellent to be in the right place and score.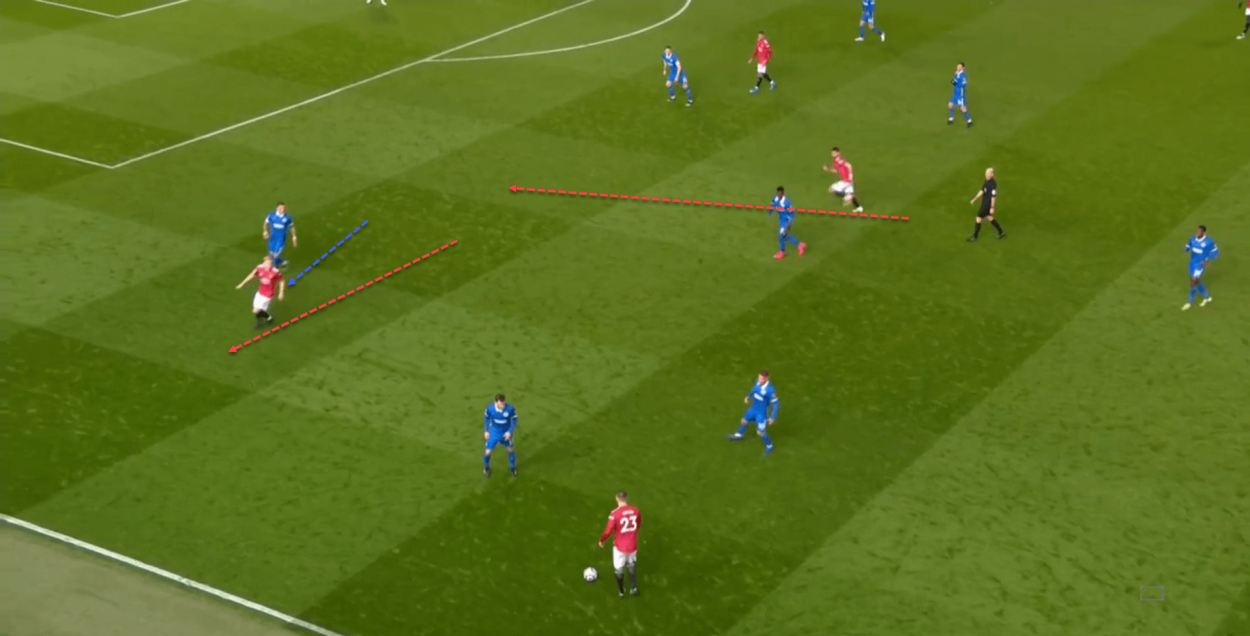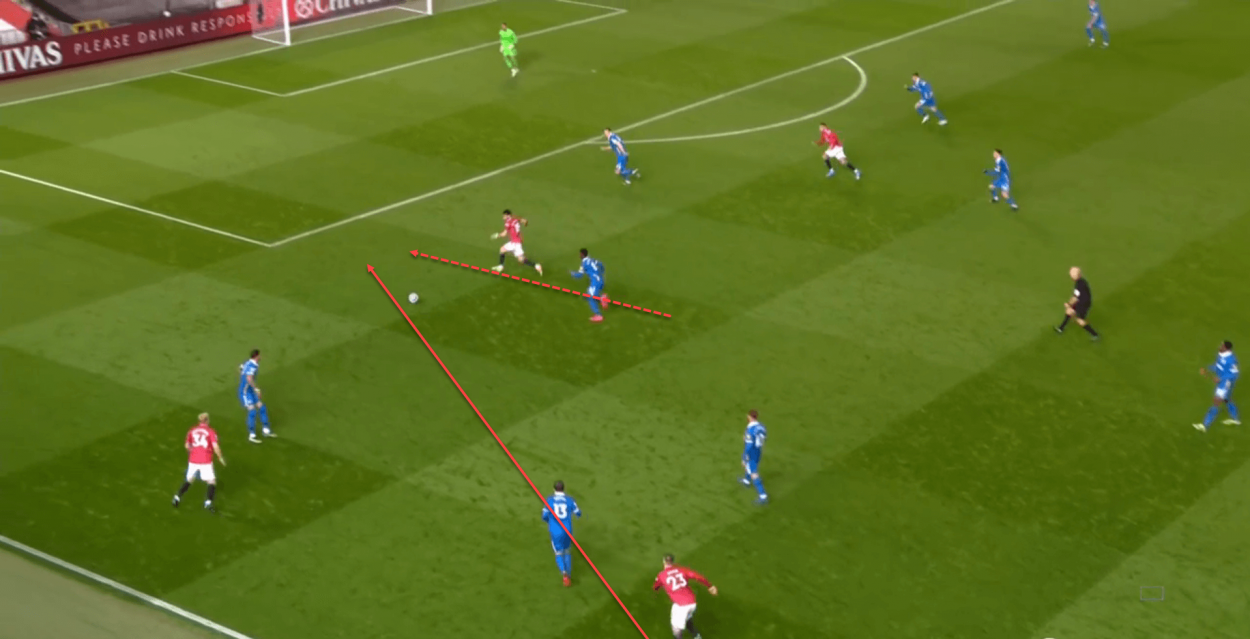 It was a great goal that put United into the lead, and it was clear to see that it was going to come from this type of run from United's number 18.
Conclusion
While it was not a great performance from The Reds, it was an important three points and improved second-half performance. It was also great to see Greenwood scoring, especially with his head after some good movement.
With Anthony Martial injured for what seems to be the remainder of the season, the 19-year-old could begin to stake his claim through the middle.
It was certainly not a top performance from Fernandes, however, he managed to be instrumental to both goals for Solskjaer's men, highlighting the importance of him to this side.