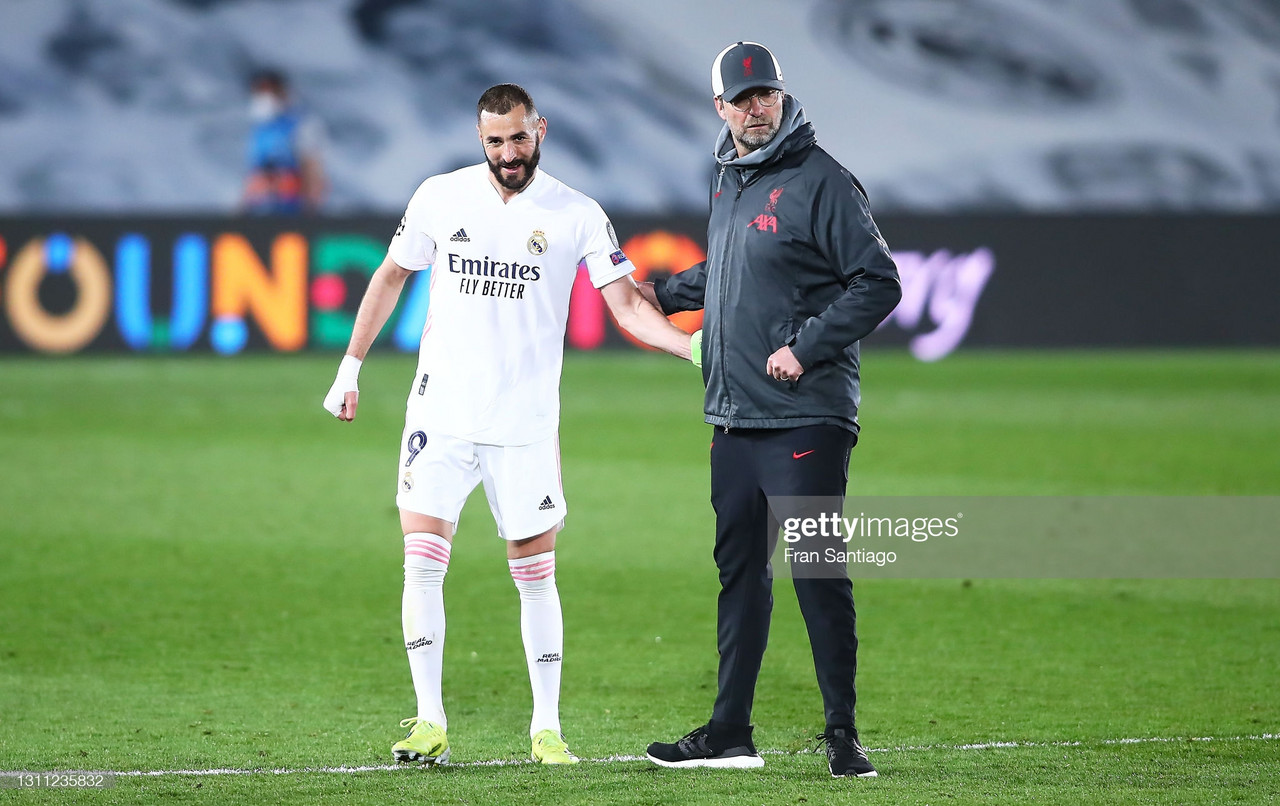 Mohammed Salah's goal wasn't enough to prevent Liverpool needing a two-goal winning margin or greater to progress to the Champions League semi finals after Vinicius Jr and Marco Asensio gave Real Madrid a 3-1 win in the quarter final first leg. Jürgen Klopp spoke to the media after the game.
"First and foremost, and that's most important, I think we didn't deserve to win," Klopp said. "We didn't play good enough for that and that's maybe my first concern [and] what I think about.
If you want to go to the semi-final, you have to earn the right to do so. We didn't do that, especially in the first half. We just didn't play good enough football to cause Real Madrid more problems. We made it too easy for them.
"The only good thing I can say, apart from the goal, is it's only the first half of the tie. We didn't deserve a lot more but that one goal and the second half was OK. It gives us a lifeline."
Sadio Mané appeared to be fouled in the build up to Asensio's goal, but the officials - nor VAR - deemed it so and the Spaniard's strike gave Real a two-goal lead at half time after a mistake by Trent Alexander-Arnold. Klopp believes the goal should not have stood.
"The situation with Sadio, I have to say, what the ref did tonight I don't understand. For me that was something personal because he did deal with the situation from Sadio, which is a clear foul, like it was a dive or whatever and from that moment on whenever Sadio went down he didn't get anything anymore, and that's just not right.
"That's what I told him [the referee] after the game. I just thought he was unfair with Sadio and that's how it is. But that doesn't change anything at all. He didn't lose the game, we were not good enough to get a better result."
The costly mistake came after Alexander-Arnold was left out of the latest England squad ahead of this summer's European Championships, but Klopp didn't lay all blame on just one player.
"He [Alexander-Arnold] will learn from the situation. These kind of mistakes don't happen just all of a sudden, they have all a little history before and a little story after that, and stuff like this.
"So, I didn't like our game in the first half. We were just not really in the game, that's our mistake and that's where we have to be really clear in our self-criticism, to be honest. Then something like this can happen: we judge the situation wrong, we want to pass the ball back to the goalie.
"In that moment it was Trent with the header, but in other moments we just gave them the opportunity to use the speed they have for going in behind too easily by losing the balls in the completely wrong moment."
The first-half substitution
Klopp subbed Naby Keita three minutes before half time, bringing Thiago Alcantara on his place, and fans were worried that the change was forced by injury. Klopp, though, put those concerns to bed and also addressed the opinion that he blamed Keita for the first half showing.
"It was tactical. That's things I don't like in the job, stuff like this. You do that and then it's like the one player is responsible for the performance of the first half.
"Naby was not responsible for that. He didn't play for a while, especially not from the start, and these kind of things. We were not good in the game, Naby was not good in the game but we all saw the game so, to be honest, I could have made a few more changes in that moment.
"So it was not about Naby, but I did it and I am now not happy about it because we talk about it like it was Naby's responsibility - it was not. It was tactical, that's it."
"When you analyse Real Madrid, all the natural individual quality they have, a lot of things are really switching the sides, accelerating and passing the ball in behind," said Klopp in a post-match interview.
"They have three of the best midfielders in the world, [who have] obviously played together since it feels like 20 years. If they win the ball then Modric, and especially Kroos and Casemiro, play the balls quickly and then you are under pressure and you don't know where the striker is because they run around.
"It's obviously very difficult against a really passionate and deep-defending Real Madrid side with the counter-attacking threat they are."
No fans at Anfield for the second leg
When Klopp's side pulled off one of the greatest European comebacks against Barcelona two years ago, Anfield was bouncing with a ferocious atmosphere. This season, however, the Reds' home form has been below par and some have questioned whether or not having no fans is playing a big role in that. Will it have the same effect in the second leg?
"Of course, it is completely different. Completely different. If you want to have some emotional memories, then you watch the Barcelona game back and 80 per cent of this game was the atmosphere in the stadium. So, yes, we have to do it without that.
"But it is not that I sit here and think, 'Comebacks are our thing, we do it all the time.' We did from time to time but we always had supporters in the stadium. We don't have that this time so I don't know if we can do it, but I can promise you we will give it a proper try. The boys really wanted it [against Madrid] in the first half we couldn't for whatever reason and we didn't, so that's what we have to find out, to change and then to go again. That's all.
"It must be a really tricky task for Real Madrid at Anfield with or without supporters. This here tonight was really strange, it was really difficult, a different situation with the stadium, but Anfield is at least a proper stadium and that will be good for us."