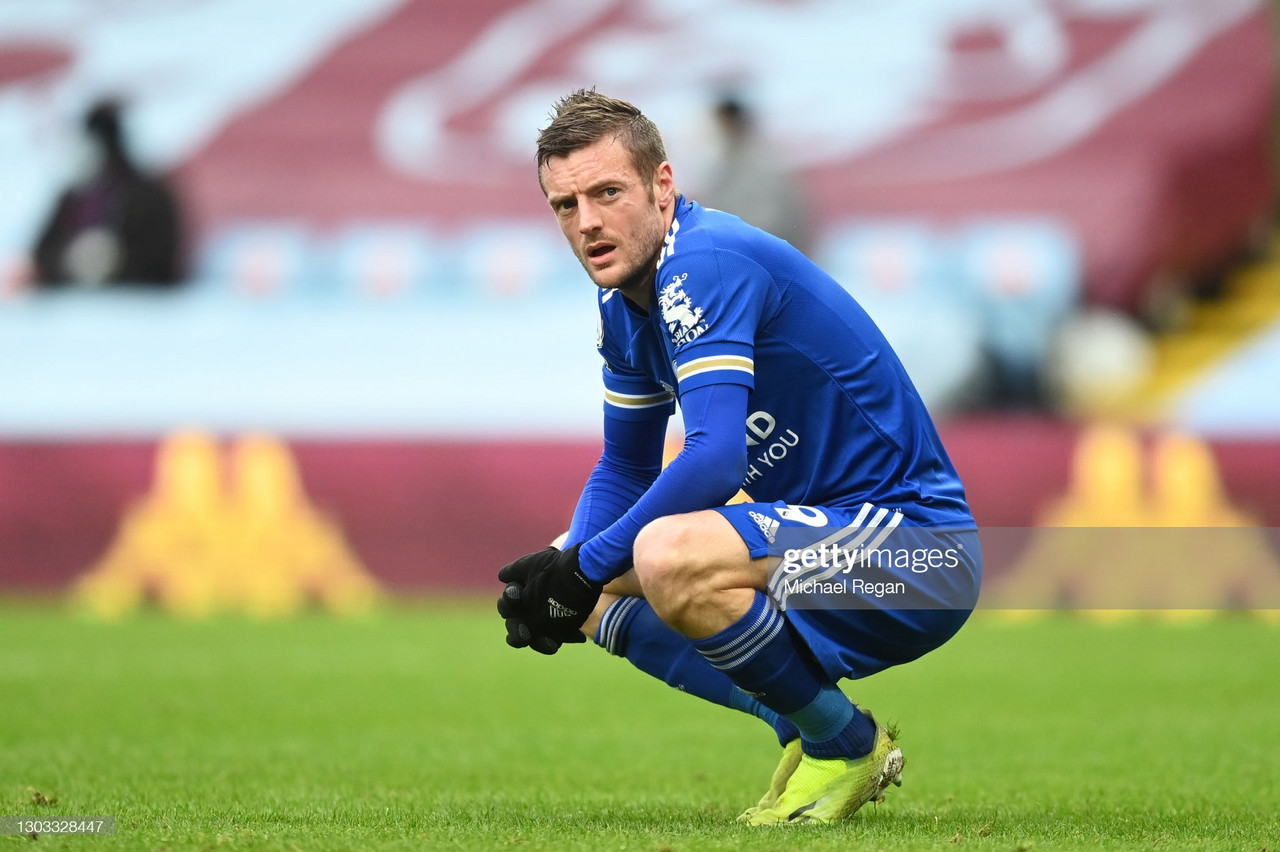 It was the 13th of February of 2021 and Leicester City came up against current Premier League champions Liverpool at the King Power Stadium. Brendan Rodgers' blue army was ready to prove to the entire footballing world that the Foxes could take on the Reds, and they did so in unconventional fashion.
The East Midlands club would end up being victors in this duel, as they took the lead as a result of Leicester talisman Jamie Vardy. Liverpool goalkeeper Allison Becker and newly-arrived Turkish centre-back Ozan Kabak produced an inexcusable misunderstanding in which the duo equally misjudged a ball coming into the defensive end.
The error left the ball in the feet of the current Premier League Golden Boot winner, who comfortably walked the ball into the net and celebrated with an infamous corner flag guitar strum.
Since that scandalous match at the King Power, the Sheffield-native striker has developed an ineptitude of not being on the score sheet, as he has gone more than 800 minutes of game time without putting a ball into the net. This is uncharacteristic of the Foxes talisman, as he has been the undisputed provider of goals for Leicester City for several years.
Vardy has unfortunately been the victim of the concurrent injury predicaments at Leicester, as he suffered a calf strain which saw him miss out on two games. Not only that, the striker suffered an unfortunate groin injury around Boxing Day, which would result in a concurring pain that would have to be resolved in a surgery room.
The 34-year-old's unproductivity in front of the net is a result of such injury setbacks, as he netted ten goals before his groin surgery. He also seems to lack his characteristic blistering pace, as many Foxes fans have noted that he is much more naïve in his pursuit of the ball.
Regardless of whether or not Vardy is in his best form currently, the ex-England international is bound to score sooner or later, as in-form Nigerian striker Kelechi Iheanacho cannot take the entire goalscoring workload until the end of May.
To discern when Vardy will break his goalscoring deadlock, it is essential to remark what areas of play the talisman needs to improve on in the next couple of matches in the Premier League.
Staying Patient
The first area of play that Vardy can enhance to achieve his long-awaited goal since February is his ability to stay composed and focused amid frustration.
During his goal drought, Vardy has proven to be much more irritable than usual, and his perennial loss of possession during matches highlights such claims. Since the game against Liverpool, Leicester's talisman has lost possession of the ball on 64 occasions. This is disappointing for the 34-year-old, as it means that he is currently losing the ball 7.1 times per 90 minutes when in possession.
This average would be decent for Vardy if he was in his habitual form, but due to his lack of goalscoring prowess at the moment, his chances of scoring reduce even more drastically.
Not only is Vardy losing the ball at a constant rate, but he is additionally shooting the ball at an inadequate rate. In his last nine matches in all competitions, Vardy has produced less than three shots in six of those matches. Furthermore, the 34-year-old has not even recorded a shot in three of those nine fixtures.
This is particularly disheartening and disappointing, as he is renowned for his ability to produce shots at a consistent rate.
Although Leicester's frontman is scarcely finding any plausible goalscoring opportunities, he must stop his advances of frustration. When frustrated, he begins to shoot erratically and becomes selfish in his offensive attempts, which downgrades the Foxes collective effort as a whole. Vardy must begin to place his shots and avoid displaying impulsiveness when receiving the ball, as it is making him less of a nuisance and menace for defenders in the final third.
Trusting Iheanacho
Another thing that Vardy can intelligently do to revive his goalscoring boots is to consistently empower Iheanacho, hoping that the Nigerian striker will use his sublime passing and dribbling ability to grant him a goal.
Iheanacho's passing has been uncanny this season, which can critically assist Vardy in his search for a goal. Currently, the Nigerian has completed 189 passes out of an attempted 235 in the Premier League, resulting in a pass completion rate of 80.4%.
This pass completion rate is impeccable for the ex-Manchester City forward, as it places him in the top 12% of Premier League strikers in regards to passing completion percentage. The 24-year-old has a higher percentage than Brazilan and pass-oriented Liverpool striker Roberto Firmino and Aston Villa star-man Jack Grealish.
The striker's passes in between 15 to 30 yards are also noteworthy. Iheanacho has finalized 54 of an attempted 67 medium passes throughout the transpiring of this Premier League campaign. This concludes in him having an 80.6% pass completion percentage, which is better than that of Portuguese Red Devil Bruno Fernandes and Crystal Palace's Wilfred Zaha.
With such formidable pass statistics, Iheanacho can easily feed dangerous through balls to Vardy, which he can run down and attempt to finish in the back of the net.
The other strong suit that Iheanacho currently possesses that can support Vardy is his ability to dribble the ball. In 798 minutes accumulated for Rodgers' side this season, the centre-forward has completed 14 out of an attempted 21 dribbles.
This results in Iheanacho having a 66.7 dribble success percentage, which is better than Wolverhampton Wanderers' prodigy Pedro Neto and Tottenham Hotspur favourite Son Heung-min.
With such amazing dribbling ability, Iheanacho can comfortably beat defenders and secure fouls in decisive offensive regions, subsequently allotting Vardy in dangerous goalscoring positions that can lead to satisfactory and commodious goalscoring opportunities.
Improved Movement and Ball Control
The final area in which Vardy can refine in hopes of culminating his goal drought is his offensive positioning and control of the ball.
He is much renowned for his ability to get in behind defenders due to his pace. Unfortunately, he has struggled to be effective in such instances of play during this recent stint of matches. As a result, The 34-year-old has adapted to become a facilitator for in-form Iheanacho, and it seems like Rodgers is comfortable with that.
The only way to improve such deemed inconsistency is through in-game experience, and the Leicester talisman is starting to show his regular glimpses during counterattacking situations.
In Leicester's previous league game against the Cityzens, Vardy produced one of his customary runs during a counterattack where he would end up scoring a goal but was disappointingly played offside by Ayoze Perez.
Vardy also got in behind ex-Leicester and England centre-back Harry Maguire during the Foxes' quarterfinal win in the FA Cup, but the end product of such occasion resulted in poor finishing and resentment for the goalscorer.
He must keep allowing such natural chances to derive rather than becoming impatient, as his teammates will target him if they deem it suited in certain offensive actions.
Since his return from his groin surgery, the 34-year-old has additionally been inefficient when it comes to controlling the ball. When fed through for counterattacking actions, Vardy has regularly lost his footing, resulting in him tripping on himself rather than going forward with the ball.

Such occurrences have impeded him from creating plentiful counterattacks, which Leicester has been necessitating in crucial matches. Additionally, Vardy has also stumbled when dribbling with the ball on many occasions, which has made him look weary and indecisive when carrying the ball.
To prevent such impressions, Vardy must be mentally set to receive the ball when set up by his teammates, as his recent inefficiency proves that he is lacking anticipated awareness of ball control.
Regardless of whether or not he is scoring for the East Midlands club, the Sheffield-native striker always finds a way to adapt and contribute to Rodgers' side, which is why Rodgers has decided to play him alongside Iheanacho recently.
Foxes fans around the world will feel euphoric the day Vardy scores once again, and the wait will truly finalize sooner than later.