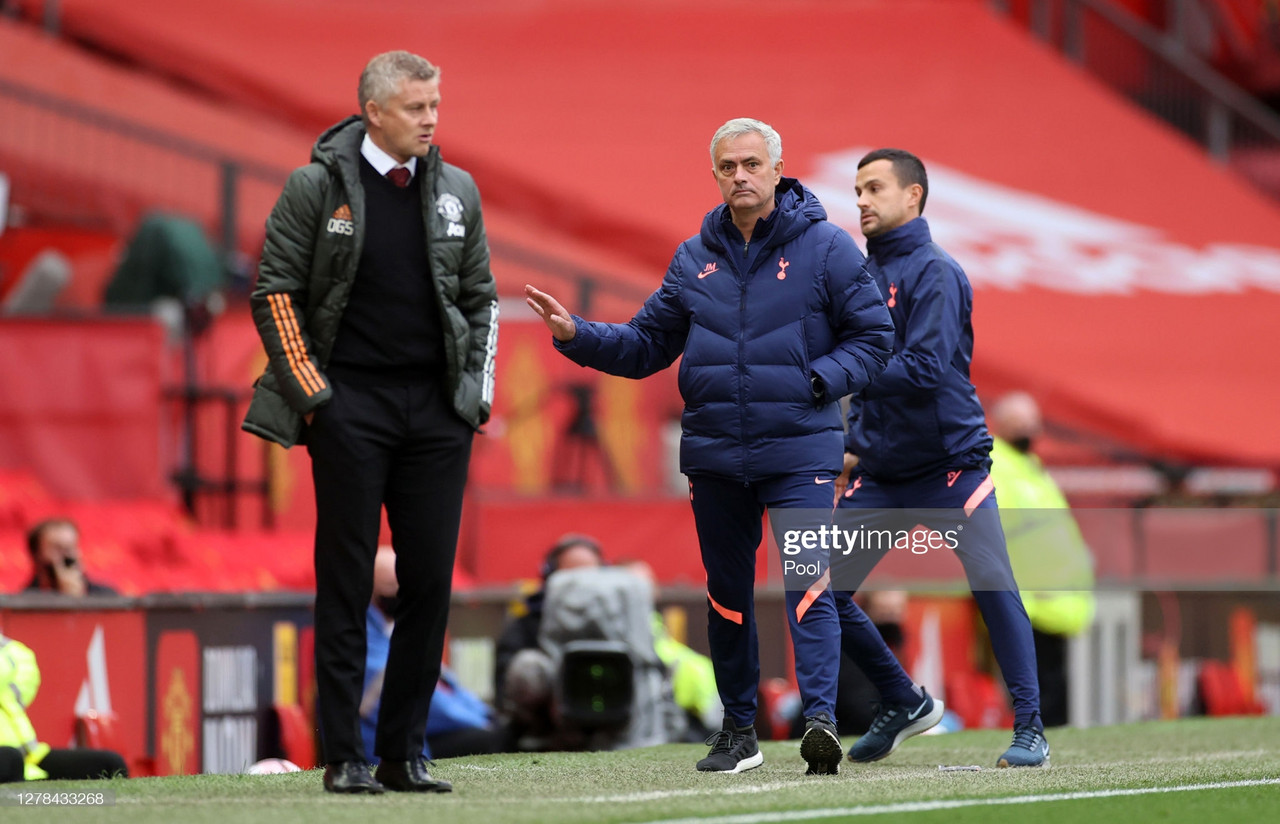 After a professional victory in the first leg of Manchester United's UEFA Europa League semi-final with Granada, the Red Devils return to domestic competition as they travel to North London to take on Tottenham Hotspur.
It's 'revenge weekend' in the Premier League, as both United and their Merseyside rivals Liverpool take on Spurs and Aston Villa respectively, with both sides suffering heavy losses to their opponents earlier in the campaign.
Solskjaer's side fell to a surprising 6-1 thumping at the hands of Jose Mourinho's side in October, with United set to travel to the Tottenham Hotspur Stadium to avenge their early-campaign defeat.
Ahead of the clash, Solskjaer spoke to the press to discuss the reverse fixture earlier in the season, the challenge of Harry Kane, and the issue of racial discrimination on social media in the last week.
On clubs' boycott of social media due to continuing racial abuse
"We're making progress as in it's the awareness, it's been raised and I think loads of clubs, and ourselves included, want to work with all the social media companies to get rid of it.
"I respect other club's and other player's and other manager's decisions to do whatever they do – if it's boycotting or shutting down their own accounts.
"But, for me, I think it's important that we work together with them, that we find a way out of this once and for all."
EFL Championship side Swansea City announced a seven-day boycott of Twitter this week, as did the players and management of Scottish Premier League champions Rangers, with racial abuse continuing to dominate headlines despite the introduction of taking the knee prior to matches, as well as social media campaigns against discrimination.
Swansea City has chosen to take a club-wide stance in the battle against abuse and discrimination of all forms on social media.

From 5pm today we will not post any content on our official social media channels for seven days.#EnoughIsEnough

👉 https://t.co/rmHXB0j2l7 pic.twitter.com/fKqKqHl8Ag

— Swansea City AFC (@SwansOfficial) April 8, 2021
United launched their own 'SEE RED' anti-discrimination campaign this week, leaning into United's long history of diversity within their club, with legends like Andy Cole, Dwight Yorke and Ji-Sung Park etched into the club's history books.
However, Solskjaer has seemed to rule out United closing down their social media activity – perhaps due to the club's 25 million following on Twitter.
On why Manchester United shouldn't be happy with second place
"We should never settle for second place at Man United and we'll never settle for a second place and I think that's the point here – that we have seen the heights and we know what this club is capable of.
"For me, I've been here now a little while myself and it's taken time for us to be in this position and, hopefully, we can be better next season because this is below our ambitions," Solskjaer said.
The question was directed at Solskjaer's criticism at then-manager Jose Mourinho's acceptance at finishing second in 2018, but the United manager has backed his previous comments in setting the standards high at Old Trafford.
United had the chance to put together a title challenge this year, but have dropped points too often; Solskjaer will hope they can keep up with their title rivals next year.
On this season's reverse fixture with Tottenham that saw the Red Devils fall to a 6-1 loss
"Yeah, I think the players will remember that game with a lot of pain and their pride has been hurt. Our professional pride has been hurt, the manner we lost is not worthy of ourselves and our team and we know that. We gave ourselves a difficult game by having 10 men.
"Pre-season was short and we weren't up to the standard required, but we were so poor and I'm pretty, pretty sure that we'll see some players wanting to prove that we're better than that."
The side was still recovering from the short gap between the delayed conclusion of the 2019-20 season and the beginning of the 2020-21 campaign when Spurs put six past United in October.
United are a much more consistent side now and have not lost away from home in nearly thirteen months – the challenge of Spurs will be a difficult one for the Reds.
On the challenge Harry Kane will pose to United's defence
"When you play against one of the best centre forwards in European football, it is something that we prepare for and I think every team when they play Tottenham or England, you know Harry Kane's qualities, but we prepare the defenders for every single opposition and opponent.
"You know the season that Son and Kane have had, the relationship they've had. Of course, that's one of Tottenham's strengths and they've got other quality players as well that we have to be aware of."
Kane has scored ten goals in ten games and has had a strong partnership with Heung-Min Son for Spurs this season; the England skipper has thirty-two goal contributions in twenty-eight games this year.
Both Kane and Son grabbed two apiece in the 6-1 humiliation in October.
On the future of Edinson Cavani, who has been linked with a move away this summer
"Yeah. I've kept in touch with Edi and of course we keep an open dialogue. He's still unsure what he wants to do next season, which I find fine.
"It's not been an easy year, either for him or the rest of the world this season, so he still wants time to make his mind up."
Cavani has been linked with a move back to South America to join Boca Juniors, with Cavani's father making his intentions clear, as well as former Red Marcos Rojo discussing the move recently.
Cavani has scored six goals this year for the Red Devils, and made a substitute appearance on Thursday evening against Granada.