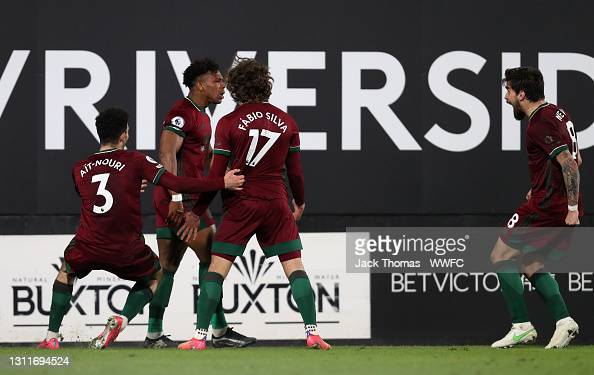 Wolverhampton Wanderers now sit 12 points away from Fulham, who remain in 18th place in the Premier League, thanks to a last-minute winner from Adama Traore.
VAVEL UK offers a few takeaway's from the game in a Post-Match Analysis of the encounter.
What a difference a goal can make
When the 90 minutes were up and the additional minutes were shown, Wolves were in a very bleak position. Against a team in relegation, they had only managed to get six shots away, with only two being on target. It would have been fair to say that Alphonse Areola in goal for Fulham was having quite an easy night so far.
A draw would have not been great for Wolves, with fans increasingly becoming disjointed with their team's performances throughout the season. Yet, 90 minutes in and they were making Fulham out to be a solid Premier League team.
Then in what was Wolves' best move all game, Fabio Silva put a lovely ball through for Traore to chase. The ball had just crept into the side of the penalty area, with Fulham having two defenders in place to deal with the threat.
Then bang.
A combination of poor positioning from Areola and an almighty strike of the ball by the Spaniard saw the ball fly into the Fulham goal. With that came three points for Wolves and with that came breathing room for Nuno Espirito Santo and his standing as the manager of the club.
Otherwise, a very poor showing
These type of games tend to be tricky, as no-one wants to play the teams who are fighting for their lives at the bottom of the table come the closing end of the season. Many will argue that Wolves were always doomed to struggle against a Fulham side who would have been grasping at every opportunity to claim some much needed points.
In retrospect, both sides were poor on the night. Neither side truly deserved to win and the match played out as bleak and uninteresting. Wolves should be thankful that they did not come across a side good enough to stay in this division.
Wolves were absent in the final third once more. Willian Jose was lost and alone up front, with every ball into him lacking the sort of quality that would lead to goals. To top it all off, the one time the Brazilian managed to get the ball into the back of the net, VAR jumps in with what was a ridiculous decision to rule out the thumping header for an offside on Daniel Podence. Denied by a centimetre of a shoulder.
There was no connection in midfield. Wolves when in possession played in front of Fulham, lacking any real penetration. It was horrible to watch but also sadly familiar to see, with the team in old gold beginning to make this kind of approach a habit. A different approach is definitely needed moving forwards.
Big questions about selection and substitutions
With Silva bagging a goal in Wolves' last game and Jose still searching for his first for the club, many expected Nuno to start the 18-year-old on the night. Sadly though, the youngster had to settle once again for a place on the bench. Nuno normally does bring him on late into the second half, so he obviously feels that this works for what he wants to see from his side.
Recently, the young Portuguese has been able to contribute to his team more than Jose, even less minutes on the pitch. It must be frustrating for Silva to still be behind Jose and he may start to wonder if Nuno truly does fancy him to lead his team's attack.
Many fans feel that he has more than deserved to be given the nod ahead of the Brazilian, so pressure is on Nuno to do so next game. Simply giving the lad ten minutes at the end is not good enough and it makes you wonder what the youngster could achieve with more time on the pitch.
Another player in a similar position to Silva is Vitinha, with the 21-year-old struggling to find much playing time this season. With his loan due to expire in the summer, surely it would be wise to see what the Portuguese midfielder has to offer, unless Nuno has already made up his mind here?
A man that has received a lot of critics of late has been Morgan Gibbs-White. The boy from Stafford gave a good showing coming off the bench tonight, playing a big part in the build up play that led to the goal.
Nuno probably did not expect to have Gibbs-White at the club at this point in the season and would have probably envisioned playing Vitinha more instead. With the English midfielder suffering a major injury that brought him back to the club earlier than expected, did this directly impact Vitinha's game-time?
Many Wolves fans will have their fingers crossed that Pedro Neto is not sidelined for too long following an injury that forced him to come off after only 30 minutes. The 21-year-old has been incredible for Wolves and would be sorely missed.
Looking at the positives for Wolves, they come away with three points away from home against a side top of the relegation zone, further distancing themselves from trouble. Traore bagged a screamer, Silva got an assist and the defence got a clean sheet to wrap it all up. It is funny how much difference a goal can make.