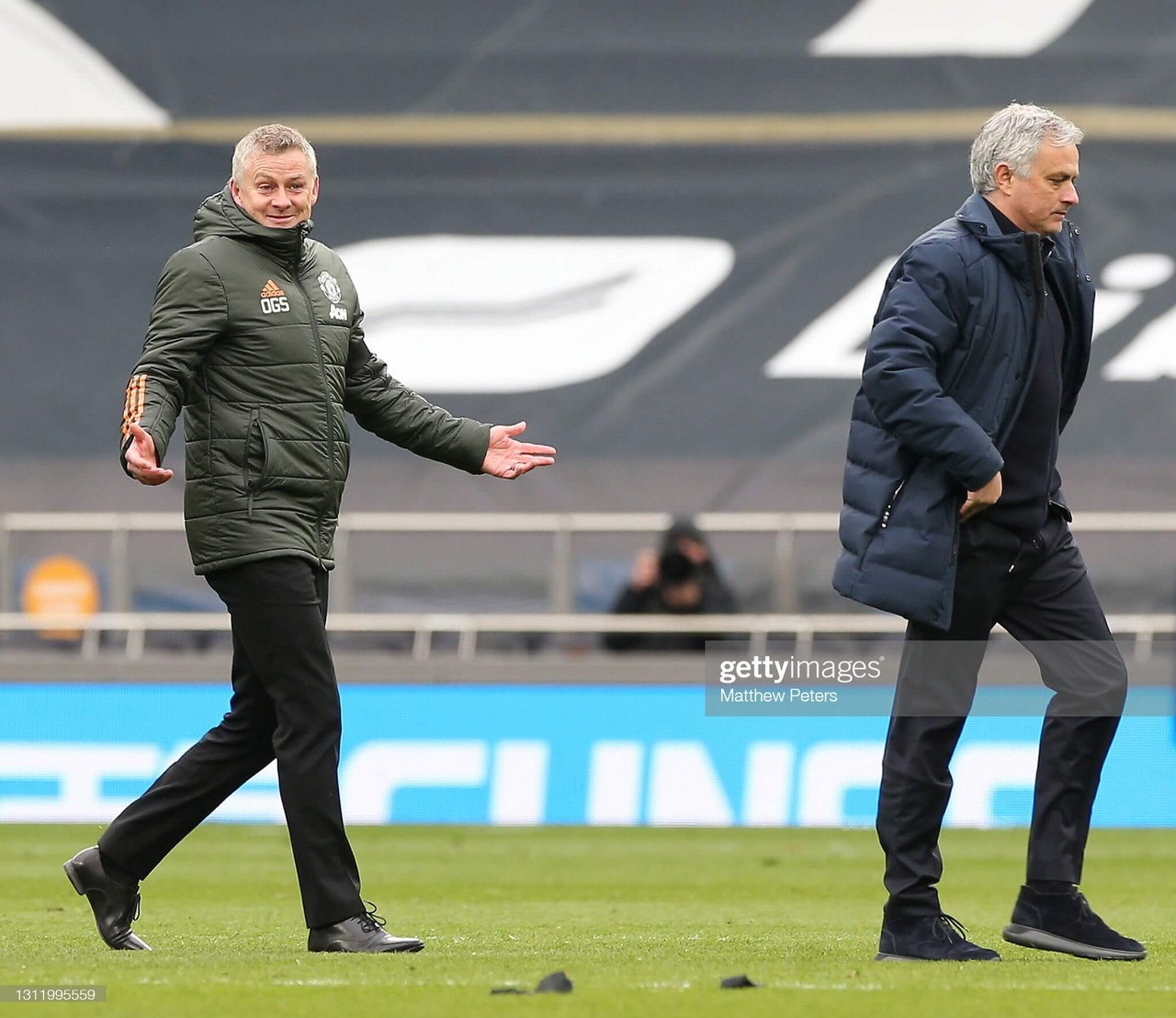 Travel, fall behind, script a comeback - repeat.
That's what Manchester United seem to do best these days. And the recent 3-1 comeback win vs Tottenham Hotspur away at the Tottenham Hotspur stadium was the perfect encapsulation of what Man United have been doing all season.
Man United and Ole Gunnar Solskjaer's response this season has been nothing short of emphatic for a team whose ability to hold their nerves in tight situations has been questioned. 23 consecutive Premier League games unbeaten away from home and 28 points gained from losing positions, a record unrivalled by any side across Europe - Those are the numbers United can boast of at the moment.
Comeback kings 👑 pic.twitter.com/NEohZz3sRv

— B/R Football (@brfootball) April 12, 2021
Apart from the fact that Solskjaer has changed the way United play compared to previous relatively defensive managerial regimes, an important part of this improvement at United seems to be the confidence and belief that he has instilled into his players.
This is epitomised by Luke Shaw, a player who has had his own share of fitness issues and excruciating injuries and who was grossly written off by then United manager, Jose Mourinho.
His performances this season have been truly world-class and although the arrival of Alex Telles at the club has played its role in pushing Shaw to the hilt, Solskjaer's belief and management of players has gone a long way in reviving Shaw's United career and making him one of the best full-backs in the league and arguably in the world this season.
While Bruno Fernandes has been the undisputed trailblazer for United this season in terms of his performances, it'd be hard to argue that almost every player who has featured regularly for United this season has been a better version of himself this season.
From a period when United could never get back into a game once they fell behind, the return to a stage where the belief of scripting a comeback never really burns out until the final whistle seems like a testament to the fact that United have truly turned a corner this season and are finally building a foundation to achieve greater heights going ahead.
Off the field as well, United have done quite well to keep themselves away from a myriad of controversies they could've been involved in. Consider the goalkeeping conundrum between David De Gea and Dean Henderson.
Both Ole and the club as a whole have done quite well to tackle the issue and ensure both players get their fair share of opportunities to prove themselves worthy of a regular starting role at United.
While it's important to acknowledge that alternating between the Premier League and the Europa League in terms of starting GKs is only a temporary fix, United do seem to have more answers than questions moving into the business end of this season and towards the start of next season.
The same can be said about the management of Mason Greenwood, whose first real full season at United has had its ups and downs, but the recent revival in form and his cameo at the Tottenham Hotspur stadium on Sunday points towards a really fruitful finish for United's No. 11 as we move towards the close of this season.
Paul Pogba's contract situation will definitely test United in the summer and the same goes for Edinson Cavani who is yet to commit to another year at the Theatre of Dreams. With the contract situations and transfer targets across the defence, midfield and attack to achieve, this summer promises to be a stern test to United's progress both on and off the field.
There is still a long way to go this season for United - seven games left to play in the Premier League to achieve a realistic second-place finish in the league. Although the mathematical yet unrealistic possibility of a title charge still exists and Europa league success where United have a quarter-final second-leg v Granada on Thursday on the back of a two-goal lead from the away leg of the tie and can consider themselves favourites to go all the way in the competition and potentially win their first piece of silverware under Solskjaer.
While United have definitely made progress both on and off the pitch, they absolutely do not have any time on their hands to dwell on this progress. They have to ensure that they give their absolute best between now and the end of the season to add some much - needed silverware as a testament to their progress and prove that the comebacks on the pitch are a realistic measurement for the return of Manchester United as a powerhouse in world football once again.