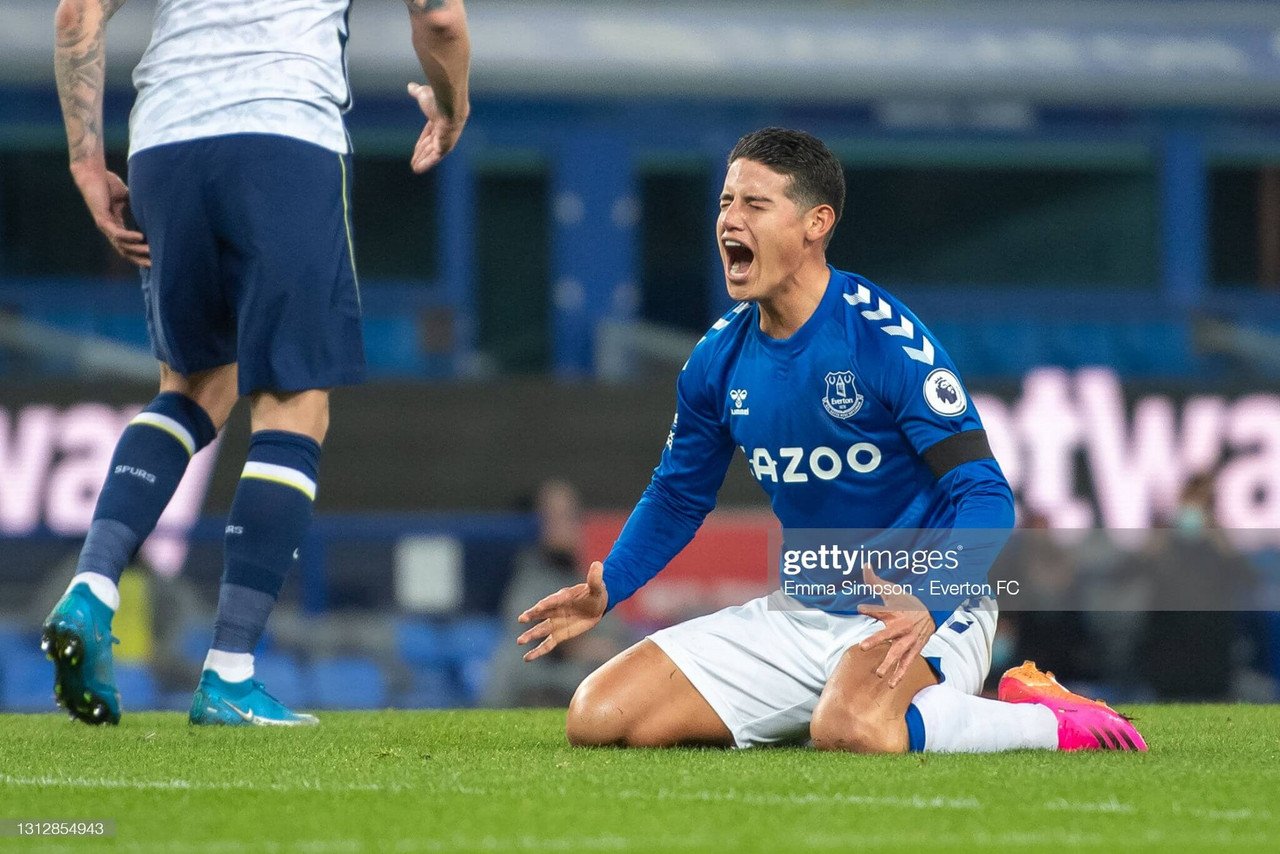 "It was a disappointing result, not a disappointing performance," Carlo Ancelotti lamented after Everton could only draw against Tottenham Hotspur at Goodison Park. However, time is running out if they are to realise their aim of qualifying for European competition, and Everton must start to deal in results more so than performances.
This third consecutive draw in the Premier League, which extended Everton's winless run to five games, means that they sit eighth in the standings, three points behind the current sixth-placed team, Liverpool. However, this recent haul of just three points from their last five league matches, and with only seven games remaining, means that time is quickly running out.
"We have more difficulties to reach Europe but have to keep fighting," the Everton manager added. "If we play like tonight, we still have the possibility." That maybe true and there was certainly the sense that Spurs's two goals were somewhat fortuitous, but the clinical finishing of Harry Kane punished any slight loosening of Everton's defence.
Everton's marking for Kane's first goal, which opened the scoring, was non-existent while Michael Keane's header cannoned back off Mason Holgate to present the Spurs striker with his second. "Unfortunately, in football, it [mistakes] can happen," said Ancelotti. "They are usually doing well and we have to accept this. Tomorrow will be another day and they have to keep fighting until the end of the season."
Time running out for Everton
Disappointment will need to evaporate quickly as Ancelotti's side travel to Arsenal next Friday before hosting Aston Villa, both teams could overtake Everton with a win. Nevertheless, the manager was keen to point out that the overall performance of his players, which started slowly but built up into a crescendo of fine attacking play towards the end of the both halves, was an improvement of recent displays.
"We should have won, it was one of the best games we played at home this season," he said. "I have to judge the performance of my team, the performance was good in a lot of aspects, defensively, and we pressed forwards, with a lot of intensity.
"In the first 10-15 minutes we didn't do well with the ball, after that James came in the play and we started to play well and had a lot of opportunities. We made two mistakes [for Kane's goals]. But we don't have to look back, we have to look forward and keep the performance."
Qualifying for Europe next season has been the outstanding aim of Everton's campaign. Although Ancelotti never specified whether it was the Champions League or Europa League that his team were targeting, it now seems that Europe's secondary competition is the only plausible objective.
There were positives which will provide confidence for the final straits of the season in that Jordan Pickford was able to return following a month out due to an abdominal injury and Allan was back in central midfield after a briefer injury lay-off. However, despite Richarlison testing Hugo Lloris on more than one occasion, and Josh King forcing a save from the Spurs 'keeper after coming off the bench, the absence of Dominic Calvert-Lewin as the focal point of the attack was noticeable.
Gylfi Sigurdsson's influence has grown throughout the season and his goals were invaluable in at least claiming this point. From a possible name on the transfer list to returning as a instrumental part of Everton's attack, his passes and cool finishes, as exemplified by his penalty and well-taken instep shot which brought about Everton's two goals, are prized possessions for a team who haven't created as much as their rivals.
Spurs left to sweat on Kane's injury
If dropped points were far from ideal for Everton than the same can be said for Spurs, who remain a point and position above Everton. What's more, Jose Mourinho will be on tenterhooks for the next few days following Kane's stoppage-time injury which came from Richarlison landing on him and his ankle being twisted.
The Spurs striker hobbled off and now faces a race to be available for the League Cup final next Sunday. Many Spurs supporters will have dreamt of their star striker lifting aloft a trophy but that vision becomes less likely if he is not able to start the final against the favourites Manchester City at Wembley.
"It's always worrying when you see him limping because he doesn't fall over easily," Mourinho said after the match. "He takes a lot of knocks. It's early days to say how bad it is but I'm sure he's a tough boy so [he] will do what he can to be ready. We have to prepare for the cup final as best we can. I don't know if he is on crutches, but if he was it would only be as a precaution. Safety."