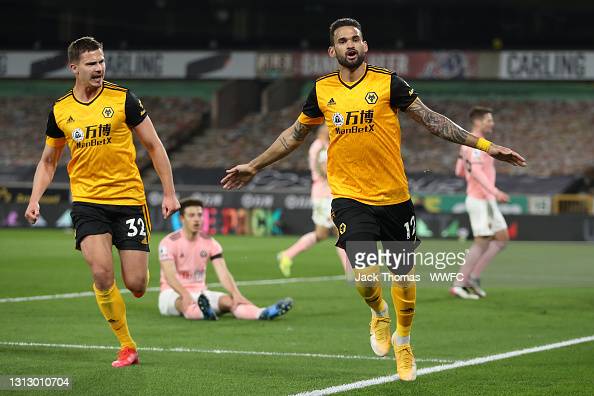 Wolverhampton Wanderers picked up another three points to all but ensure their survival in the Premier League for another year. The same cannot be said for Sheffield United, who after suffering their 26th loss in the league, were officially condemned to life in the Championship.
In what turned out to be quite a drab affair with both teams opting to play with back threes, a little shining light could be seen as Willian Jose bagged his first goal for the Wanderers.
There have been some big debates over Wolves manager Nuno Espirito Santos choosing to go with Jose over record signing Fabio Silva these last few games.
The Brazilian could count himself unlucky to have missed out on some goals thanks to some controversial decisions. The cold hard truth is though that the striker Wolves brought in to score goals, was still yet to score one.
With Silva impressing on his second half cameos of late, pressure was well and truly beginning to apply to Jose. However, is Jose's lack of goals an individual issue, or an issue with Wolves' attacking tactics as a whole?
Jose or tactics to blame for lack of chances?
The first half was a very telling picture of that exact scenario. The way Wolves set up was for Jose to lead the line with his back to goal, to then try and hold the ball up to bring in the likes of Adama Traore and Daniel Podence on the wings, or link it back to the midfield or defence to keep possession of the ball. Very straight forward in theory.
A repetitive feature of the first half involved Jose coming deep to allow him to receive balls to then hold up play. He generally did this very well, showing great strength in keeping any opposition players at bay. He would then get the ball into one of his teammates and then the ball would move forward, normally down the wings.
The ball would then be crossed from the wing into the box. Problem was, there was only ever a maximum of two players to aim for at any given time, with Jose normally still trying to catch up with play after having played his part in the build up.
Obviously, this would then lead to the ball being cleared or simply just allowed the opposition to regain possession. To blame Jose for this would be unfair, he is clearly doing what he is told to do. If he does not come deep, Wolves have no outlet. Yet, because he is deep, Wolves cannot get their striker in goal-scoring opportunities.
This represents a big problem with tactics and most likely stems from the reluctance to switch to a back four, which would allow Wolves to get another body into the box. You would have thought that playing against a team bottom of the league would have been an ideal time to try new tactics out. Evidently not.
Selfless or lacking confidence?
Chances for either side in the first half were definitely few and far between, with poor decisions being made all over the pitch. Interestingly, during one of Wolves' corners the ball fell to Jose who opted to chest the ball to Willy Boly, who managed to flick the ball towards goal.
The ball would have gone in were it not for a goal-line headed clearance that crashed against the crossbar. See, a striker full of confidence would have chested the ball down for themselves, to then try and get a shot away.
Jose very rarely tries to make something happen out of nothing, opting to play the simple ball rather than try a 'worldie' from 35-yards out. Is this happening because he is afraid to make mistakes, or is his game more about assisting those around him than individual glory?
With Wolves not exactly having a flurry of balls flying into the net for them at the moment, Jose could do with being a bit more selfish in front of goal and should try to get more shots away. A half chance is always much preferred to a pass that either runs out for a goal kick or ends up back with Rui Patricio!
A classic Wolves counter-attack bears fruit once again
Wolves are one of the most dangerous teams on the counter in the league. So when a team simply sits back and urges Wolves to play in front of them instead, they are completely nullified. This is exactly what the Blades did in the first half, which led to a very short first half highlight wheel for Match of the Day to ponder over.
Second half came and the 'Wolves are better second half' brigade were well and truly out, or perhaps simply hopeful. Fortunately for Wolves, United decided to take more risks going forward and started to commit more men up top.
Then after a fantastic block by Nelson Semedo, Wolves regained the ball and could launch a counter attack against their opposition who were now out of position.
It did not take long for the ball to fall to Traore, who then managed to get to the byline and get a low cross away. Many crosses that have come in have been poor in quality in general foe Wolves. Combine this with the low number of players in the box to aim at and you have a recipe for a blank scoresheet.
Fortunately, Jose read the play well. Seeing Traore shimmy his way to the byline, the Brazilian dashed towards the front post ahead of the defender marking him. He reached the front post just in time for Traore's low cross.
Jose was then able to apply a cool finish past Aaron Ramsdale in goal, with the tracking defender unable to stop it. It was a lovely finish and the on-loan striker was finally able to open his goal scoring account for the club.
After being substituted for Silva later on, Jose could walk off the pitch knowing that his first goal for the club would also turn out to be the winning goal.
This goal could be the platform for the 29-year-old to build on and give him the confidence now to go on and score many more goals. The cynic would argue though that scoring goals against the team at the bottom of the league should be expected rather than applauded.
The goal came from a counter-attack, which meant that less United players were back defending. So the low number of Wolves attackers that normally manage to get into the box now had a higher chance of scoring. So Wolves' goal ironically came because their opponents played more positively in their search for a goal for themselves.
Wolves cannot always rely on the ability to counter-attack to score their goals. The lack of chances created in open play for them when their opposition set up shop is worrying.
The argument could be that if Wolves could not find a way past the team rooted to the bottom, then what hopes do they have of beating teams higher up the league? Did Jose's goal simply paper over the cracks of a system that does not work?
These are questions for Nuno to ponder, but for Willian Jose, a goal is a goal, regardless of the opposition and he earnt his team three points on the night.