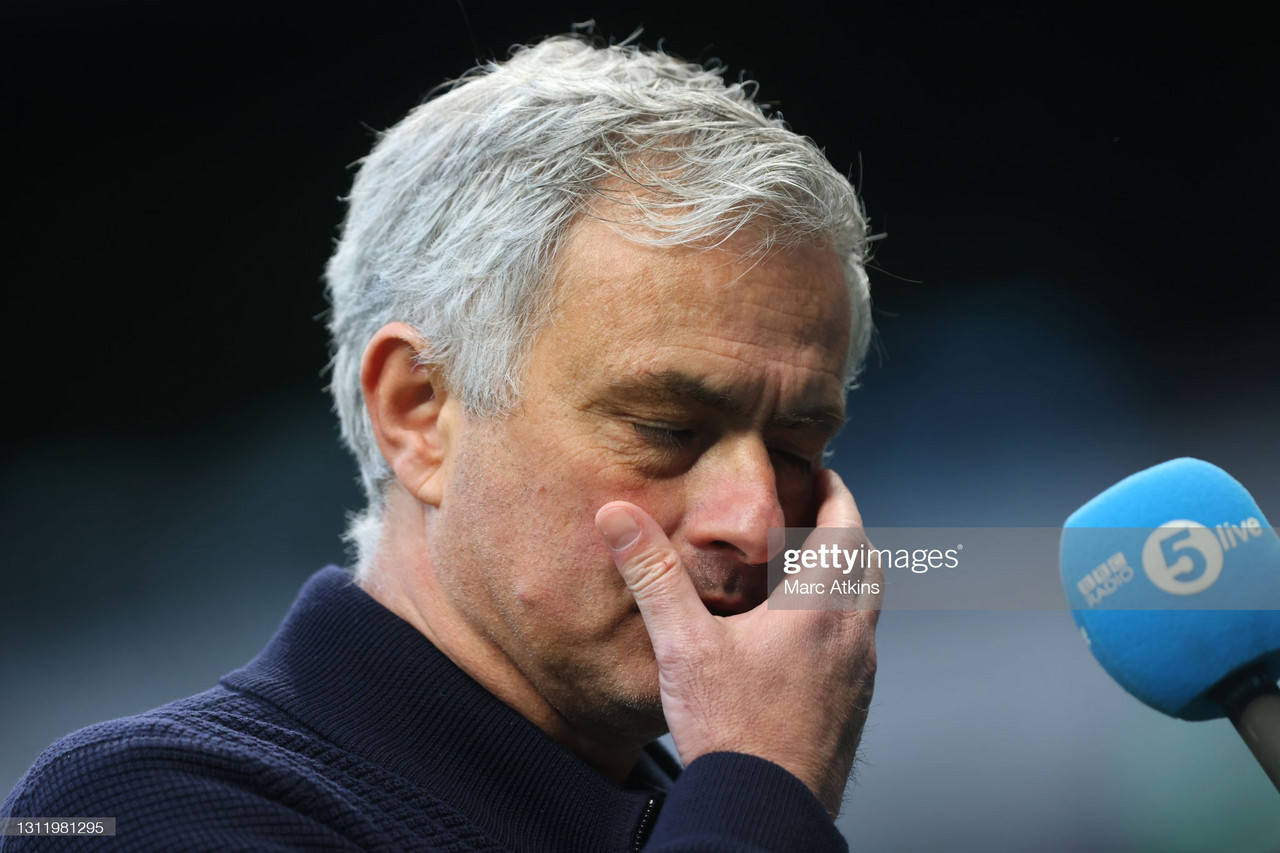 Jose Mourinho has been sacked as Tottenham Hotspur head coach.
The announcement comes a week before the Carabao Cup final but also with Spurs in a sorry position in the league: seventh and five points away from a Champions League place.
Mourinho has been in charge since November 2019, following the sacking of Mauricio Pochettino.
VAVEL's very own Tottenham writers had their say on Mourinho's 17 months at the helm:
Buez Hagdu
Considering the fashion in which he was appointed, it would have been difficult to image his exit could be even more dramatic.
That being said, Mourinho isn't typically known for anything but drama, the back pages, and of course trophies.
The promising start to the season, followed by the downwards trajectory of the campaign, coupled with the shock Europa League exit makes it difficult to defend his position.
However, with the League Cup Final just days away you have to question the timing of this decision and how it coincides with the emerging details of stimulus payments for joining the European Super League.
While the style of play wasn't particularly attractive, the fact he doesn't have the opportunity to bring a trophy home - which was a big factor of his appointment and something he has done everywhere he has gone - means the news is tinged with a feeling of what could have been.
Mitchell Fretton
I have never been Mourinho's biggest fan. I despise his man management, his tactics are dated, and his hypocrisy is depleting.
However, I have sympathy for him. Sacking one of the most successful managers of the modern game just six days before a cup final baffles me. Seemingly the board have short memories.
If it was not clear to those at the top that this squad needs a revamp, it must be now.
Mourinho got the best out of Harry Kane, he introduced prospects like Alfie Devine and Dane Scarlett into the fray.
For that I am grateful, however, I cannot defend him any further than that. The end of his reign was always going to go down in fire: I have never felt so negative about my own football club.
I have felt distanced, sad, and let down with how my club have been performing for months now. If Mourinho's tactics had turned us into robust bullies, who rarely lost, I would almost definitely be more of an advocate for his management.
The past four months have been awful. A change was needed. His casting out of player such as Dele Alli, Steven Bergwijn and Gareth Bale do not sit well for me, I wish him all the best, but there is no evidence to suggest he should have stayed in the job any longer.
Eduardo Villalpando
His time may have not been as long as we expected it to be, but Jose Mourinho left a blue print in Spurs.
For almost two seasons, Jose Mourinho proved to be a man of the people, answering politely to the questions asked by the media as well with the fans in general.
The Portuguese manager really focused on developing the academy players doing his time at Hotspur Way, providing debut opportunities for multiple players, including Japhet Tanganga, Malachi Walcott, Troy Parrott, Dane Scarlett, Alfie Devine, Alfie Whiteman, Harvey White, Jack Clarke, Marcel Lavinier and Nile John.
Let's not forget Jose Mourinho has also led Spurs to the Carabao Cup Final, which could be the first title for Tottenham since 2008.
Perhaps he wasn't given a long time at the job, but Jose Mourinho always proved to have the best intentions as the Spurs manager.
Paolo Iantosca
On Sunday evening, I never imagined writing about Mourinho being sacked by Spurs the following morning.
Yet, when looking back at results, it's hardly surprising. His tenure has been difficult, and he has endured some obstacles, including the pandemic, so it feels harsh to get rid of a two-time Premier League winner without really backing him.
On the other side, the football has been dreadful, uninspiring and I have never felt so disconnected from the club.
He clearly alienated some of the top assets within the club, especially Spurs hero Bale, who has rarely been given a chance by Mourinho despite showing signs of him recapturing his form.
On paper, Mourinho had players to compete for the top four places and win the Europa League, but we have massively underachieved, and Mourinho does hold a majority of the blame for that.
However, Levy has chosen another cheap route in sacking the manager and hoping the next person in the hot seat can improve this squad without spending any money on a new player. In reality, this squad is not good enough anymore.
Khya Gott
I have a different opinion on Mourinho than a lot of other people. I was always a "back the manager" sort of fan, I didn't think all the problems were his fault.
But this Super League situation is crazy and his sacking coming the day after the clubs released an announcement doesn't seem like a coincidence, no matter how much they say there is no connection.
I think after the loss of the Champions League final and the 7-2 loss to Bayern Munich Pochettino had to go. And as I kept reminding myself, Mourinho was a proven winner.
However, his time at the club has been like a rollercoaster of emotions. I wanted it to be successful, but in the end, it was far from it. From ripping into players in most interviews and the embarrassing defeat in the Europa League, this bleak run of performances is no surprise.
The proven winner has been sacked before he has been able to prove himself at Tottenham as a winner and I think, despite the horrific run of performances, it was the wrong call.
Daniel Levy took a risk hiring him and it has clearly not worked. I'm conflicted in being glad he is gone, but disappointed that he has gone before he has had a chance to win the trophy he should have given us this weekend.
William Furness
So, the Mourinho era is over. When he was appointed in November 2019, I was skeptical: partly because of my love for the former manager in Pochettino, and partly because we all saw how his previous jobs have ended.
But, a part of me was brought into the hype. If Mourinho had some of that magic he graced the league with in 2004 Spurs have just changed their modern history. Could he go one step further than Poch? And effectively, transform the squad into winners?
No. Everything that I feared could go wrong, has. The progression of the club and squad has regressed. He has also burnt relationships with a lot of key first team members: Dele, Bale, and Harry Winks to name a few.
He was brought in to win trophies, no matter how ugly the price. Albeit sacked five days before a final - their attempts at winning one have been pathetic: losing 3-0 to Dinamo Zagreb and crashing out in that fashion was probably a sackable offense in itself.
Levy's big gambe has failed.