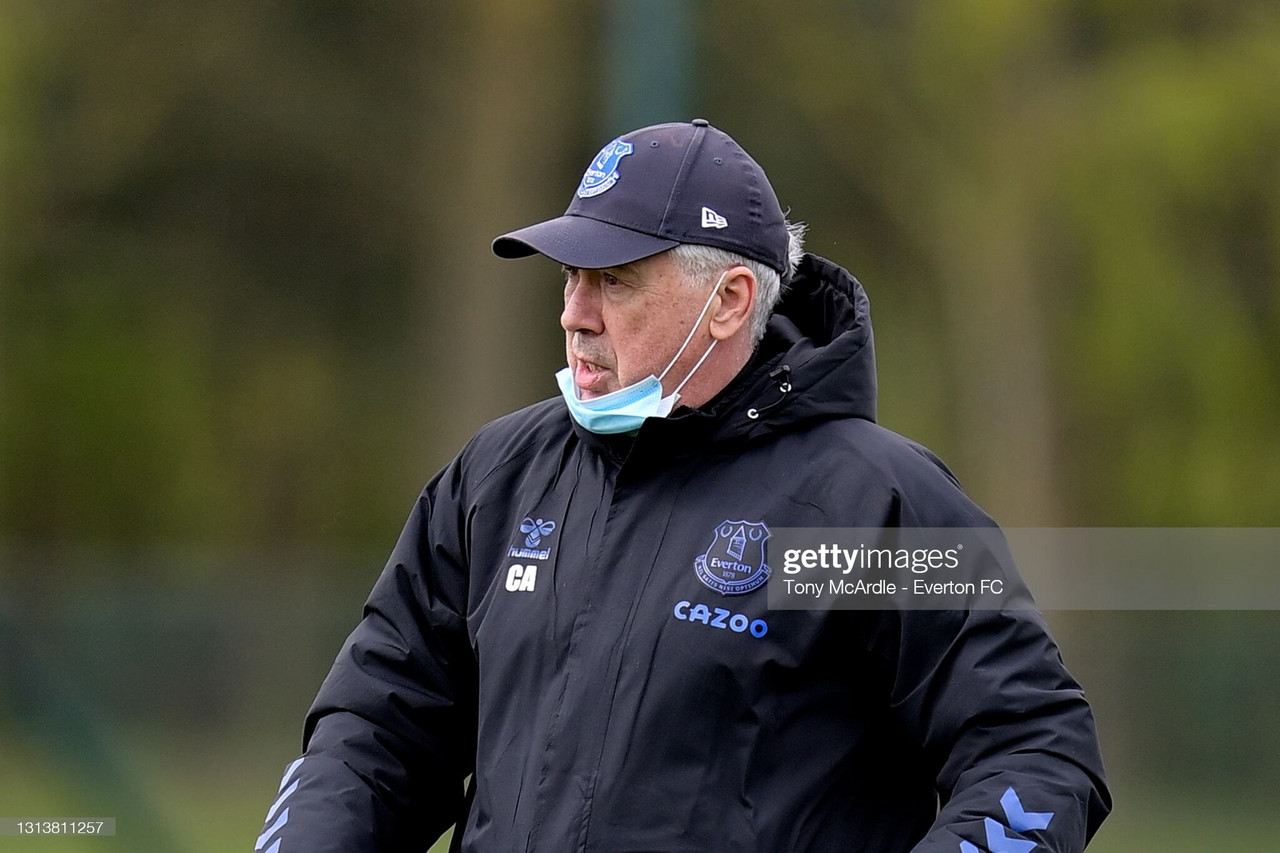 Carlo Ancelotti has labelled the collapsed proposals of a Super League as "a joke" and admitted that it was "a strange day for every supporter of football". The Everton manager said that the proposals, which were shot down within 24 hours, would have been impossible to implement and lacked sporting integrity.
Ancelotti, who has previously managed four of the 12 clubs which signed up for the breakaway league, believes that reform to football should happen and that changes to the Champions League are necessary to make the competition more competitive.
"My immediate reaction was: they're joking, it's a joke," Ancelotti said when asked about the drama of the past week. "I think it was a strange day for every supporter of football. We heard about the Super League over the past few months but I was sure that it was not going to happen because, what can I say, they were wrong! These 12 clubs were wrong. They didn't take into consideration the opinion of two really important parts: the players, and the managers also, and the supporters.
"The most important part was that they wanted to build up a competition without sport merit. This is not acceptable because in our culture we were born to have sporting merit; if you are good you play football and be professional, if you are not good you are not professional. If you win, you play in the best competitions. This is what they didn't take into consideration and they were wrong. Full stop."
The Everton manager said that a lot of the background thinking behind the proposals for a closed-shop came from the American culture of sport in which entertainment trumps competition and sporting meritocracy.
"Sport culture in Europe is different to American sport," he said. "Not because we are right and they are wrong, but because the culture of the people is different. In America there is more entertaining sport, but in Europe we live with the passion of the result.
"When we grew up we tried to beat friends from our neighbourhood. Only entertaining is not sport. Football now is sport and business but we have to take into consideration both. Football is a sport first and then, following a lot of investment, it became a business."
On whether the six English clubs should be punished for their clandestine scheming against the 14 other Premier League clubs, Ancelotti admitted that he's 'not able to judge' but stated that it should lead the way for deeper reform in the competitive nature of football across Europe.
"Everyone wants the Champions League to be more competitive," he added. "Now the Champions League, which is the best competition in the world, starts to become exciting from March [at the knock-out stages] but it also can be exciting from September [in the group stages]. So they have to open a discussion to not only have the Champions League, but also the Premier League, Serie A and all other competitions more competitive."
'Arsenal game is important but not decisive'
Ancelotti was speaking ahead of his side's trip to Arsenal, who were one of the teams signed up for the breakaway league. Mikel Arteta's team sit one place beneath Everton in the table and can overtake them with a win at the Emirates. Everton, who drew their last league game against Tottenham Hotspur, another challenger for the European places, have a game in hand and will welcome back Dominic Calvert-Lewin for the match against Arsenal.
"It's a really important game, not decisive but really important," Ancelotti said. "The last seven games are really important. There is a lot of competition there [to qualify for Europe], and you see the results: a lot of draws, it means that it's a really competitive final period of the season.
"I think we are ready. We didn't have good moments in the last few months but now we are much better and have players available - all the squad apart from [Abdoulaye] Doucoure and [Jean-Philippe] Gbamin - so I think we are ready to fight for the final part of the season.
"We have back [Andre] Gomes, [Fabian] Delph and Bernard [as well as Calvert-Lewin], so the squad is much better and I have a lot of options."
'Brands extension shows stability of club'
Ancelotti also passed comment on the news that Everton's director of football, Marcel Brands, has signed a three-year contract extension keeping him at the club until 2024. The relationship that the Dutchman and Ancelotti have developed has been key to Everton's improved transfer business and work from academy to first-team level.
"I think it's a good sign of the stability of the club. The job that he's doing here is really good, he's focused and the fact that he has signed a contract for three years is stability for the club and everyone who is working at Everton.
"We are in the right way and I hope that we can grow quickly and have a position in Europe next season."