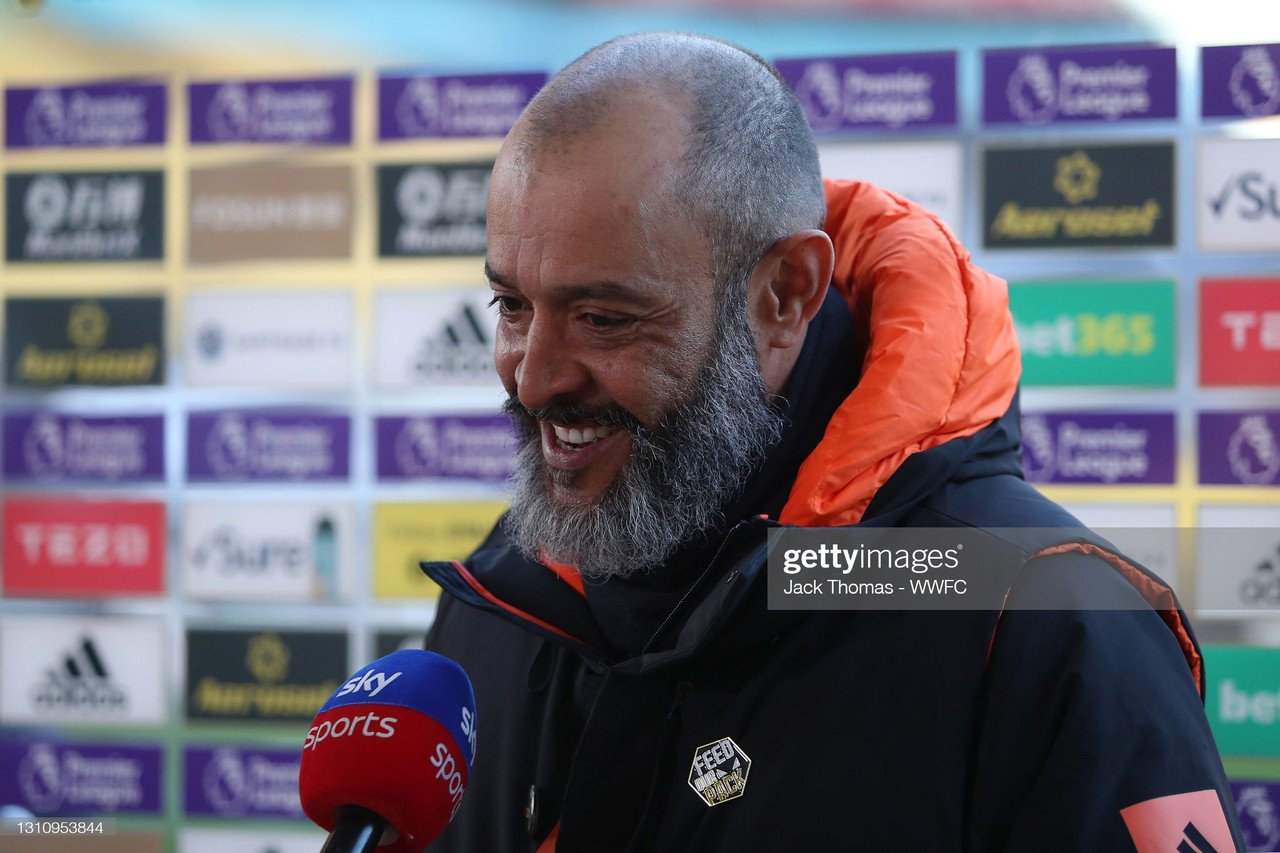 Wolverhampton Wanderers face Burnley on Sunday at Molineux as they look to build on two impressive wins in the last two games.
It was a first goal for striker Willian José that gave Wolves the win last time out against Sheffield United, a goal which was provided by Adama Traore.
The Wolves manager spoke to wolves.co.uk to preview Sunday's game, last week's win and injuries to key players.
On the European Super League
The Wolves boss was asked about the failed Super League and the idea of it and he wasn't impressed. The idea involved the 'big six' of English football leaving the Premier League to join a league with the other richest sides in the world.
"I will start by the trust. I think we have to rebuild it, because we need it. We need to be together; all the clubs, all the ownerships have to work among them.
"Splitting or making an eventual separation of these clubs will be another mistake, like it was for the idea of the Super League because it is a mistake.
"It was a mistake, it was a bad idea, something that will take away the fun of football, the fun of the game, the dream, the right to earn things – to dream, that you can grow and achieve, and become stronger by your own merits."
On wanting some response to racism
The uproar from the fans around the country was amazing to see when football was at risk, but Nuno spoke very well about how he would like to see the same response to racism in the game.
"It's clear there was a massive response from everybody regarding the issue of the Super League."
"I don't think there's been many things that we speak so many times and so different opinions, but the response of the general public was amazing, and of course we want this response from all the problems that affect us, and racism is a big one."
"But honestly, I think that everybody is trying their best to eradicate racism. It will take time, but we have to be resilient and persist so we can stop it. But let's expect more and strong response from the governing bodies on racism also."
On finishing the season strongly
Wolves have suffered an inconsistent season this term, with some very impressive performances along with some very poor ones. Statistically, this is Wolves' worst season since returning to the big time.
What we shouldn't forget is the amount of injuries that the midlands side have suffered. Wolves were fifth in the Premier League after ten games before the horrible injury to Raúl Jimenez. In recent weeks, Wolves seem to have changed their form around, having picked up two wins in the previous two games.
When speaking on ending the season strongly, Nuno said:
"It's important to play good, to perform, and improve our game against Burnley. This is what we focus on."
"Until the end of the season we have a lot of matches to play and a lot of time when we can take advantage of the situation to try and improve and build a foundation. First, it's Burnley, let's totally focus on how we want to approach the game."
"They are a good squad, a good team that creates problems not only to us, but all the teams because their approach of the game is intense, they play good football, they have a good manager and good players."
On searching for consistency
Consistency has been the missing component for Wolves this season, but manager Nuno believes that his team his side have the ability to solve the problems that they have been facing.
"We've had a lot of challenges. A lot of challenges. One of those is to be consistent throughout the competition – that is one of the most difficult things to achieve because you always have to solve problems with new solutions we've been facing."
"But let's try to be consistent, mainly in our game. The way the players have committed themselves in the previous games have been amazing, so let's commit to it."
Wolves have just six games remaining in the league this season, and will be happy to finish strongly and try and get as many league positions as possible despite having to face Tottenham Hotspur and Manchester United in the final two games.
On injury and COVID-19 news
Wolves' list of absentees has once again grown since a few weeks ago as Ruben Neves is still isolating due to the COVID-19 virus being in his system, despite having already isolated for 14 days.
"Unfortunately, he's still in isolation, he's been tested, and he's not allowed yet to join the group. We try to provide training sessions in their own homes. Some of them have space and the weather is also helping, but it's not the same.
"We have been able, as a group, to really follow the protocols and keep ourselves safe. But these situations have happened outside of the building, so that, you cannot control.
"If a player goes to the national team and he's allowed to travel to all different countries, countries that are on the red list and he comes back and the results come of the day of the game and he has to go to isolation, you cannot control that.