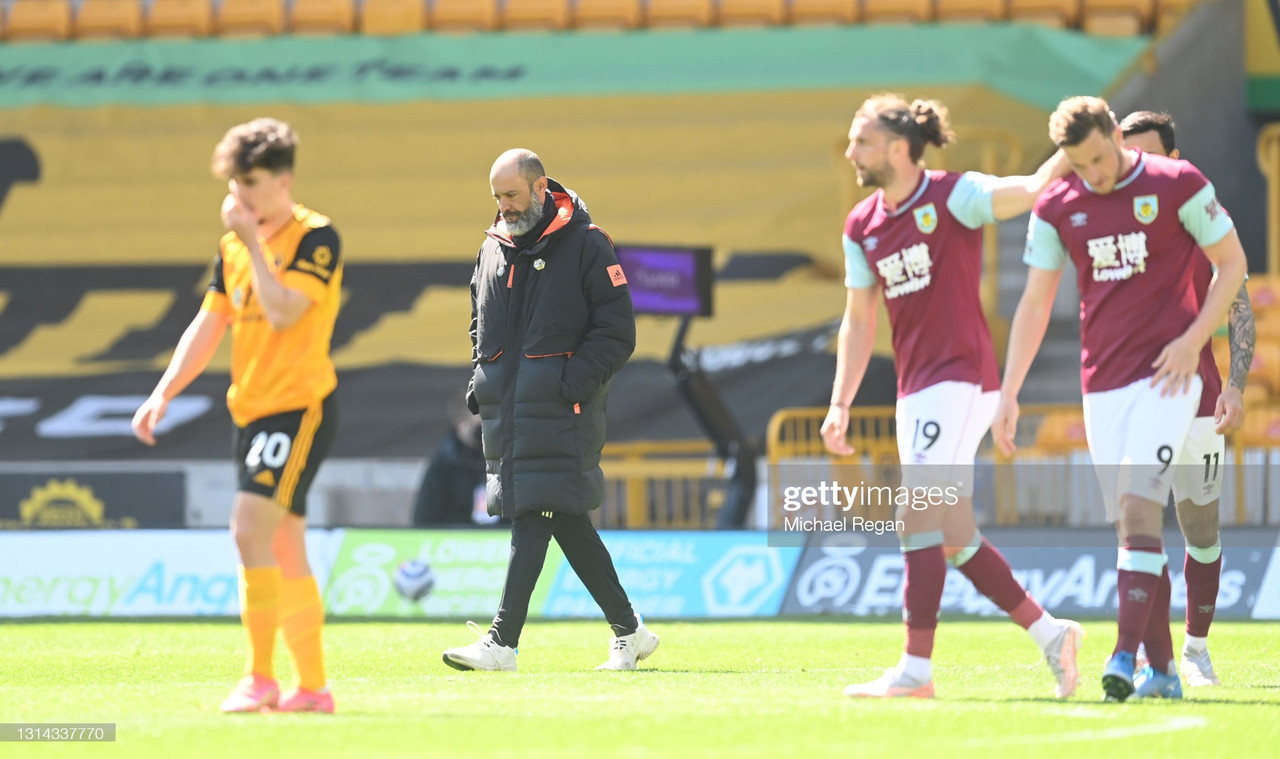 Wolves manager Nuno Espirito Santo has claimed his side will "stick together like we always do" after their 4-0 drubbing of Burnley on Sunday.
Chris Wood netted a first-half hat-trick at Molineux before Ashley Westwood grabbed a fourth for Burnley to condemn Wolves to an embarrassing defeat.
The Wanderers boss was stuck on explaining what went wrong against Sean Dyche's men, who took an important step towards Premier League safety.
"We played bad. We had a very bad performance today", explained the Wolves boss.
"Too many things, too many things [went wrong]. Hard to explain. But bad defending, not the right decisions in the right moments when we were under pressure.
"Burnley always presses us, we didn't have movement to get out of that pressure. We're not able to have possession and then we defend very bad every time."
Mentality of squad
This season continues to be a frustrating one for Nuno and Wolves as they linger in mid-table, counting down the days until the final day after an eventful season in all the wrong ways.
But when questioned on whether the mentality of the players is at the lowest since he arrived in England in 2017, Nuno was quick to deny and back his group of players.
"I will not go by mentality or character. We are the same. [The] same group of players that were here, the same staff. It's not about that.
"It's about not making the right decisions when the game asked and being practical requires bad decisions, requires mobility. And we didn't have it.
"Nothing to do with the attitude. As long as the game goes on, mistakes increase and then we are not able to settle down and play the game like we should.
"We will analyse this game and prepare much better and play it much better and do the things we want to do. Create good foundations that prepare us for our future. It's not like today. Today was clearly the path that we should not take. I will not allow it."
Each of the goals came from either a mistake or being outfought by Burnley, an element of Wolves' game that is a rarity since they were promoted back to the Premier League.
The first half showing from Wolves won't fill many fans with confidence ahead of next Monday's Black Country derby with West Brom either.
"It was a tough day. Bad when you perform so bad. Of course, you are disappointed and frustrated. This is what we have to work on. Nows the moment to re-focus and get together again and approach it as a group for the next one.
"I'm disappointed with many things. On defensive part of the game, the offensive part much more because we didn't have the movements. Everyone was without mobility in their places and this is the most hard.
"We wanted to build and we wanted to go through and we didn't do it. Of course, I'm disappointed genuinely on how we defend every moment of the game, even the set-pieces were poor.
"It disappoints me more than surprise me. Makes me think how we should regain again being compact and solid. Because we've been able to in the previous games to do that.
"Being really solid and balanced. Today was not the case. So really disappointing defensive performance.
"We speak together and look each other in the face and realise we made mistakes today. We'll stick together like we always do."