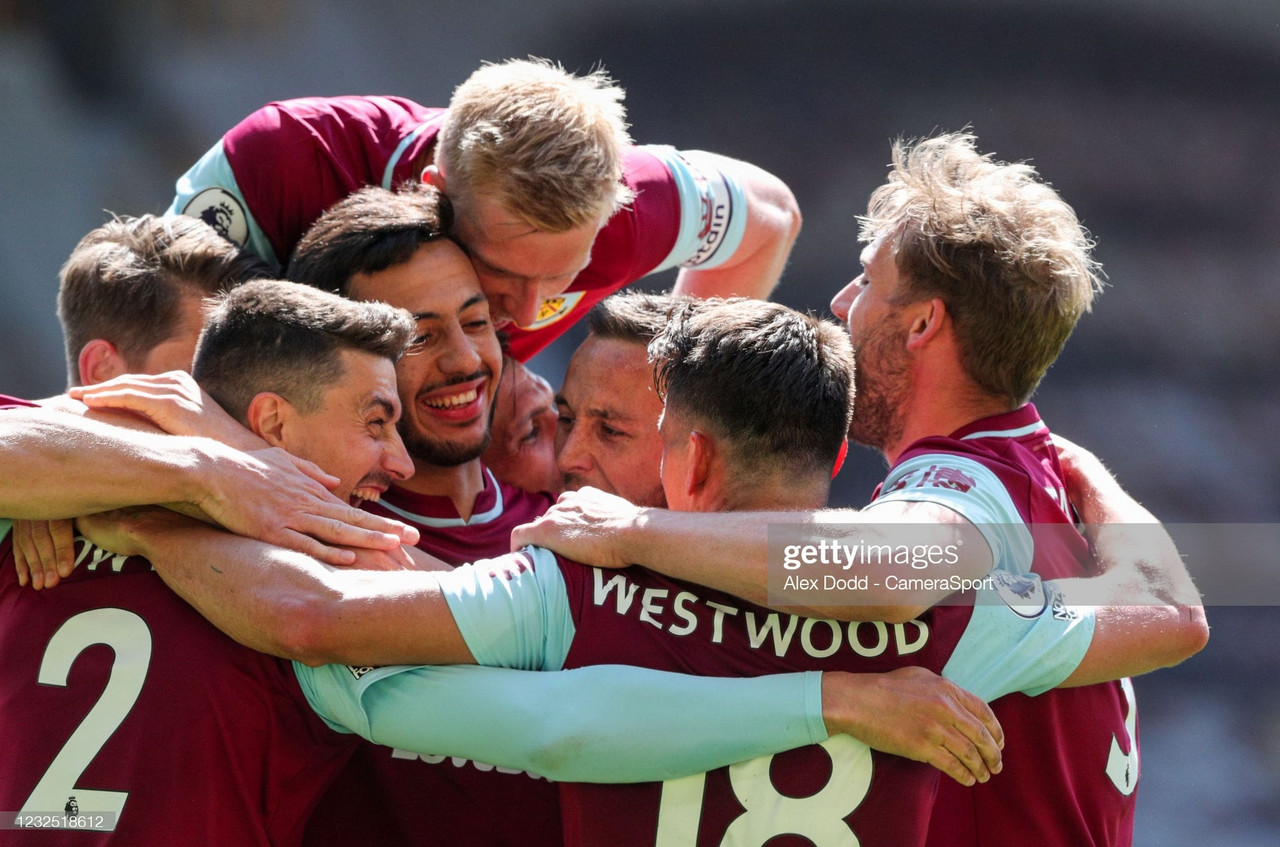 Burnley have been heralded in the past number of years for their success playing the classic, more traditional style of play while most clubs around them adopt a more flowing, passing model.
Big-man, little-man striker partnerships have typically been a thing of the past, as have flat midfield fours. Football has changed hugely over the years but Sean Dyche has his ways and the manager seems content in sticking by them year on year. However, has the time now come for an update to the retro system?
In previous games, The Clarets have slightly deviated away from the classic 4-4-2 formation and have operated with a five in midfield.
And this season, there has been some delightful football played, something too common with the Turf Moor outfit.
Would a change in formation and style be a success?
At Manchester United two weeks ago, Burnley took it to The Reds, having the ball in the net inside a minute at the start while playing with a midfield five.
Throughout the game at Old Trafford, or at least the first half, The Clarets saw a bit of possession and Chris Wood had a few chances, including his early disallowed header.
Wood in attack on his own is ideal and he showed that against Harry Maguire and Victor Lindelof, by being able to hold the ball up until his teammates got around him.
It was unfortunate not to be a successful move to a more solid central three of Jack Cork, Ashley Westwood and Josh Brownhill, as the game got away from the visitors and United took the win.
At Wolverhampton Wanderers, there was a return to the typical 4-4-2, and a rousing performance and victory followed suit.
However, the style of football being played was something not too synonymous with this Burnley team.
Free-flowing, precise passing, a high press and a deadly counter-attack are not things associated with the East Lancashire side. Usually, it is all hit and hope on a long free kick or hope for some luck.
Yet, the second half of this campaign especially, the team has moved away from the punt it long and hope for a miracle setup and has started to build their way through the thirds.
It has been refreshing to watch. But it hasn't worked all the time.
Moving away from the rough and ragged approach has left gaps open between the midfield and the defence that has lead to a number of goals being conceded.
The Danny Ings goal at Southampton last month springs to mind, when Ben Mee made an error and there was not a lot of support able to get back in time.
It could be a success playing this way, and maybe the improvement in style has meant The Clarets have stayed up this season, but some changes are required to guarantee a success.
Flowing football needs goals, and Burnley have not had that.
Wood may have found his feet in recent weeks but there just have not been enough goals scored.
A Sean Dyche team is not renowned for hitting the net all that often, but only Fulham and already-relegated Sheffield United have hit less this season.
30 strikes in 33 games is not a strong return, but should not have come as a surprise, as injuries have hit the side shockingly hard.
Sure, change the style, but recruit the right players to make it work
The issue with Burnley and a potential change in system or style for this past campaign is the appalling lack of recruitment undertaken by the club in the past 12 months.
The Covid-19 pandemic has of course had a drastic effect on finances, but it has meant a depleted playing squad of 15 outfield senior players has had to drag themselves to safety.
All while trying to learn a new style of play they haven't got anywhere near to in the previous top flight campaigns.
The players at the club currently are good enough to see it through for the rest of the season, but additions will need to be made to get Burnley back towards the European places – where they haven't been since 2018 – and away from the relegation zone.
The club has recently been linked with Nathan Collins of Stoke City, a player who can comfortably play out from the back.
Jacob Murphy of Newcastle United has also featured on the Burnley rumour mill, and his directness would be a great asset to add to Dwight McNeil and Johann Berg Gudmundsson.
Cork, Westwood and Brownhill are all exceptional footballers with the ball at their feet and could pick a pass out of nothing.
But everyone can be upgraded. It remains to be seen just how much upgrading will take place this summer.
Sure, the pieces are already there to start making a new style of football work, there just needs to be a few tweaks here and there to make it a success.