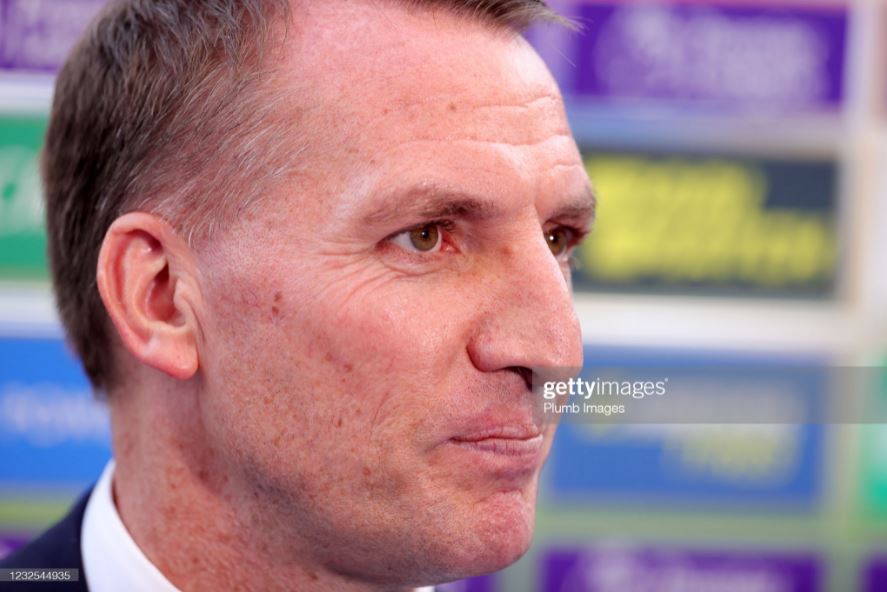 Fresh from their huge win against Crystal Palace on Monday night, Leicester City travel to the South Coast to take on Southampton as they look to further cement their position in the top four.
The Foxes have defeated the Saints twice already this season, most notably in the FA Cup semi-final to reach their first final since 1969, and will be hoping to repeat the feat once again.
Southampton face the prospect of four straight defeats in all competitions should Leicester come away with three points but will surely be fired up to take their revenge for the last time the East Midlands side stepped foot at St Mary's Stadium, the famous 9-0.
Brendan Rodgers participated in his usual pre-match press conference ahead of the game and here are some of the highlights.
On Southampton
"Ralph [Hasenhuttl] will look to improve the depth of his team. When they are all fit, they play with intensity and put you under pressure. They have been unfortunate, losing by the odd goal. They work so hard and they have gifted players. We will have to work hard."
Like many teams this season, Southampton have been struggling in terms of injuries and that has hugely impacted how their season has turned out.
The Saints found themselves top of the Premier League for the first time ever earlier on in the season but have since dropped off down all the way to 15th place at the time of writing.
Despite this, Rodgers refused to write them off as he highlighted their strengths and warned that his players will have to put in the work if they want to win the game.
On the last trip to St Mary's
"We set a record that evening. We played very well, we managed the game well. We could have scored more goals. We had 20 minutes where we didn't score. The weather was awful but that's in the past. That result will have no bearing on the result at all."
He added: "I always have empathy for managers. I sent him [Hasenhuttl] a message afterwards. But their response showed how good a manager he is. They have quality players and they came back very well."
One of the biggest talking points ahead of the match will be the sides' last meeting on the South Coast that resulted in Leicester emphatically dispatching the Saints while setting records in the process.
The result equalled the largest ever Premier League win as well as set the record for the largest ever away win in English top-flight history.
Rodgers, however, was quick to point out that the result is in the past and will not have any effect on the up-and-coming game as he will not want to see any sort of complacency from his side when they play.
On Iheanacho's form
"Firstly to him, he's very talented. His mentality is to work hard every single day. I remember coming into here and he wasn't playing so much, there were doubts about whether he could play to the level, but I think that was because he hadn't play regularly. But he was always confident. When he did play with Jamie, he showed they can play together. It was never about ability, it was about his resilience to keep going until he got that chance. We all love him here, he comes in with a smile. You see how courageous he is. He does a lot of finishing exercises. He wants to get better and the coaches are great with him."
Kelechi Iheanacho's turnaround this season has been nothing short of extraordinary, something that is encapsulated within both games against Crystal Palace.
The Foxes first played Palace at Selhurst Park and ended up drawing 1-1, something that a wasteful Iheanacho was somewhat responsible for as he missed a penalty and misjudged a free header in what was a display that showed how lacking in confidence he was.
Fastforward to their next meeting and the Nigerian was the most dangerous man on the field, playing delicate passes through to Jamie Vardy, assisting Timothy Castagne for the opening goal, and firing a late winner so emphatically that it will have taken most by surprise when it rippled the net.
The forward is currently in the form of his life, scoring 14 goals in his last 14 appearances, and has been instrumental in the club's fight for a Champions League place and their first ever FA Cup trophy.
On injuries
"He's [Harvey Barnes] had a slight setback. He's just gone in to have a second minor operation to clear up some of the damage in his knee. That will rule him out for the rest of the season. The plan is to get him fit for pre-season."
"He's [Wes Morgan] touch and go whether he will be involved this season. He's had an amazing career. He's struggling with his back. He's working with the medical team. We just have to monitor that. He's out on the pitch, but it's a day by day assessment of where he's at."
Rodgers could not give the news that fans have hoped for as he confirmed that Harvey Barnes will miss the remainder of the season due to his knee injury, representing a big blow for the Foxes for the rest of the campaign.
This news was coupled with the uncertainty surrounding the role that club captain Wes Morgan will play between now and the end of the season due to a back injury that has plagued him for the majority of the year.
Leicester have shown that they can cope well with injuries throughout the season so this news will be nothing new for Rodgers' side, though it means that they will have to continue to perform well and work hard in order to not feel their respective absences as much.
On the social media boycott
"Hopefully it will make people happier. I'm not on social media and I'm thankful for that. This show of strength by people coming together, it shows we're not standing for it and hopefully we can benefit from it."
"It's there, it's part of our life. I can't give you a detailed answer on it. I see some things, some funny things. But when I read about abuse, that's not acceptable and there needs to be accountability for that. There needs to be accountability for anyone who has that type of behaviour. There are many sections that are positive. We are in a world that is changing. Technology is so important, but we have to protect people as well."
Clubs, players, and governing bodies alike will join in a boycott of all social media platforms this weekend in a bid to challenge the abuse that is posted on them.
This has come after more and more players have come forward to show the amount of abuse and discrimination against them on multiple platforms
The aim of the boycott is to show their support to all people and players who have been affected by online abuse, as well as to send a message to social media companies that they must do more to combat the abuse shown.
While not on social media himself, something that he is "thankful" for, Rodgers gave his support to the initiative while highlighting that "accountability" has to be shown.