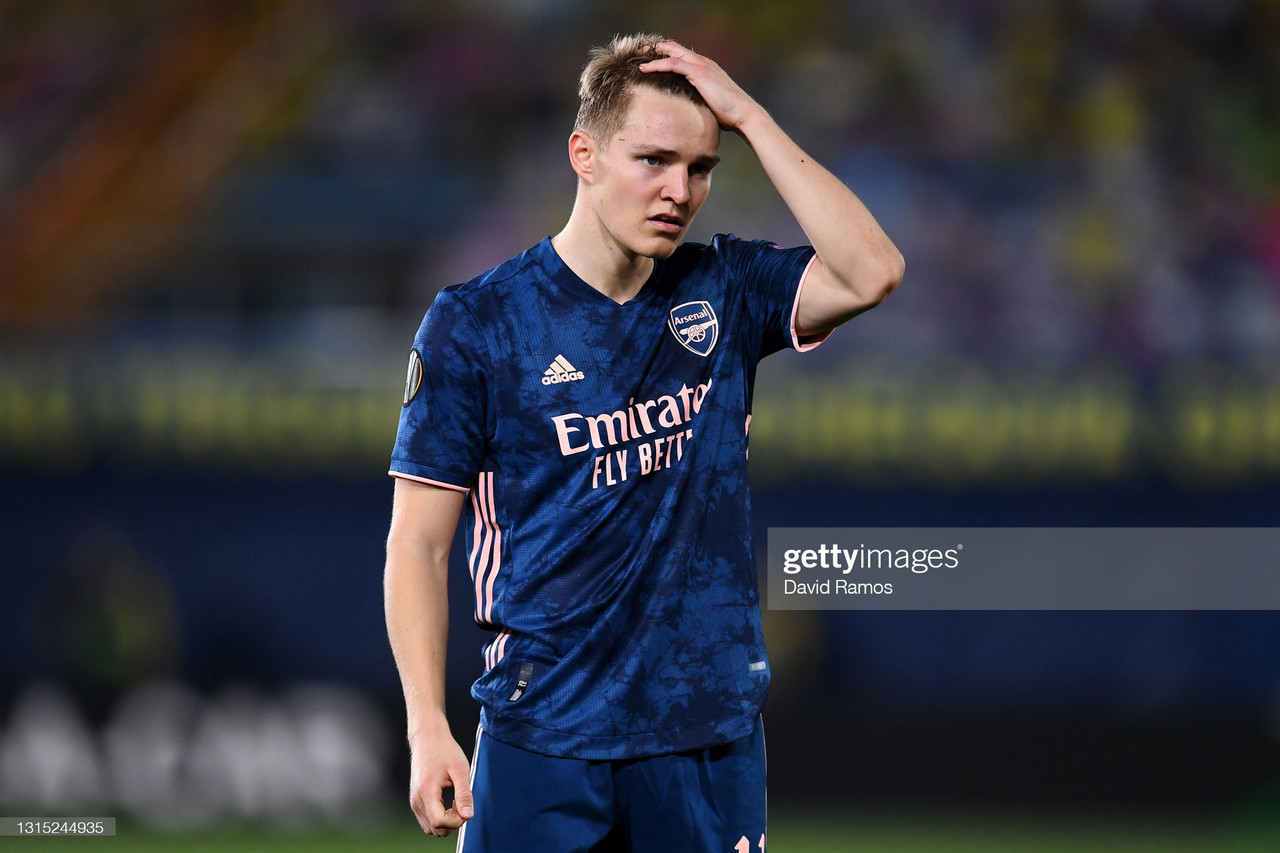 Martin Ødegaard's forlorn expression encompassed the emotions of all Arsenal fans last night, in a semi-final that the Gunners' faithful were hailing as "the most important of the season" in the build up to the game.
Arsenal mounted a comeback late on in the game, but it wasn't enough to change their fortunes in the first leg.
After falling victim to two sucker punches in the first half an hour, pundits were quick to call out Mikel Arteta's lack of reaction. Eager starlet Gabriel Martinelli, who has returned from injury in recent weeks, was left on the subs bench until the 63rd minute.
Martin Keown boldly stated after the game was over "the manager doesn't like him, simple as that." The ex Arsenal centre-back wasn't afraid to voice his opinion on the matter.
Squad selection has been a fervent headache for the Gunners boss since he's started to get the "Arteta ball" rolling. Leading with a 3-4-2-1 formation in the match, it was the third time the Spanish visionary has changed his formation in seven matches. Either he's keen on rotation or he may not know his best eleven.
However, Nicolas Pepe's penalty gave Arsenal a lifeline in the 71st minute, after Villarreal goalscorer Manu Trigueros tugged down Bukayo Saka just inside the box.
Double bookings for either side sent both teams down to ten men, a scenario that hasn't been seen in a Europa League knockout game since the last sixteen of 2017 when Benfica played Dynamo Kiev.
But what was there to take from the game? Arteta's men have a mountain to climb if they want to redeem their Europa League finals record. Last time they reached the summit (2019) they were thrashed 4-1 by Chelsea in Azerbaijan.
Pepe given a more advanced role
Pepe was given a more adventurous task on the night as Arteta set him up to lead the line in a starting eleven that was void of an out and out striker.
The Ivorian was bright however, providing half of Arsenal's six shots on target throughout the 90. His cool-headed penalty kick made a huge difference to Unai Emery's side's advantage going into the second leg at the Emirates next week.
Most interestingly was Pepe's fearlessness playing more centrally, holding the ball up well when the Gunners' broke up the field. With a game against Newcastle at St James' Park on the weekend looming, playing the winger down the middle for a second time in a row could benefit all parties.
Pepe has always seemed a handful of goals away from hitting top form for his team.
Even more commendable, the £70 million pound man held his own up front without the help of Pierre Emerick Aubameyang or Alex Lacazette, only the Gabonese striker coming on with ten minutes to go, following his recent battle with Malaria.
Absence of a fighting instinct
After Villarreal went 2-0 up, there was seemingly a delayed "fight-back" attitude from Arteta's men.
It took an hour of gameplay to put a spring into Arsenal's step, putting pressure on the yellow submarine goal and keeping possession better than previously.
If anything, it was an advantage there were no fans allowed to attend the game. An electric Spanish atmosphere would've given Villarreal more to play for, and they could have had the tie wrapped up by half time.
Pace and power injected into the home side by Gerard Moreno, Samuel Chukwueze and Manu Trigueros proved too much for Rob Holding and Pablo Mari to handle.
If Arsenal want to bring a bit of silverware back to the Emirates this year to spare the blushes of a dire campaign, they will have to be ready to put blood, sweat and tears into these final games of the 2020/21 season.