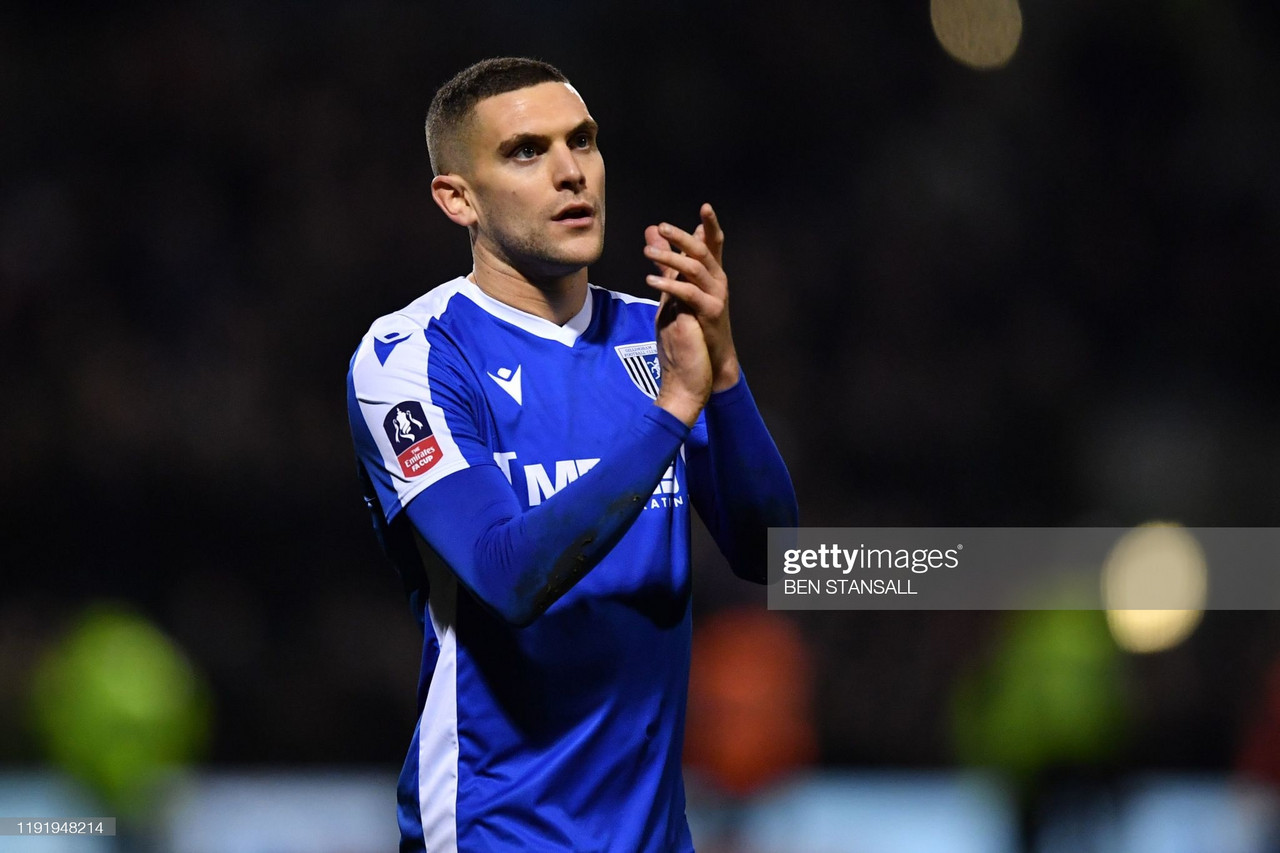 Gillingham will travel to Burton Albion on Saturday to take on the Brewers in their final away game of the 2020/21 season.
The Gills kissed goodbye to their play-off hopes last weekend with a 2-2 draw against Northampton Town, but will want to finish in positive fashion as end of the campaign nears.
Ahead of the game, Gillingham midfielder and vice captain Stuart O'Keefe tackled the press via Zoom. Here are five of his key quotes.
On the dead play-off dreams
"It is a massive frustration because everyone wants to be involved in play-offs. We had been right in the mix up until the last game – we have had a real good effort and everyone at the club has worked so hard.
"It is a credit we have taken it this far looking at the people we have competed with."
Gillingham's faint play-off hopes all but died last Saturday when they threw away a 2-0 lead to draw 2-2 with relegation strugglers Northampton.
The Gills can still technically reach the top six, but that is expected to be over this weekend. A sad end to a positive season.
On frustrations at throwing away leads
"We build ourselves on being strong, hard to beat and not conceding many goals, so for us to concede five goals in two games is gutting for everyone.
"It is uncharacteristic and seeing everyone else slip up and seeing where we could have been makes it so much harder to take."
Gillingham wasted two two-goal leads in the space of eight days last week, losing 3-2 at Oxford United and drawing 2-2 with Northampton despite being 2-0 up in both games.
The frustrations are clear to see and it is an issue that needs addressing.
On the plans for the rest of the season
"It is difficult – the camp is down and rightly so. We all know what could and should have been, but we cannot feel sorry for ourselves. We have to finish strongly and take something positive into the summer because that is what we are about.
"We are up always up against it and we have to fight right to the end and take something into the new season. If we cannot finish sixth make it seventh, if not then eighth.
"It can feel like a nothing game but that is not what we are abut – we always turn up and fight and we need to do justice for ourselves and the fans. We do not want to finish mid-table – that is not why we have worked so hard. It would be a bit of a shame if it was to fizzle out."
Both of Gillingham's remaining games this season – against Burton Albion and Plymouth Argyle – are essentially dead rubbers, but the players don't see it that way.
Steve Evans has never been a manager to allow his teams to let up and he will be willing his side on for six points to end the season.
On his future
"I will see what happens at the end of the season. I have got two more games left, hopefully I will play them and play as well as I can, and I am sure the manager and I will sit down and discuss things and see where we want to take it next season and go from there.
"This club has been fantastic for me ever since I came in, especially with my injury. I feel like I am going in the right direction. I have had two positive seasons and it is something we will look at in the summer.
"Gillingham is a much more competitive outfit now – people take us more serious and know they will be in a real fight."
O'Keefe has had two years at Gillingham now but is out of contract in the summer. He has had a positive time at the club and helped the team on and off the pitch, despite suffering a horrific leg injury earlier on this season.
He is keeping his cards close to his chest in terms of what may or may not happen in regard to him staying at the club, so time will tell what happens.
On Burton
"They have done exceptionally. When they came to us in Jimmy's first game, they were rock bottom, and to be where they are now is exceptional. Credit to Jimmy and everyone at Burton because they have dug themselves out a massive hole and they have proved a lot of people wrong.
"It will be a difficult test for us on Saturday, make no mistake about that – we are well aware of how good they are. It is one we want to play in, and we will see what happens.
"It looks like it will be a good game. There is not much to play for in terms of promotion or relegation, but it should be a high-scoring game and it will be an enjoyable one to watch and play in."
Nothing significant rides on this game for either side, but Burton will be more than happy about that.
When Jimmy Floyd Hasselbaink went back to Burton at the start of 2021 they were rock bottom of the League One table and miles away from safety. He has, however, steered them to 16th in the table and certain safety – almost a miracle.
Albion have been in decent form and beat Fleetwood Town 5-2 in midweek. They will provide Gillingham with a serious challenge in their final away game of the season.