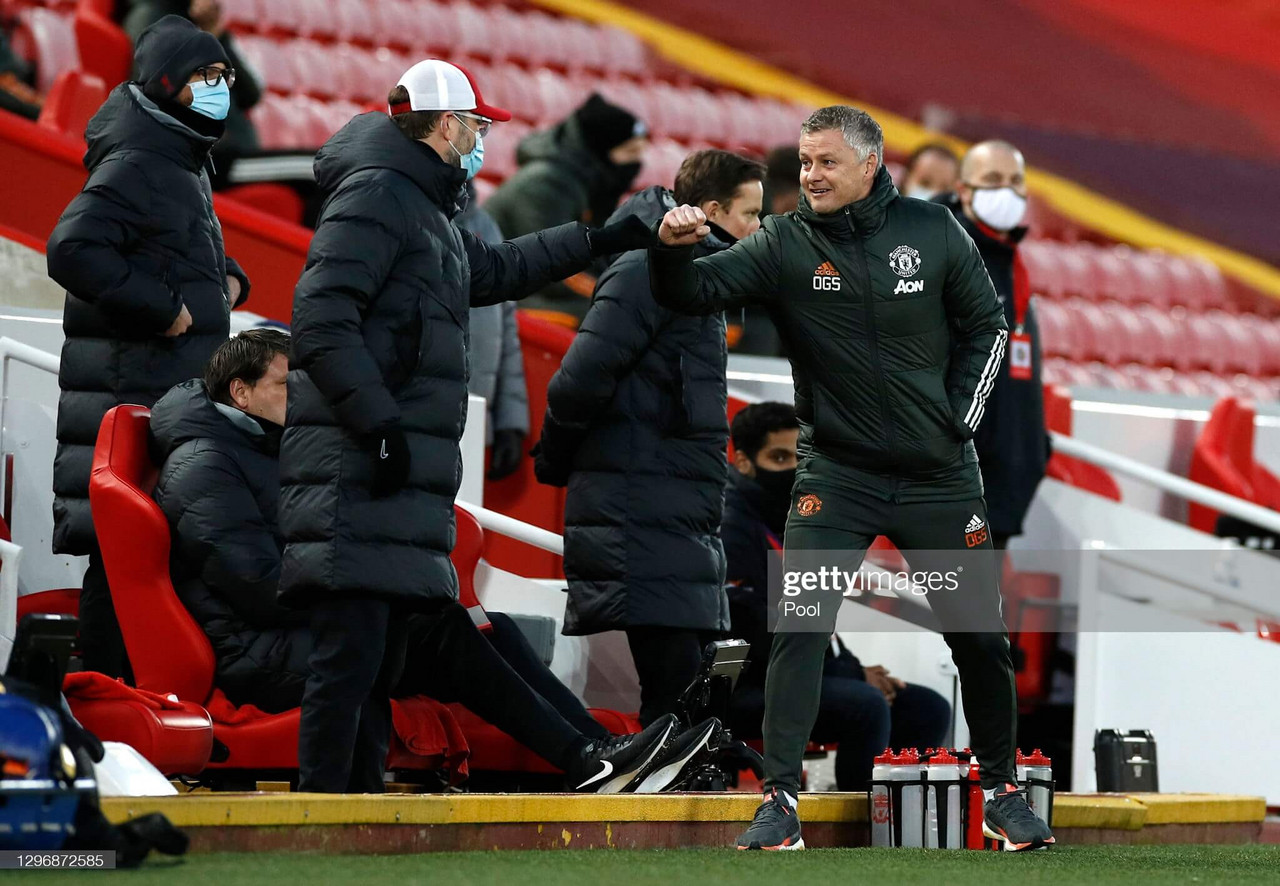 Manchester United can put a dent in Liverpool's qualification hopes for the UEFA Champions League this weekend.
It has been a season to forget so far for Jurgen Klopp's men. They are currently four points off the final Champions League qualification spot and Thomas Tuchel's Chelsea do not look like letting up.
They travel to Old Trafford on Sunday for the second time this calendar year. United came out on top back in January and would love to replicate it on Sunday afternoon.
Already a trophyless season for Liverpool, now no Champions League?
It will be a year without silverware for Klopp as his side bowed out of the Champions League just over a fortnight ago when they were beaten by Real Madrid.
United knocked them out of the FA Cup fourth round and they said goodbye to the Carabao Cup back in October when Arsenal beat them on penalties.
If Chelsea were to beat Fulham this weekend, and United beat Liverpool, Klopp's side would be seven points adrift with four games to play.
But United manager, Ole Gunnar Solskjaer, has said that is not on his or his player's minds.
"We're just thinking about winning ourselves. Whatever that does to Liverpool cannot be of our concern.
"You have games that you look forward to, this Liverpool game is one of the biggest games of the season. It doesn't matter if we're first or second, third or fourth. It doesn't matter. This is a massive massive game," Solskjaer said.
A win would mathematically secure top four for United
Three points on Sunday would seal a Champions League place for United next season. This will be Solskjaer's second finish inside the top four in as many seasons.
Solskjaer has said the way the game is now, it is almost like winning a trophy.
"I think football has turned this way. One, you fight to win the Premier League, that is the bread and butter, the dream and what everyone wants. But it's almost like another trophy (finishing) second, third and fourth.
"Because Champions League is such a massive tournament to be in, you're playing against the best and there are lots of financial gains. Last season – when we were so far behind – our aim was to get into the top four.
"Sometimes the top four isn't even secure, because Arsenal and Chelsea can still win their respective tournaments and not be top four. We've just got to make sure that we are doing our job and getting into the Champions League ourselves," he added.
For Solskjaer, top four will be enough to keep his job but he will be desperate for a trophy and he has a great opportunity in the Europa League. His side have one foot in the final, and they could bring silverware back to Old Trafford for the first time since 2017.