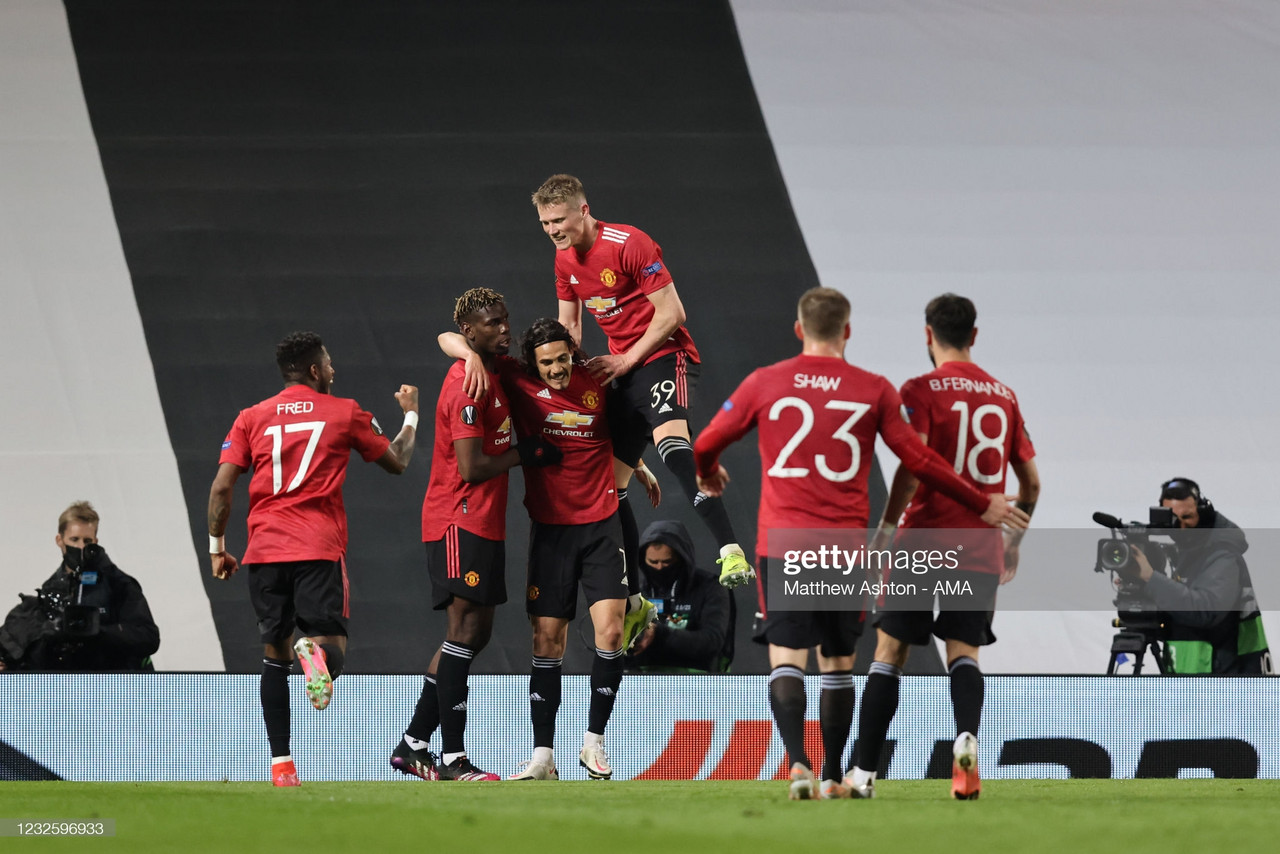 After their 6-2 demolition of AS Roma in the Europa League semi-final, Manchester United scored five or more goals for the fourth time this season.
It was a superb second-half display from the Red Devils, but what was even more impressive was their drive to keep scoring and that is just one example of the ever-growing mentality in this squad.
After going into the break 2-1 down, perhaps the United side of last season would've struggled to get back into the game, but the quality and experience of players such as Paul Pogba and Edinson Cavani helped United to get right back into it and it wasn't long until they went into the lead with Cavani grabbing his brace quickly after the second half began.
It was after their fourth goal, where Bruno Fernandes scored from the spot, which showed the strong mentality of this group.
As the players were celebrating, Scott McTominay showed his desire for the team to get another goal, while keeping it solid at the back. The Scotsman repeatedly told his teammates: "We lock it out and get one more goal."
McTominay's wish came true as just four minutes later, Pogba extended the lead again and United were 5-2 up.
Yet again, in the celebrations, the Scotsman's demands of his teammates were shown, as he declared: "Come on, let's go! Come on, one more goal!" and his captain, Harry Maguire, joined him, patting Pogba on the back while commanding his teammates: "Come on, f**king go again!"
The game ended 6-2 and United have almost certainly claimed their place in the final, but it would not have happened without the desire from the team to get another goal each and every time that they scored.
This is not the first time that we have seen this desire under Ole Gunnar Solskjaer, even when games are dead and buried. In fact, against Southampton, at 9-0 in the 93rd minute of the game, McTominay's first reaction to Daniel James' goal was to point at the ball, wanting his team to score a 10th.
The Scotsman has his critics, and rightly so; he still needs to improve multiple areas of his game, but his voice is one of the loudest among United men, and you need that.
It seems that the club have a good mixture of vocal players, like Dean Henderson, Luke Shaw, Maguire and McTominay, but also players who inspire others and have the experience needed to win competitions like Cavani and Pogba
There are certain areas in which United need to improve. They have struggled to see out close games in the dying minutes and have had trouble starting matches well all season long, but the fact that they have come from behind and won so many of these games is a testament to their character and shows that they are heading in the right direction.