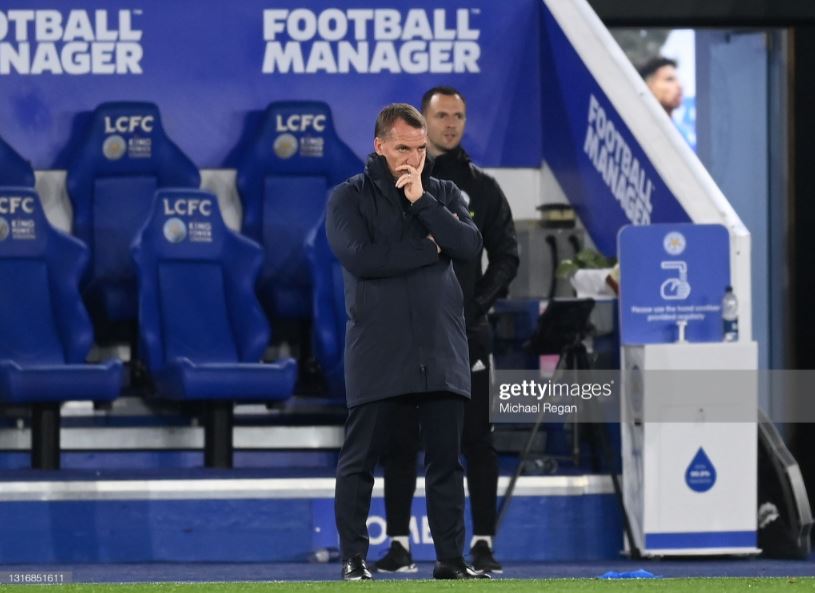 Leicester City will be spending the weekend looking over their shoulders after their 'must win' game against Newcastle United ended in a crushing defeat which sees their Champions League qualification questioned with three games to go.
First-half goals from Joe Willock and Paul Dummet put the away side in the driver's seat before a further two goals in the second half courtesy of Callum Wilson all but ensured the victory and Premier League football next season for the Magpies.
Consolation goals from Marc Albrighton and Kelechi Iheanacho halved the deficit but came too late in the match as the Foxes' top four hopes took a big blow ahead of games against Manchester United, Chelsea, and Tottenham Hotspur.
Brendan Rodgers was left to face the media's questions after the final whistle and here are some of the highlights.
On the defeat
"You have to be concentrated. If you look at the goals this evening, especially in the first, they're poor goals. We didn't defend at all well.
Leicester never seemed to really get going in the match until the final ten minutes when they scored two goals but by then, the damage was done.
Rodgers pinned it down to a lack of defensive concentration and it is easy to see why as his side were caught out on the counter-attack all evening. The pace of Wilson and Allan Saint-Maximin was troubled the backline all evening and Caglar Soyuncu in particular had a torrid outing as his positioning and decision making let him down on more than one occasion, most notably his mistake that led to the first goal of the night.
With three games coming up that are make or break in terms of top four qualification, (and the small matter of the FA Cup final sandwiched inbetween,) this performance will have bitterly disappointed Rodgers, who will be hoping that his side pull it together for the remainder of the season.
On Evans' injury
"He seemed fine in the warm-up but 15 minutes before kick-off he felt discomfort. He's a warrior so you know if he can't even give it a go, he's struggling. We'll see how he is and assess his availability going forward."
Jonny Evans has been a rock at the back for Leicester and his last-minute injury was more than a big blow not only ahead of the match but potentially for the rest of the season should he not be able to play a part.
A calming presence at the back, Evans' experience and leadership helps to organise the defence, something that seemed to be sorely missed during the match as the defence was caught out multiple times.
While the next game against Man United has great importance, that match is followed by the FA Cup final and everyone associated with Leicester will be hoping that the Northern Irishman will be fit to play as on big occasions such as that, experience and leadership is more than key to counteract the nerves.
On James Maddison
"This time last year, the player we were crying out for was James Maddison with his ability to create. I don't lose sight of that."
Having been fighting for fitness for the majority of the season, James Maddison has been struggling for form as of late as his influence on matches has not been up to his usual standard.
Rodgers seemingly isn't worried by this as he pointed out that Maddison's injury at the end of last season dented the side's creativity massively and has stressed that he, and Ricardo Pereira are not fully fit and can only improve on that with more matches under their belts.
With the season reaching crunch time, Rodgers will be hoping that Maddison and Pereira return to their form pre-injuries very soon as they both have the quality to boost the side into reaching their objectives at the end of the campaign.
On top four hopes
"Everything's still in our hands. We've made it difficult for ourselves with the last two results. It's disappointing, especially tonight, but we have to go away now and recover for a massive game on Tuesday. It's all still in our hands."
After two disappointing results against Southampton and now Newcastle, the final games of the season will be more nervy than Rodgers would have hoped.
The stature of the final three opponents meant that the games against the Saints and the Magpies were must win, but instead of coming out of them with six points like they would have hoped for, they emerge with only one.
Due to this, they have to pick up the necessary points against Europa League finalists, United, Champions League finalists, Chelsea, and top four hopefuls, Spurs. While the Foxes have gained seven points from the three clubs already this season, the matches will undoubtedly be tougher as time is running out to book a Champions League place.
On fears of missing out on top four again
"They certainly have more resilience. We have to fight for everything. We're so close. Tonight is a disappointment for everyone. But it's key that you're concentrated. Tonight we didn't have that level."
With the two disappointing results, comparisons to last season have been made as Leicester threaten to be caught in the race for the top four, but Rodgers insists that his side is better equipped to get over the line due to the experiences of last season.
Despite this, his side are at danger of repeating the events of last season and due to their difficult run of fixtures, the concentration and fight that Rodgers spoke of has to be there in abundance if Leicester are to be able to play the Champions League theme at the King Power Stadium once again.