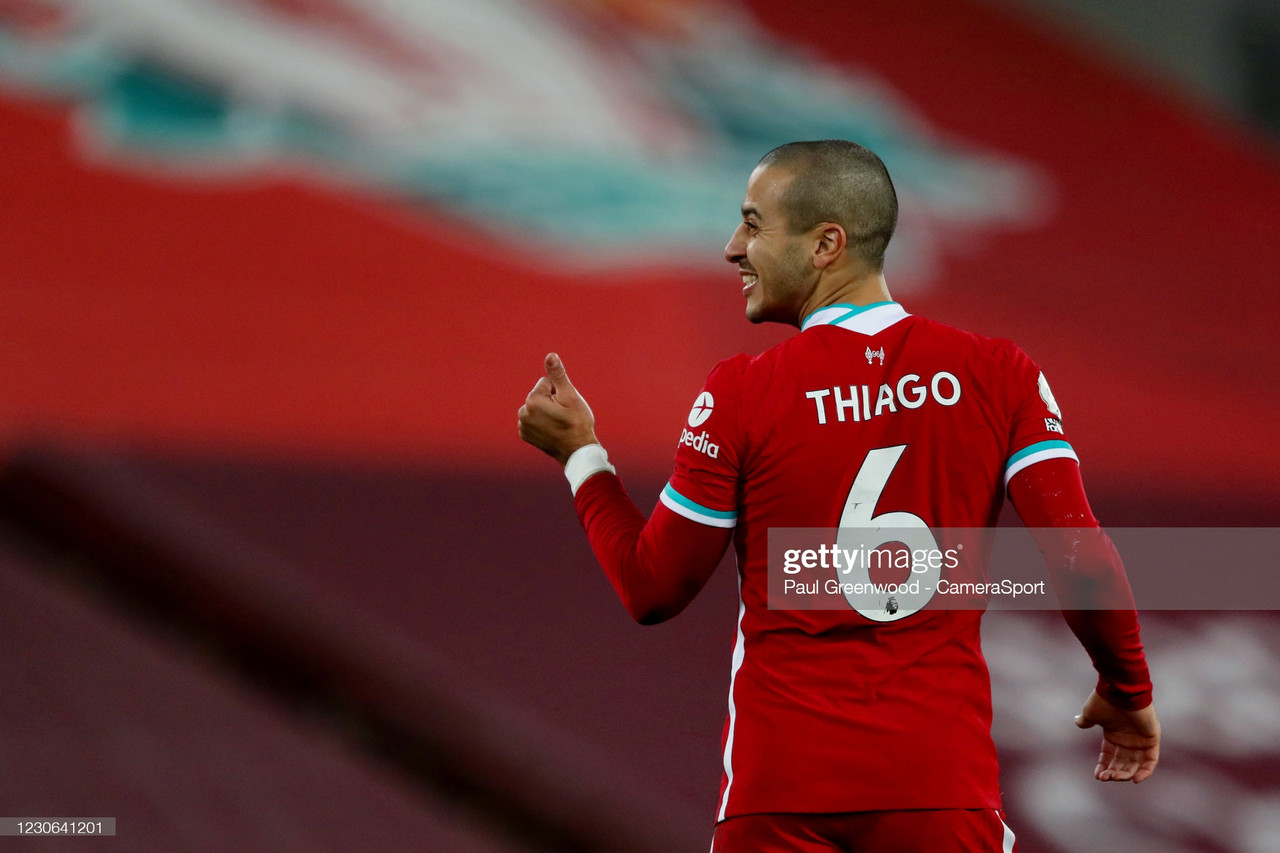 Jurgen Klopp has brushed off criticism of summer signing Thiago Alcantara as he believes the midfielder will show his true quality in the future.
The comments come after Klopp was asked about Thiago's performances in his first Premier League season - which has been blighted by disruption - a topic of conversation that has seen the two-time Champions League winner come under harsh scrutiny. However, the German has insisted although Liverpool have not seen the best of Thiago, he is "completely happy" with his efforts this season.
It was a near-perfect start to life on Merseyside for Thiago when he made the switch to Liverpool in September of 2020. It didn't take the 30-year-old long to leave his mark on the Premier League as he set a new league record for the amount of completed passes in a single half, on his debut against Chelsea.
75 - Half-time substitute Thiago completed more passes (75) than any Chelsea player managed in the entire match. Since full passing data is available for the Premier League (2003-04), his 75 successful passes are the most by a player who played a maximum of 45 minutes. Control. pic.twitter.com/UvHfrw1ggN

— OptaJoe (@OptaJoe) September 20, 2020
It may have only been a brief cameo in West London, but Thiago had left fans itching for more as he orchestrated Liverpool to an early season statement with a 2-0 victory at Stamford Bridge.
His Anfield career was to be halted almost instantly as he tested positive for Covid-19 and was forced to sit out of the Reds' next two league fixtures. He marked his return from illness with arguably his best performance to date, as he dominated the midfield against Everton in October's Merseyside Derby.
As was shown by his first setbacks, his early Liverpool career would follow the sequence of one step forward, two back. As he was on the end of a barbaric challenge from Everton's Richarlison; a challenge that would keep the Spaniard sidelined till late December, missing ten league games in the process.
What did Klopp have to say on the situation?
Klopp is adamant that Liverpool have a "world-class" player on the books in the form of Thiago. Speaking to the media ahead of Saturday's game with Southampton, the Liverpool manager explained why Thiago's transition hasn't been as smooth as many believed it would be.
"Thiago came in a really difficult season, he is a very important player for us. He started really well and then got a bad injury, an annoying injury as well because it took a really long time.
"Coming back into a team that wasn't clicking. From a tactical side he was used to different patterns and styles at (Bayern) Munich, it's just not a year where a new signing just comes in and shines, especially in midfield.
"We are 100% convinced we will get the best out of him because he is a world-class player."
Klopp was quick to point out the differences between his two high-profile summer signings, Thiago and Diogo Jota. Whilst the latter has enjoyed a prolific first season in Liverpool colours, Klopp believes Thiago was always going to need time to settle in, especially when playing in his midfield; as it is common knowledge how physically and mentally demanding it can be.
"With Diogo (Jota) it is a little bit easier, even though had a really difficult injury, he is the one finishing situations off, he is not so much involved in the creating situations. Creating is the moment where different things have to work out together. This is why it was difficult for Thiago. We are completely happy with him and we will see the best of him, I don't think we saw it already, but that isn't a problem."
What's next for Thiago?
It has clearly been a season to forget for the, just about, reigning Premier League champions. After cruising their way to a first league title since 1990 last campaign, expectations were, as always, high going into this season.
Klopp's squad has been ravaged by injuries to star men over the course of the season, which has ultimately upset the working balance of the side; restrictions on the full-backs, missing protection in midfield and frequent changes to defensive partnerships have been factors that have derailed Liverpool's title defence.
For Thiago, he's almost been sold a dream. Brought in to play alongside Jordan Henderson and Fabinho in a midfield trio. Klopp has only been able to deploy this midfield once, in Thiago's second outing for the Reds at Goodison Park; and it's no coincidence that the former Barcelona prodigy had his finest outing in the middle of a perfectly balanced trio.
Only time will tell if Liverpool's £25million gamble on their new No.6 will come to fruition. Correct personnel, a settling in period and firing frontline next season will all help us judge Thiago's Anfield stay.
One thing that is for sure, is that he has the full faith of his manager, something that will prove to be invaluable as he looks to find his feet on Merseyside.