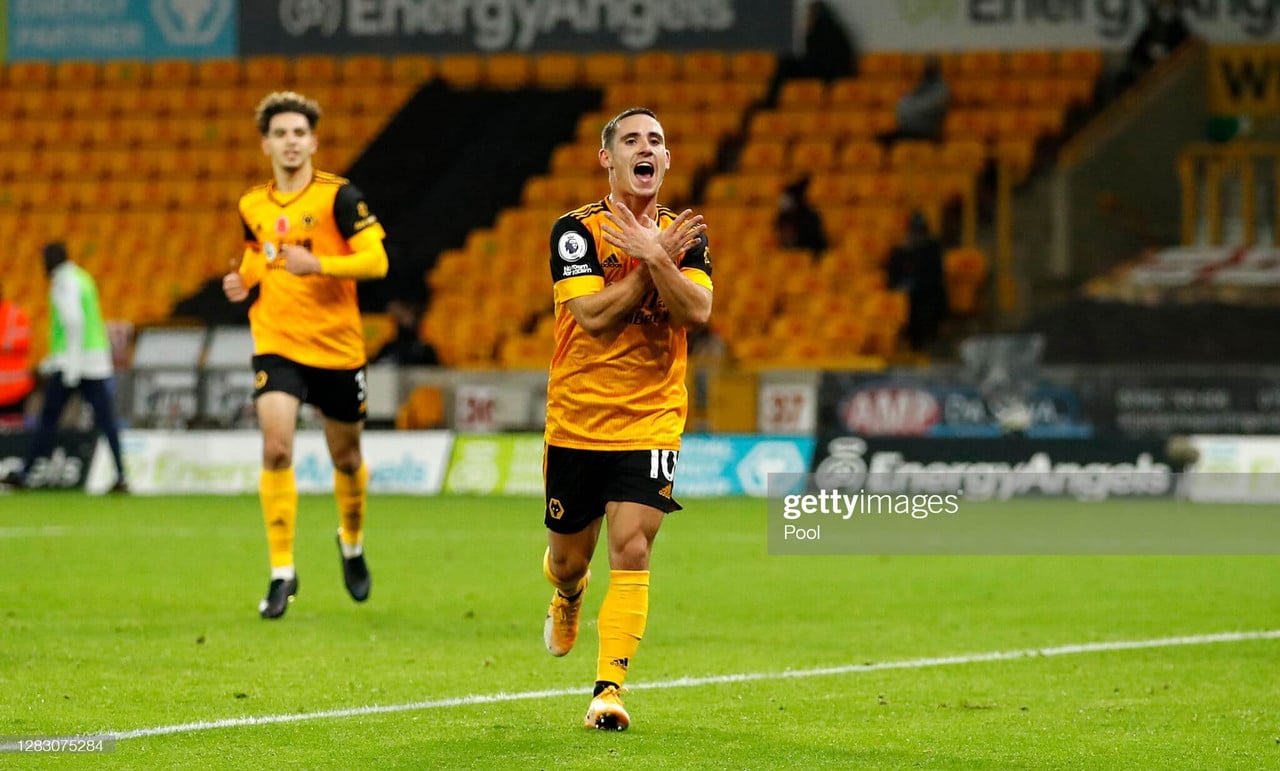 Wolves winger Daniel Podence has expressed his frustrations on the injuries he has suffered in his first full season in England.
Podence, 25, has been forced to miss 11 Premier League games this season, but is now back in Nuno Espirito Santo's side and has started all but one game since returning from a tear in one of his abductor muscle.
The Portugeuse winger has three goals and one assist this campaign and has been one of the Wanderers' most attractive players on the ball alongside Pedro Neto.
Speaking about his frustrations with injury, Podence said: "It's been very frustrating because I never had so many injuries and coming here, to the best league in the world, with all of the tough games that I have missed until now, it's very frustrating, but I understand also that it's not a normal season.
"I hope next season will much better and easy for me because we will have pre-season, normal games, preparations, more conditions to be fit, and this season was very tough because of postponed games, a lot of Covid cases, and also I didn't have pre-season that I needed.
"So, it was very hard for me, but I think I will learn from it and in the future. I will be much strong than I am now."
Mixed Season
Podence made his Portugal debut earlier in the campaign as they defeated Sweden 3-0 in the UEFA Nations League after impressing at the start of the 2020/21 season.
For Wolves, he has displayed his versatility, a key skill in a Wolves squad, by playing as a left-winger, right-winger and through the middle as a number 10.
With Neto out injured with a broken kneecap and Raul Jimenez on the road to recovery from a fractured skull, Podence has been used all around the front line for Wolves in a difficult campaign.
"I would say I prefer winger because I spent my whole life, since I was a kid, playing as a winger.
"Doing crosses, dribbling everyone, doing assists, goals and I really enjoying dribbling- one versus one, for me, is one of the best things. I really enjoy it.
"Four or five years ago I started playing as a number 10 at Sporting. I can enjoy it also because it's a position that I can play and I can give assists, be important in the middle, but I prefer playing as a winger because I'm more comfortable on the side, to give crosses, dribble, come to the middle or shoot."
"We need to give everything"
Wolves host Brighton & Hove Albion on Sunday afternoon and will be hoping to earn three points in their final home game before supporters return to Molineux for the contest with Manchester United on the 23rd.
Podence, who featured in the final 20 minutes of Monday's Black Country derby with West Bromwich Albion, says he is enjoying every moment and is anxious to improve himself.
"I'm enjoying every game, every minute, it's amazing to be here because I've been watching the Premier League since I was a kid, all the fans in the stadium, all the tough games, all the big players I've watched for a lot of years.
"It's not the same, but next season I hope we'll play again with full stadiums, good environments and we'll be playing all the time against big players, big clubs like Liverpool, United, Arsenal, Chelsea, even Brighton, West Brom, it's always a good game, a tough game, you cannot say next week we have an easy game, because we need to give everything.
"Of course, if you are playing against the best teams, the best players, you will improve yourself and it's good because you can be in the middle of the big teams, the big players, and that's what I want to improve myself, to be a better player, and to be in the middle of the best."
Looking to Sunday's fixture, Podence is keen to get all three points and see an improvement in his side's performances.
"Some poor results and some poor games, we didn't play so well against Burnley and West Brom. We could have won at West Brom, but the game was not so good, the weather was not so good also.
"Now, against Brighton at home, we are two games without winning, it's our time to get a good result, to get three points in the table, that's what I want and to also improve our game," Podence added.
"We must finish our season in a good way to have a good feeling, that's the most important."