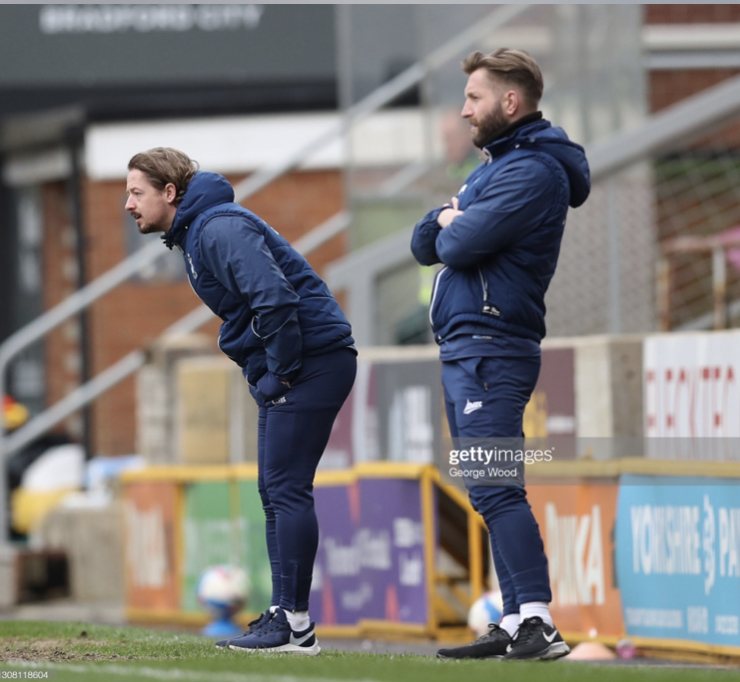 Mark Trueman and Conor Sellars have both parted ways with their role of joint manager at Bradford City, as the club prepares for a fresh start under a new manager.
Trueman and Sellars were only in charge of the Bantams for six months, after succeeding previous manager Stuart McCall back in December.
Whilst their roles were only made permanent back in February, the pair have managed just one point in their last 21 games, ending an ambitious idea of the play-offs and seeing Bradford settle for a mid-table position. This run unfortunately cost the duo their jobs, but it was an exciting ride under two of the youngest managers in the football league, seeing the pair nominated for the February 2021 Manager of the Month and having a run of just one defeat in their first 15 matches.
Whilst their permanent tenure was just 78 days long, fans applaud and thanks Trueman and Sellars for their contributions, as both are reinstated with different roles at the Bantams.
What does their departure mean?
Whilst many Bradford fans expected their fresh start to come under McCall at the start of the 2020/21 season, it wasn't to be as the Bantams struggled against relegation under the Scotsman.
There's a real opportunity now for the board of Bradford to get this appointment right and to start building in the right direction. The Bantams have declined for a number of years now, and finished this season with their lowest league standing since the 2011/12 campaign, so a fresh appointment, a few new faces and a reminder of what it means to play for Bradford City, is needed ahead of the new season.
It is clear that the currently transfer agenda at the Bantams is progressing, as Trueman and Sellars proved in January that some key signings could be made in a short amount of time.
The appointment of experienced recruitment director Lee Turnbull in late December was a signing that went under the radar, as he demonstrated that has the skills to bring in some fantastic players. In just a short amount of time, he uncovered the likes of Andy Cook, Charles Vernam and Niall Canavan, so with a full Summer behind him, there could be some positive transfer business made.
A clean slate for players
The main positive of a new manager is that it often results in a clean state for the players, especially at the end of the season.
A number of Bradford players have underperformed this season, leading to the club's underwhelming state, but now have a fresh opportunity to prove themselves again, not only to the fans and the board, but to the new manager, whoever that may be.