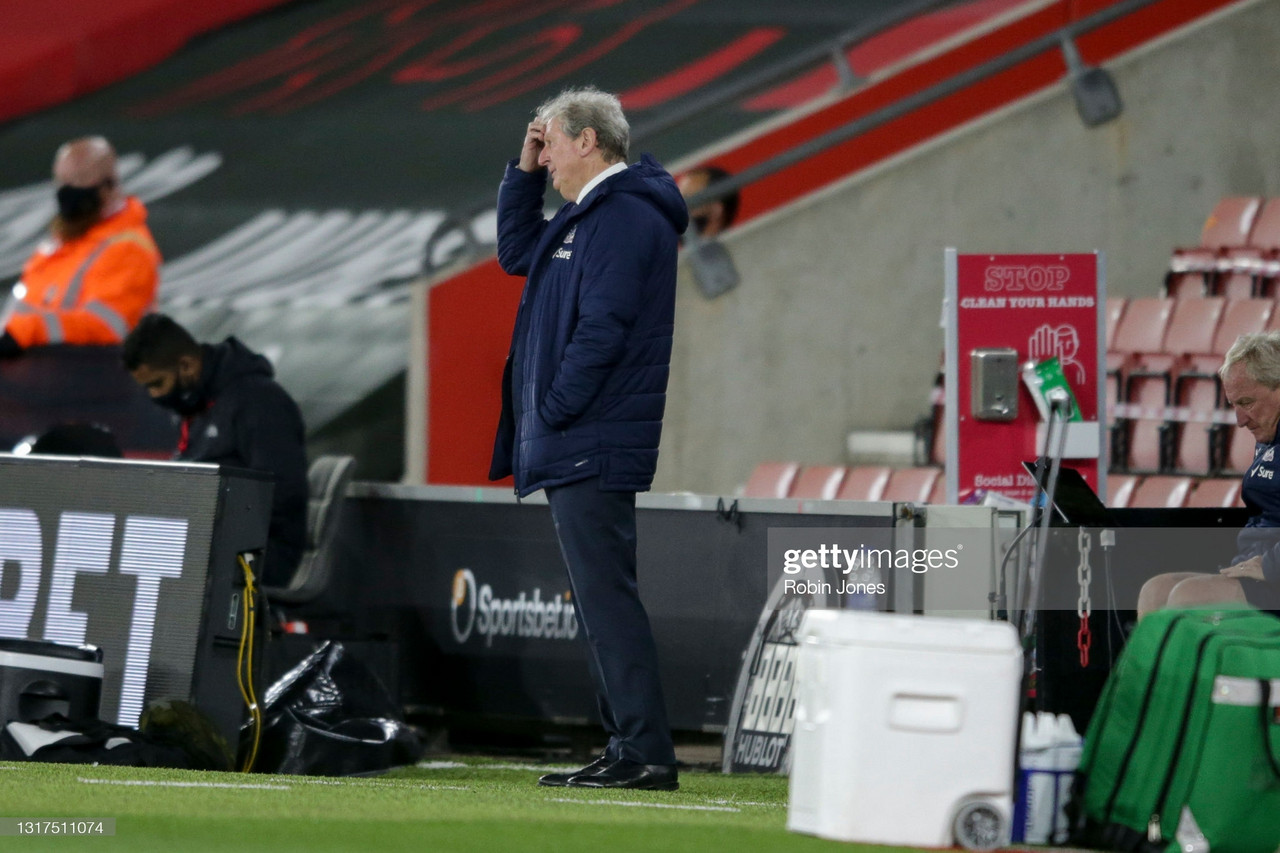 Roy Hodgson believes that the mentality of his side cannot be put to blame after Crystal Palace lost to Southampton in midweek.
"I've seen us play better, but it certainly wasn't a case of us not wanting to get something from the game", he told the media.
Crystal Palace scored first in their Premier League clash in midweek- with Christian Benteke repeating his early involvements that were on show against Sheffield United. The Belgian tucked away his eighth goal of the season within two minutes of play.
However, a penalty save following Wilfried Zaha being bundled over in the box shifted the momentum in favour of the home side. A poacher's finish from Che Adams and a double from Danny Ings ensured that the Saints would clinch all three points.
"We must dust ourselves down now and accept it wasn't our night tonight and give similar performances or better in our last three games because it would be nice to get a win or two before the end of the season."
As a result of gaining the 40-point threshold in the Premier League after coming out victors at Bramall Lane, Palace secured their ninth consecutive season in the top-flight, an achievement that rose to more prominence after the confirmation of Fulham's relegation.
So, defeat on the South Coast was obviously going to unravel murmurs of discontent aimed towards Palace's hesitancy to achieve more, despite no longer having anything to fight for.
"We don't want our season to peter out. We don't want anyone to accuse us of not trying our best right up until the end."
While the Eagles head coach refused to pin blame on the psychological factors of the defeat, he was keen to reflect on the tactical tweaks that allowed the hosts to exploit Palace's positive outlook.
He added: "The second-half certainly evened out, though we had some chances of our own, and we decided in the last 20 minutes to go for it. We opened up into a 4-4-2/4-2-4, and as a result, that opened up space in midfield to create that excellent pass into Danny Ings, and that's what cost us in the end."
The turning point
Hodgson also addressed Luka Milivojevic's missed penalty - highlighting it as a potential turning point in the game.
"He doesn't miss many – he's been very good with penalties over the years," he said. "Penalties get missed, unfortunately. We've got to try and find our way back into the game. We tried hard but it didn't work out, and in the end, they got that third goal that sealed the game.