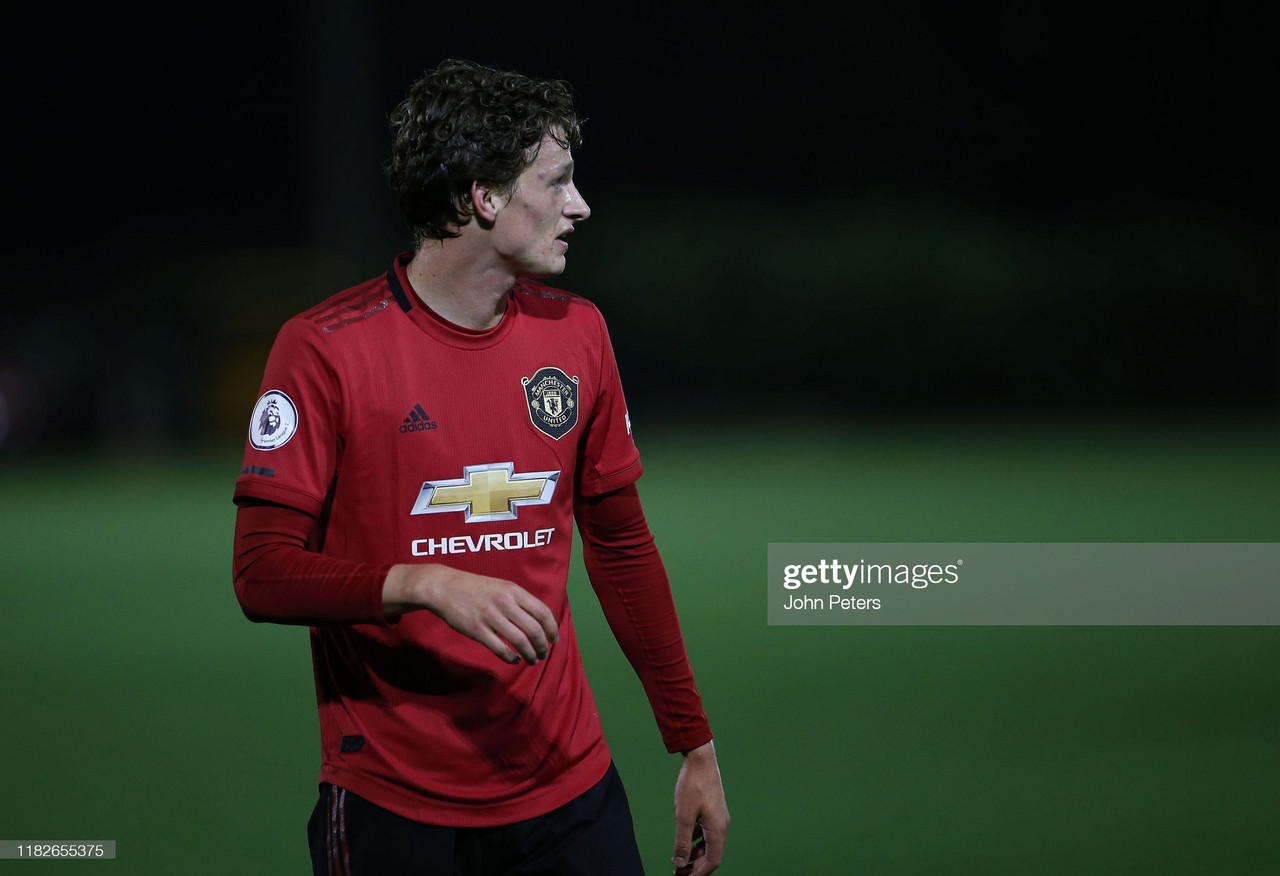 There are plenty of stories of young footballers struggling to create a career for themselves in the professional game after leaving Manchester United as a youngster. We're not talking about players like Federico Macheda or James Wilson, who enjoyed decent careers after being released from Old Trafford. The Athletic covered the story of one Charlie Scott, who was released in 2018 at the age of 20 and worked as a labourer in Stoke-on-Trent. Scott played for Newcastle Town and Kidsgrove Athletic before joining Happy Valley in the Hong Kong Premier Division.
Never heard of Scott? You wouldn't be blamed for it.
But thus is the life of thousands of players that can't quite cut it at the highest level and fizzle out with their confidence struck.
One player who won't suffer such a fate is Max Taylor. Ever heard of him? We wouldn't blame you if you hadn't.
Taylor is set to leave the Red Devils in the summer despite signing a contract extension a year ago, after a successful loan spell with Stalybridge Celtic, in the Northern Premier Division, where he was fighting against the likes of Whitby Town and Radcliffe FC.
It was for Stalybridge that I first saw Taylor play, against Nantwich Town, in a battle between two of the stronger sides in the division. The defender, starting as a defensive midfielder in the match, looked a class above for the first forty-five minutes, easily better than the level he was playing at; the seventh tier of English football. Taylor was substituted just before the hour mark with his side two goals down, but it was clear that he was not at fault for the scoreline.
Why is Taylor such an impressive young talent? His resilience.
At aged just eighteen, the defender was diagnosed with testicular cancer, which, thanks to the work of charities like Movember and Oddballs, is not as feared as perhaps it once was. However, for a top-level athlete, it could result in an early retirement.
The tragic story of Dylan Tombides comes to mind. Tombides made his debut for West Ham United in 2012, coming off the bench in a League Cup clash with Wigan Athletic; fulfilling any young man's dream by playing for a Premier League side. However, his appearance was made all the more impressive considering the Australian youngster was in the midst of chemotherapy, with the fixture being his first outing in fifteen months after being diagnosed with testicular cancer.
Tombides passed away in April 2014, just a few months after representing his nation at the Asian Under-22 Championships. Other than Bobby Moore's iconic #6 shirt, Tombides' #38 it the only shirt number to be retired by the Hammers. His foundation, DT38, looks to educate people about the dangers of testicular cancer, as Tombides was initially misdiagnosed and informed his discomfort was only a cyst. They encourage young men to regularly check for soreness and to check in with a doctor in the case of any concern.
To recover from testicular cancer is nothing short of a miracle for Taylor. To continue his dream of playing football is a testament to his mental strength and determination. The defender never played for the United first-team, though he did appear on the substitutes bench when United took an almost all-academy team to Astana in the Europa League in 2019.
Taylor has teamed up with Movember to continue their campaign of raising awareness of testicular cancer, encouraging males to talk more about health and signs of such a disease. He says that "I went to a boys' school and not once did we have talks on health that could be for boys. I think girls do it really well. They talk about breast cancer, smear testing and things like that. It's amazing they openly talk about it."
Taylor will now look to forge a professional career in the lower reaches of the football pyramid; successful loan spells with Stalybridge and National League North outfit Kidderminster Harriers, as well as a strong run of matches for United's U23 side, will stand him in good stead this summer as he looks for a new club. The defender could also explore the option of moving overseas.
"I've always liked the idea of discovering a new culture, being in a different country, different styles of football and stuff.
"But, of course, if there's an opportunity in England in the leagues and stuff where I see myself there, see myself fitting in and want to be there then I'm open to everything, really."
But regardless of where Taylor ends up this summer, the mental toughness he has gained from the last few years will inspire any future success he may have.
DT38 Foundation: https://dt38.co.uk/
Movember: https://uk.movember.com/
Oddballs: https://www.myoddballs.com/