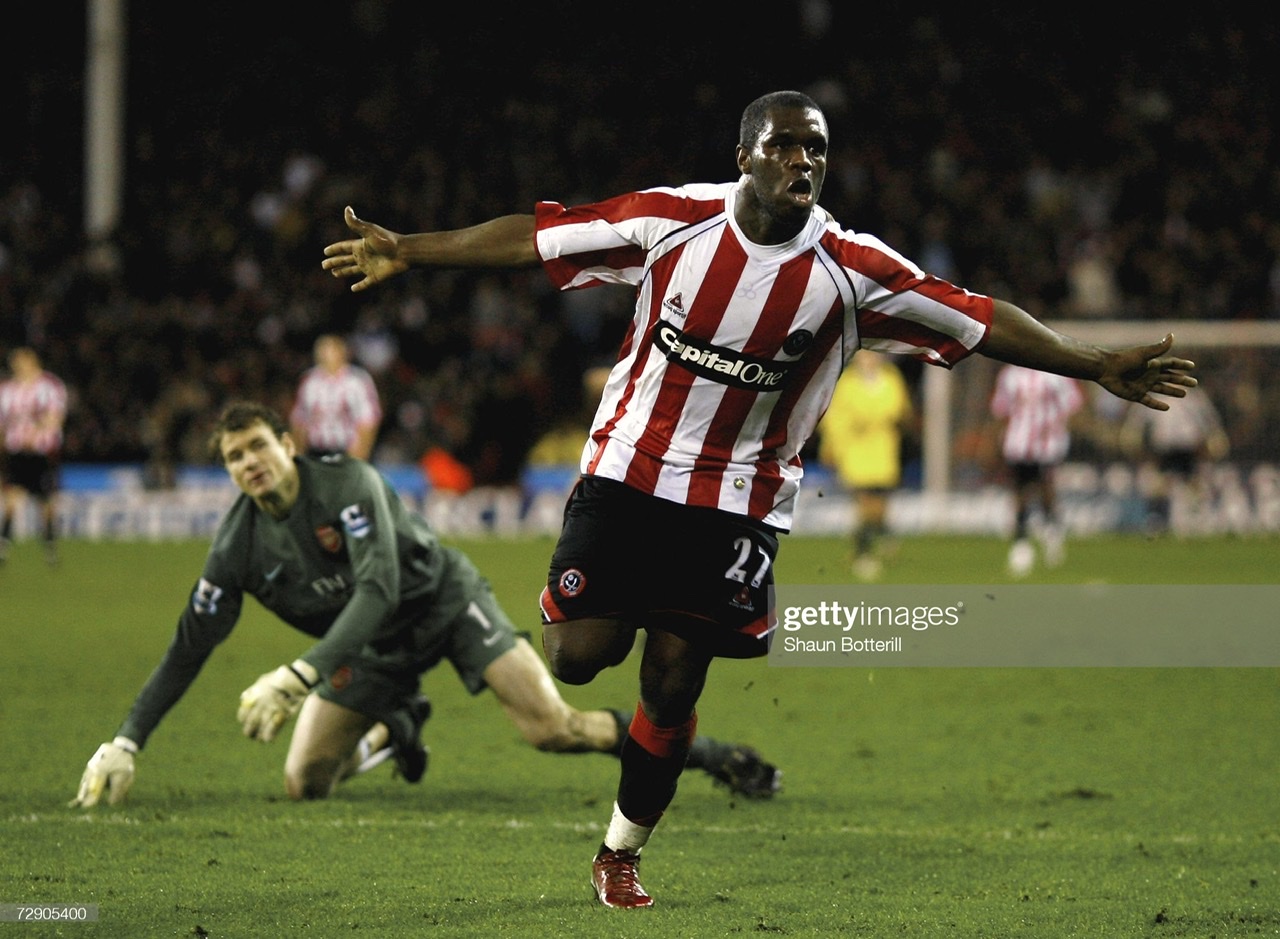 Whilst it's been a disastrous season for Sheffield United, it's something the club have had to deal with as recently as 2006, when the Blades suffered relegation on the final day.
One man who participated in United's unfortunate season was former French footballer Christian Nadé, who is currently plying his trade in the Scottish non-league with Annbank United.
Nadé in fact began his career in France with ESTAC Troyes, who are currently top of Ligue 2, making just over half a century of appearances for the Blues and netting seven goals as a teen. Speaking about that experience, he said:
"To be able to play for a professional team in France, from the age of 14-15 it is very difficult. You've got to be scouted, and sometimes they'll organise a big trial and 500 players will come in, when they pick like three or four players. That's what happened to me, I was in those three or four players to be picked to play for the team when I was 15. From there it was the start of my career.
"I was quite strong already, I was very developed for my age. I was 18 and the strongest player on the team! They can measure the power of your legs, and when I was playing in the Under 17's I was already the strongest player in the club. It wasn't all about power though, it's all about the intensity and the pressure of Ligue 1. When you play professionally, you feel the pressure from every game. I was playing with some international players, we had players playing for the USA National Team, the Algerian National Team and these players just don't feel the pressure.
"It was weird, because for my first game professionally we took the plane. That was very impressive for me. In France the country is quite small so you can just take the bus but we had to take the plane which was very big for me.
"It was very big for me, because by the time you reached the first team, it was so hard. You wouldn't even see the players train, you'd just see them on TV, even if you played in the reserves. So from seeing them on TV and thinking 'I wish I was there' to playing with them it was huge."
Two players who were very talented that Nade played alongside at Troyes were Jerome Rothen and club legend, Benjamin Nivet.
"When I moved to the first team and he [Rothen] moved to Monaco, that was when he reached the semi-finals of the Champions League," he said.
"We were playing against him and I didn't like the guy! I think they won the league that year, and he scored the goal and came and celebrated right in front of us, which was very disrespectful. He was a player I looked up to, and when he did that when they were winning 4-0, you don't do that.
"Nivet is a legend at the club. He's someone who is so gifted, he could play with his left or right foot, he could see the game like nobody could, and it's not surprising his career went on for so long. I think he's just stopped, and we were meant to do the testimony but couldn't because of covid. He was always shouting at me and telling me what to do, so I would just follow his instructions."
Switch to Sheffield United
Nade really made a name for himself when making the brave decision to switch France for England, as he departed Troyes for Premier League competitors Sheffield United, who at the time were managed by Neil Warnock.
"Troyes contacted me and offered me a new deal, but I declined the deal because I knew a bigger club were interested in me at the time. So I declined the deal, and two days later were told the club weren't interested in me anymore.
"Troyes had apparently contacted them and said bad things about me, so I went back to Troyes and said I was ready to sign, and they said okay but not on the contract we offered you in the first place. I had no choice so I said yes of course, but they said they couldn't sign me now but could when pre-season starts. I thought that wasn't nice because I had a holiday and didn't want to be worried, so I went home and I worked out and I got a phone call, saying there's a club in England from someone I didn't know and would I be willing to sign, and I said of course. They couldn't tell me the club or the league.
"I had a very very good relationship with Neil [Warnock] he's a great coach, and a very nice human being. I can't fault the guy. Neil couldn't help me with the language though!"
On his first experience of Premier League football, he said:
"It was huge for me, in the first game we were playing Liverpool at home. In France it's different, when the coach tells the player to warm up this means he's going to put you in. And after fifteen minutes, the coach told me to warm up, and in my head I thought he was considering putting me in, and I told him no I can't play! There was Steven Gerrard! I was just like woah, I'd seen him on TV and now I was going to play against him.
"When we played Tottenham, even though he didn't play too much but they had Edgar Davies, who I remember from Ajax. When I was playing against him, I was watching him rather than actually playing!"
His winner against Arsenal
Perhaps the highlight of his career was the goal he scored against Arsenal and heroic goalkeeper Jens Lehmann in 2006, as the Blades ran out 1-0 victors in their fight for survival, thanks to Nade's heroics.
"I watched the goal so many times, I remember though that when I scored in that moment, people asked me what was going through my head. I just remember it being a lone goal, flicking it on with my head, and seeing Lehmann in the middle of the pitch and I didn't know why, so I just shot," he described. "It was an amazing moment in my career.
"Since I was a kid, my dad used to put videos of Pele, and I loved that when he scores a goal he punches the sky. So when I scored, I punched the sky and did what he had done.
"When Paddy [Kenny] got injured I was thinking we're done. But the will in the team that we showed that day was amazing. I think the will shown from [Phil] Jagielka's two or three saves were amazing, and it was just not meant to be for Arsenal."
Sheffield United's relegation and the aftermath
Despite Nade and the Blades' best efforts, Sheffield United were relegated on the final day, which would begin a rapid decline for Warnock's side down the leagues.
"It was disappointing. You start to play the full season and the goals you've missed in your head, and this incident in my head when I missed from two yards out, but I don't know why I tried to head the ball," he said.
"The coach said to me afterwards 'Why didn't you head the ball? Why didn't you just push it?' and I just said 'I don't know.' because if I had scored that goal we would've won, as we were drawing. I know it wasn't just because of that game we got relegated though.
"For me, I had three years of a deal there and I wanted to stay, but a new coach came in with new players and didn't want me in the squad.
"Hull City offered me a contract, but then when we went to the office, it wasn't the same. So we just left."
His stint in Scotland with Hearts
Nade's next venture in football remained in the United Kingdom, but as he was pushed out of Sheffield United he opted for Scotland, where Hearts became his home for the next three season, scoring eight goals in 90 games.
"Warnock called me in and told me to come to his house, because I used to have lunch with him, and he told me he might sign for Crystal Palace in January. He told me he wanted me to come play for Crystal Palace, but said I needed game time and first team, but with Sheffield United it's not going to happen. So we met my agent and agreed to send me to Hearts, and then in January, Warnock was going to bid for me and I was going to join Crystal Palace. The chairman didn't want to let me go though, which was the deal we had.
"Scotland was more tough, the contact, the tempo, it never stopped. We had to keep running and running, and it was less on the technical side but more about fitness. In England, of course they are very fit, but they don't run as much as they do in Scotland. They never stop. I don't know, I thought Scotland was tougher, it was more about contact and fitness, whereas England was more technical."
Nadé also had a run-in with one of his former teammates, Ian Black, whilst at Hearts following a defeat to Celtic, after Black was booked for an off the ball incident with Celtic captain Scott Brown.
"What happened? It was just a misunderstanding. Something happened during the game, Jim Jeffries at the end of the game asked Ian why he got booked, and he said he didn't know. I was next to him and I said look we all saw it and why you was booked, so just tell the truth, and he started to have a go at me saying don't talk to me you've been rubbish today.
"I knew I hadn't been good today, but the game was on TV and so he was gonna see later why he had been booked, so he should've told the truth. He had kicked Brown on the other side of the pitch when the ball was on the opposite side, so he had been booked. And he started having a go saying I don't train well and stuff, so I just said everytime we play bad he blames me. We'd been talking back and fourth for five minutes so I just said sorry and I left it. But he kept talking and talking, so I just hit him. I know I shouldn't have."
One of the many blessings of being a professional footballer, is the possibility of travelling the world, joining different football clubs and visiting numerous wonderful countries.
Nadé was fortunate enough to have played in over five different countries for different clubs, especially after his Hearts spell where he began to search for a new endeavour.
"It was very difficult. Hearts offered me a new contract and I signed it, but when the thing happened with Ian Black the manager called me into his office and they wanted to put my salary down. I declined this and we had no copy of the old contract, but I'm a proud man so I left.
"I was going to sign for a team in Denmark, so I flew to Odense and the team didn't show up because they were told I was a violent player. I was in London with my cousin with no club, so my agent called and said there was a team in Cyprus so I signed the contract and met the team. The quality was actually good, there are a lot of Brazilian and Argentinian players over there but because it is so, so hot the tempo is not as good. After 20 minutes you're soaked and it's difficult to breathe, but I was injured a lot.
"I went on trial to South Africa, and I would've loved to sign there. I did a good trial but for whatever reason it didn't happen, so I had another trial in Capetian where I played my worst football. I couldn't breathe, it was difficult. I was going to sign, but someone phoned and there were a team in Vietnam who wanted to sign me. I went there and it wasn't what I expected at all, I didn't like it. I went on two trials, we scored six goals and I got five of them, and yet they signed another striker. Going on trial is difficult, especially as the last time I had was at under-15's with Troyes.
"I am blessed. You know when you say you've been here and there on holiday, well I lived there. I lived in South Africa for two months, I lived in Thailand for two and a half years, I am lucky that I have gained knowledge and culture. And I have loved it."
His message about depression
Unfortunately for the international journeyman, he had personal battles in 2014 and attempted to take his own life.
"There's not much you can say, but all I'll say is just speak about it. Don't keep it in until it is too late you know, and you need to know that there will always be someone there, sometimes it's the person you expect the least. But you just need to speak about it, because when you keep it in it eats away at you inside. And I know it's difficult because you can tell someone and they'll just say man up, man up, man up, then at some point you just decide that you're going to keep it to yourself. But there will always be one person who will be there to bring you back up."
With Nadé now 36 and closing in on retirement, the striker has agreed a deal to play in America for the 2021/22 season, and expressed his interest in taking up a coaching role for the future.