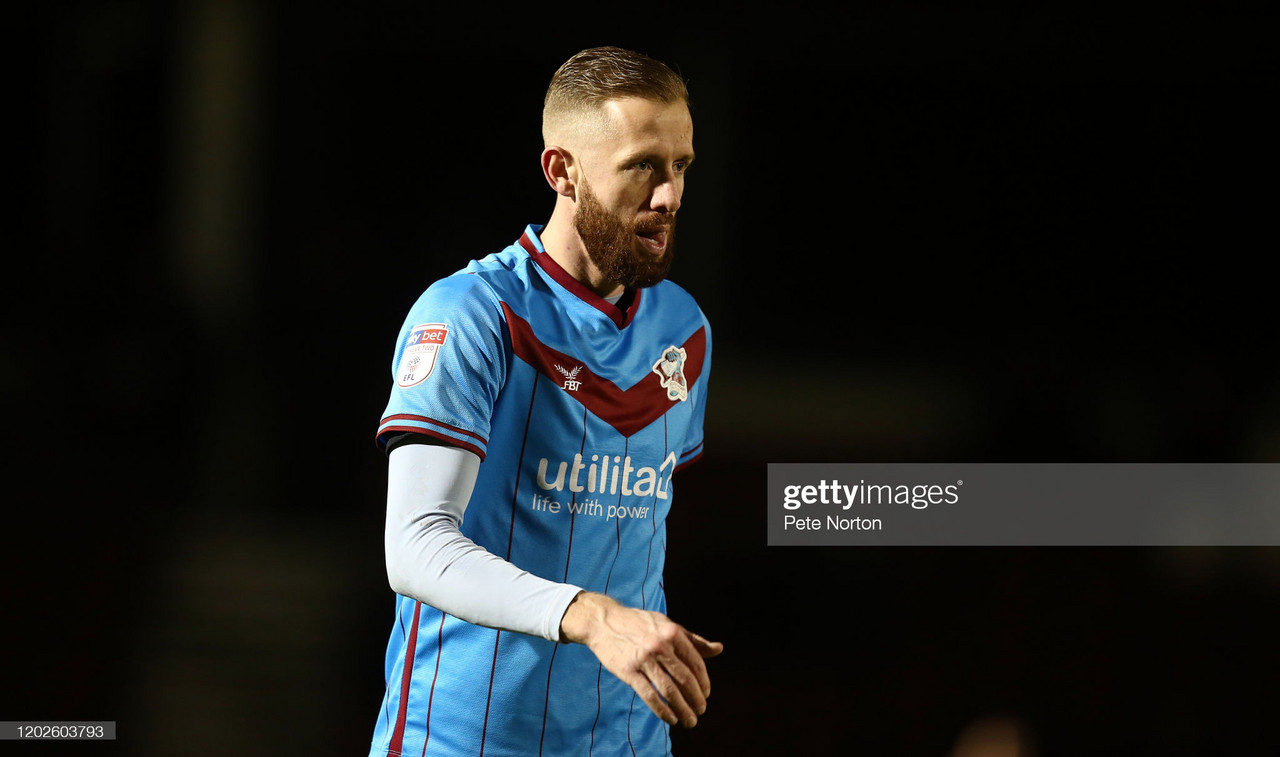 With League Two's season having come to it's conclusion last week, the annual event of each club releasing their retainment list is well under way.
Possibly as a result of last season being heavily effected by the ongoing COVID-19 pandemic and many clubs seeing a drop in revenue, there has been a remarkable number of players released by teams in the fourth tier this month.
From experienced veterans to young up and coming prospects, there is a huge number of talented players who will find themselves without a club come the 31st of June, and with this we take a look at some best free agents available in League Two this summer.
Goalkeepers
Lewis Ward - Exeter City
Despite having endured a somewhat frustrating 2020-21 campaign, 24-year-old Lewis Ward still remains one of the most reliable goalkeepers in League Two.
Having been released by Exeter City after returning from his loan spell at League One Portsmouth, Ward could make an excellent capture for any side in the division looking for a goalkeeper this summer.
Standing at an imposing 6ft 5in, the Reading youth academy product is more than handy when dealing with aerial balls coming into the penalty area and also seems more than comfortable when having to ball at his feet having shown an impressive range of passing during his time at St James' Park.
Defenders
Connor Wood - Bradford City
Left-back Connor Wood leaves Bradford City having been an ever-present in their side last season, and just one shy of 100 career starts for the West Yorkshire Club.
Since joining from Leicester City in 2018, the 24-year-old has become the embodiment of consistency in his role and has shown off an impressive ability in terms of his positional play and long range passing.
In a Bradford side which has often badly struggled in the years since Wood's arrival, he has regularly stood out as a level above the rest of his teammates and would without doubt make a fantastic pick up for any side in League Two next season.
James Clarke - Walsall
Having captained his side last season, the announcement of the departure of James Clarke may have been somewhat of a surprise to many Walsall fans.
Despite playing in a side which has just concluded a largely disappointing campaign, the experienced Clarke remained a remarkably consistent figure in the team, making 31 league appearances over the season.
Though the 31-year-old may not have enjoyed the best season of his career last time out, he could still make a great signing for any League Two side looking to shore up their defence this summer.
Midfielders
Jake Taylor - Exeter City
After spending nine season and playing over 200 times for Exeter, it was announced this week that Jake Taylor would become a free agent after opting not sign a new deal with the club.
Taylor leaves Exeter regarded by many as a club legend and will now likely find himself on the radar of many teams in League Two this summer.
The 29-year-old can play effectively as either a holding midfielder or as more of a creative player and often appears as one of the most influential players during any game in which he takes part.
Luke Joyce - Port Vale
Veteran central midfielder Luke Joyce will find himself a without a club this summer after being released by Port Vale, who he first signed for back in 2018.
With over 450 league appearances to his name, the 33-year-old is one of the most experienced players currently in the division and could make a great pick up for any team in need of leadership in their side this summer.
Having played the majority of his career as a defensive midfielder, Joyce can do an effective job at breaking up the oppositions play and has a great short range passing ability.
Attackers
Andy Cook - Mansfield Town
After enjoying a successful second half of the season while on loan at Bradford where he netted eight times in 21 games, striker Andy Cook may well find himself as one of the most sought after attackers in League Two this summer.
After struggling to make an impact at Mansfield Town, Cook's season really came to life when he joined the Bantams in January with his ability to finish as well as his skill in holding up the ball being highlighted most of all.
Having scored over 100 times during his spells in Non-League, the 30-year-old could prove to be hugely effective for any side that are willing to play to his strengths and give him the game time.
Kevin van Veen - Scunthorpe United
Since it was announced he would he would be released, it has been suggested that every single team in League Two is interested in capturing the signature of Kevin van Veen, so it may be safe to say that he will be the most chased after free agent in the division this summer.
Despite coming off the back of an injury hit season, van Veen can still boast to be one of the highest quality strikers in the league having proven himself as a goal-scorer at both League One and League Two level.
The Dutchman can easily be described as one of the most clinical finishers in the lower leagues right now and may make a great pick up for any side looking to fight for promotion next year.