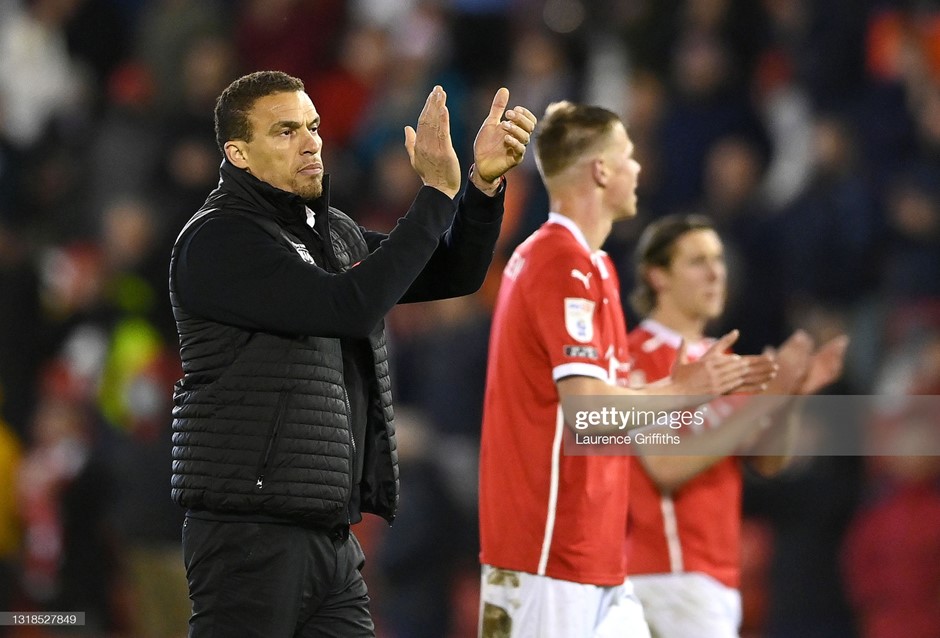 Head coach Valerien Ismael insisted that "anything can happen" after seeing Barnsley beaten at home in the first leg of their Championship play-off semi-final by Swansea City.
His side have it all to do when they head to the Liberty Stadium on Saturday, after Andre Ayew's first-half strike saw Swansea take a slender advantage from Oakwell.
Ismael admitted that Barnsley were not always at their best, but took heart from their second-half performance and believes they have the battling qualities to challenge Swansea in the second leg.
On the game
Barnsley played in front of supporters at Oakwell for the first time in over a year, but Ismael said his players may have struggled with that emotion in a tricky start to the game, culminating in the only goal which he claimed should have been ruled out for offside.
"I think the first 20-25 minutes we felt the atmosphere in the players because we didn't play well in the transition," said Ismael. "There were a lot of mistakes due to the emotion and I can understand this.
"After it was a bit of frustration because we concede a goal and it was offside, he came back off an offside position. After you have to deal with it.
"The second half was much better, we put the emotion to one side and just focused on the game plan.
"We have a massive impact on the game, we have to score, we should score with (Callum) Brittain, with Cauley (Woodrow), with Carlton (Morris), but it gives us a good feeling for the second leg."
On the second leg
Barnsley will need all of their fight and battling qualities to reverse this 1-0 deficit in South Wales on Saturday, but Ismael is confident that it is possible.
"This is a play-off, it means anything can happen," he said. "We have nothing to lose. The big pressure is on Swansea. We will fight like (in) the second half, we want to start like that to keep the game alive, to give us a chance, and we want to make it happen on Saturday.
"It's only half-time and we know that we've seen this season our comeback qualities in the second half, and that is the expectation."
He also acknowledged the fact that his side have failed to score in all three meetings with Swansea this term, and will need to do so next time to have any chance of progressing to Wembley.
"If we want to win, we have to score. Now we have to work with the guys to score," Ismael said.
"We played (for) the third time against Swansea and didn't score one goal. It was maybe the best performance (of the three) today against them. Now when we cross the line on Saturday we have to score."
On the return of fans
The one positive of the night was the return of supporters to Oakwell after more than 14 months away. Having not had the chance to put his team out in front of the fans at all since taking charge, Ismael was keen to praise their support.
"I want to thank the Barnsley fans," he said. "It was an amazing atmosphere I have to say. Incredible. (There were) 5,000, it felt like 30,000 it was so loud. It's a big reward for everyone to have that feeling to finish the season at Oakwell with that atmosphere.
"When you are one year without fans since I am here, I never meet them and we play in an empty stadium and never have that feeling, but tonight was an incredible feeling.
"I already felt it in my office (before the match) and the atmosphere was so loud, (it was) incredible. From my side, a massive thank you."