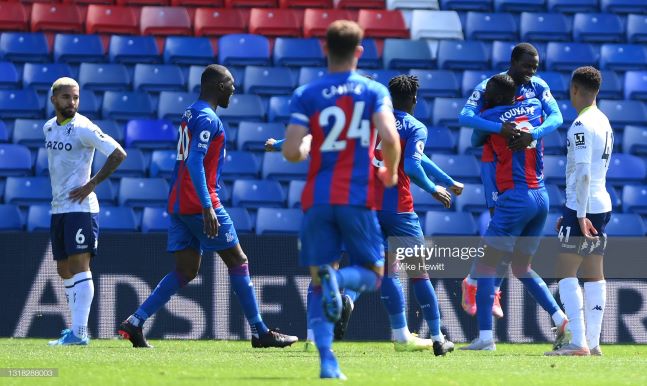 Aston Villa's season is not quite over yet, but they will already be looking towards the transfer window.
Despite looking like potential European contenders at the start of the season, Villa's season has fizzled out somewhat since January.
Some have put this down to the COVID layoff, the limitations of Dean Smith as a manager or the long absence of Jack Grealish. However, the main issue exposed by this run is Villa's shocking lack of squad depth.
Villa have often been derided as being a one-man team since Grealish started hitting his stride in 2018 and this has never looked like a more accurate statement than now.
Grealish is not just a top class Premier League player, he elevates those around him. If Villa want to push on, they need stronger players around him that don't need to be elevated by his talent. Therefore, Villa won't see such a harsh drop in form if he is injured or leaves.
With that in mind, here are five possible statement signings Villa can make to make these improvements.
This is the most obvious signing Villa could make. He is almost certain to be available after being dropped by Chelsea, he has a great relationship with the core squad as well as the fans and the manager and he fits the Villa system perfectly. However, there are issues with him.
Firstly, bringing in a new striker would mean either changing the system, shifting Ollie Watkins out wide or rotating them. One of Smith's downfalls according to many fans this season has been his refusal to move away from a one striker system, so changing the system is unlikely to happen.
As for Watkins, he is Smith's player. Much of the former Brentford striker's career has been spent under Smith' management so he will be unlikely to change position.
Finally, the rotation option wouldn't make sense for Abraham as he is already frustrated with his lack of game time at Chelsea.
Additionally, the deal would be a massive financial outlay. The Blues are unlikely to accept less than £40m for Abraham if reports are accurate. This would mean Abraham would have to play to justify the fee. If Villa wanted a backup to Watkins, they would have to find a cheaper player.
An option could be French forward Odsonne Edouard, who is expected to leave Celtic for as little as £15m.
Therefore, while Abraham would undoubtedly be a statement for Villa and would massively improve their striking options, the deal would not make sense from a monetary perspective and may upset the team cohesion.
Matheus Pereira
While the silky Brazilian winger does play for Villa's bitter rivals West Bromwich Albion, he would be a fantastic fit for the Villans. He is certain to be available following Albion's relegation and has shown impressive form in the top flight.
Crucially, he has shown a consistency on the wing that Villa have missed this season.
While Anwar El Ghazi has impressed at times, he has also faltered. Meanwhile Bertrand Traore has frustrated fans by being either unplayable or invisible during his debut season and Trezeguet is facing a long spell on the side-lines following an injury-hit second season in Birmingham.
Villa are in dire need of a second playmaker out wide and Pereira would provide exactly that.
His 16 goal contributions have made up just under half of a poor Albion team's goals this season, making him the perfect option on the right wing.
Another winger that has been mentioned non-stop for a move to Villa in the last six months has been Norwich City star Emiliano Buendia. However, it is unlikely that he will be allowed to leave following Norwich's promotion, so he is almost certainly a non-starter.
The same would apply to Watford winger Ismaila Sarr. Pereira is certain to be available and has also displayed the best Premier League form of the three, so he would be the best pick for a winger.
Isco
Bear with us on this. While the Spanish playmaker seems like a stretch for a move to Villa, a deal would not be impossible. The Villans have ambition, money to spend and are looking to prove their worth to be counted amongst Europe's elite once again.
Some pundits have mentioned moves for similar players, including Dele Alli and Philippe Coutinho, so surely Isco would not be out of the question.
Isco is on half the wages of Coutinho at £120,000 per week, around £20,000 more than Grealish. He also has just a year left on his Real Madrid contract while the Spanish giants are looking to have a player purge this summer, so he may be available for a cut price.
He has also been linked with moves away for years, including clubs in England. Arsenal are believed to be long-term admirers of Isco and Villa are now level with them in footballing terms having beaten them three times in a row.
The biggest stumbling block to any move would be interest from Sevilla. Isco was rumoured to have wanted a move there in January and their location and recent form would be a bigger draw to him.
However, if Villa wanted to go all out on a big-name signing to send a statement of intent to their rivals, much like Everton did with James Rodriguez, they could do much worse than Isco.
Nathan Ake
While a centre back is not a priority for Villa given the form of Tyrone Mings and Ezri Konsa this season, it is obvious that they need reinforcement in this area.
Mings has often been accused of getting too comfortable in his role as he knows that Villa's current backup options are not good enough to take his place. That is where Ake comes in.
It has been a nightmare first season at Manchester City for Ake as he registered just 10 league appearances and lost his place to Ruben Dias and John Stones.
While the fee needed for a permanent transfer would likely be astronomical, a loan move might not be impossible. Ake showed his immense talent during his time at Bournemouth, where he worked alongside Mings, and one poor season does not change that.
A loan move to Villa would give them another top defender to help focus Mings' mind while also giving Ake the chance to prove his worth to Manchester City.
Villa's owners have also shown previous in sanctioning loan moves for talented players who need to prove themselves again.
Since buying the club in 2018, Nassef Sawiris has loaned in Tammy Abraham and Ross Barkley so keeping a similar strategy with Ake would seem likely.
Yves Bissouma
Despite a poor showing in the Premier League table, Brighton's squad is filled with talent.
The one that has attracted the most attention has been Bissouma, with the midfielder attracting interest from some of England's biggest clubs.
Arsenal are believed to be the club with the most solid interest in the player, but Villa could conceivably steal a march on them by moving first.
The longer the season has wore on, the more obvious it has gotten that Villa need a second top class midfielder to partner Douglas Luiz. While John McGinn is a fine player, it is obvious that he needs to be further up the pitch to be effective.
Meanwhile Marvelous Nakamba has displayed inconsistent form during his spell at Villa and Conor Hourihane seems certain to leave on a permanent basis.
Bissouma would be the perfect partner for Luiz and would take the burden of running the midfield off of Luiz's shoulders. Villa would not be the hardest sell to the Malian star as they have the ambition, talent and money he may be looking for.
Thankfully for Villa, if Bissouma did choose to join Arsenal then they have a ready-made backup in Sander Berge.
The Norwegian star is also being tracked by Mikel Arteta, but he is unlikely to sign both him and Bissouma.