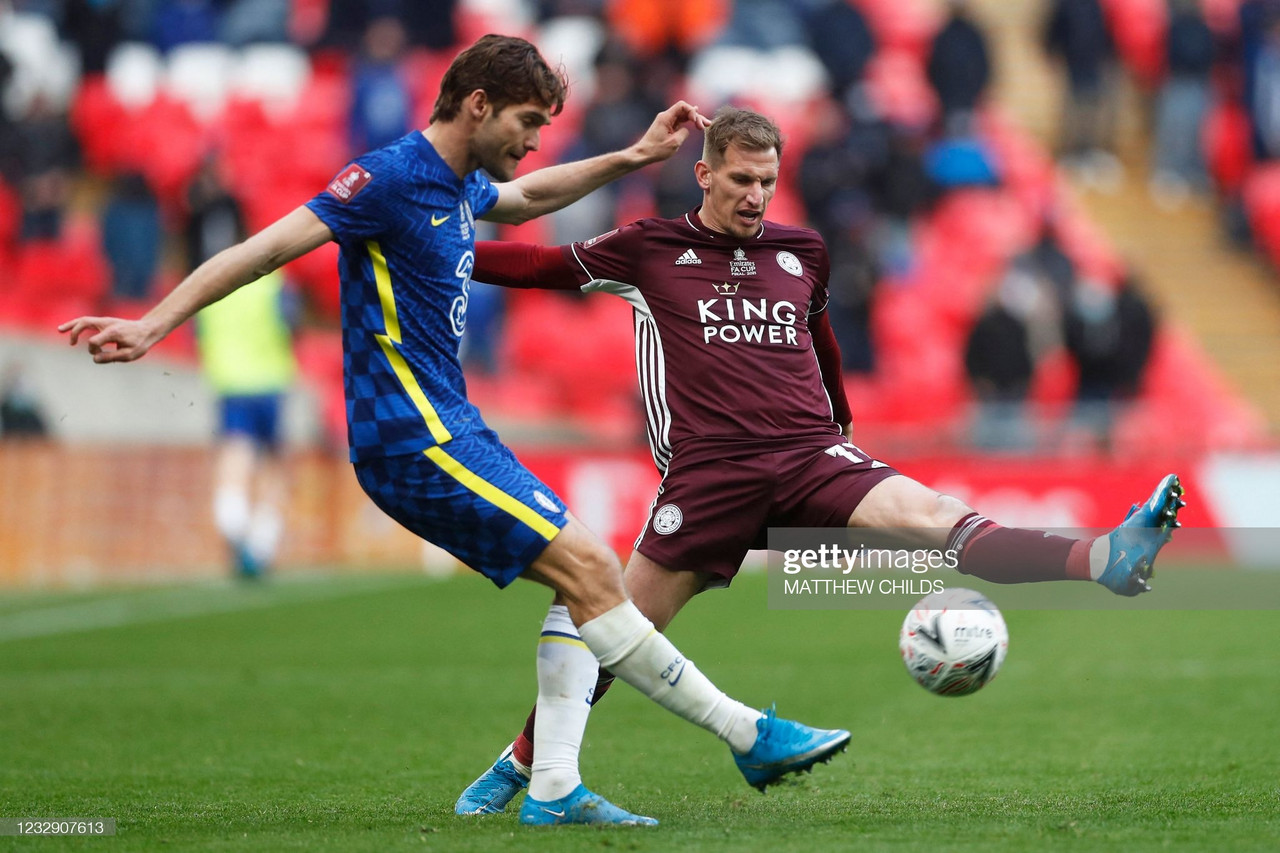 FA Cup winners Leicester City travel back down to London again to face a Thomas Tuchel side seeking revenge following their defeat on Saturday at Wembley.

The Foxes won their first FA Cup final thanks to a Youri Tielemens strike and with Champions League football on the line, Chelsea will be wanting to turn the tide and leap-frog Leicester into third.

Chelsea haven't beaten the Foxes at Stamford Bridge since 2016 and off the back of a win at Old Trafford against Manchester United, Brendan Rodgers' men will be confident heading into their last away game of the season.
The only dampener in what was a very good week for the East Midland side was that Northern Irish defender, Jonny Evans limped off at Wembley midway through the first-half and has already been ruled out against Chelsea but is hopefully fit for the final game of the season against Tottenham Hotspur.
Let's finish the job
Following the win on Saturday, Leicester players lifted Rodgers into the air in front of their jubilant fans in what was a special moment but the Leicester boss knows that the job is not completed unless three points is gained on Tuesday night. Business as usual as such.
With Liverpool beating West Bromwich Albion, Leicester may see this as a must-win. The same could be said for Chelsea. Last time around, Frank Lampard's men were outplayed and put in a miserable display at the King Power Stadium, resulting in a 2-0 win for Leicester.
However, after a controversial sacking and a quick appointment of Tuchel, the west London side have reached two finals and are now in line to get a Champions League spot.

Only a win will do for either team which allows breathing space from Liverpool and West Ham with one game to go but following Saturdays intense display, the Foxes may be forgiven for looking slightly drained or fatigued.
Edouard Mendy is expected to return in goal against Leicester. Kepa played at Wembley, having started every game in the competition this term, but is likely to make way for the man who has been Tuchel's regular number one in the league.

Ben Chilwell, a former Fox, is likely to start at left-back and is hoping to may have a goal count this time around following the tight VAR decision on Saturday.

Marc Albrighton may replace Jonny Evans as Leicester rotate their system to a likely back four but otherwise a un-changed side.
Once again, the home team will be favourites in this fixture but with confidence on a high, Leicester may fancy their chances and nick an away win to seal next seasons fate and cap a truly fantastic win.
That being said, Chelsea will be seething with the manner they lost on Saturday and following Tuchel's post-match comments on how Leicester didn't deserve to win, they will want to put the Saturdays disappointment behind them.

Score Prediction: 1-1