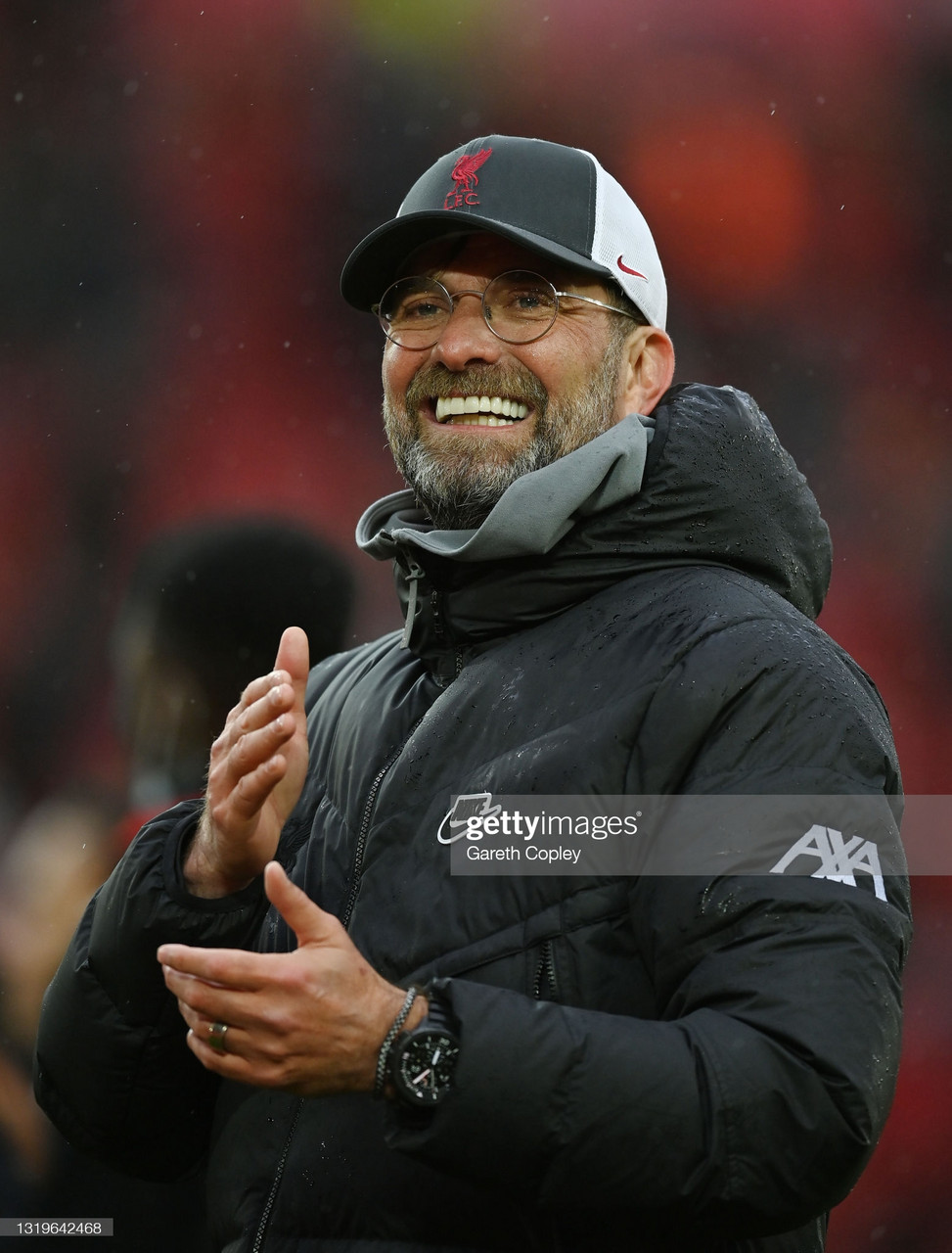 Liverpool sealed a once unfathomable comeback in securing Champions League football for next season by beating Crystal Palace 2-0 at Anfield.
A rejuvenated Sadio Mane wrapped up the win with goals either side of the break, a timely brace and his first of the season for the club.
An injury-riddled season was bookended by qualification for Europe, with the Reds remaining unbeaten in their final ten Premier League fixtures and winning their final five consecutive games.
Thomas Tuchel's Chelsea will join Liverpool in Europe's top club competition next year despite falling at the final hurdle with a 2-1 loss against Aston Villa, benefiting from Tottenham's second half fightback against Leicester.
Here's is Jurgen Klopp's evaluation on a priceless day for Liverpool, with full quotes available from LiverpoolFC.com.
On the achievement of finishing third despite injury issues this season…
"It's big, it's big. If someone would have told me weeks ago – five, six, eight, 10 weeks ago – that we can finish the season in third, that was absolutely out of reach and felt impossible."
A tumultuous campaign for Klopp and his squad saw them sink as low as 8th in the Premier League table at the beginning of March after a 1-0 home loss to Chelsea.
The Reds only other defeat thereafter, at the hands of Fulham, set in motion a dramatic overhaul in fortunes that concluded in Champions League football returning to Anfield for a fifth consecutive season.
Klopp acknowledged the hand that the injury crisis dealt in their roller coaster campaign, which included ten first team squad members missing through injury after the dramatic comeback at the Hawthorns.
"Even the good things when they happened this year didn't feel too good very often because too many things around happened. The injuries was a subject that followed us through the whole year and that was really tough to take.
"For the whole team, fighting through this and finishing third is the best lesson you KO can learn for life. I couldn't be more happy that I was around when that happened again. From nowhere to the Champions League in five weeks is a massive achievement as I see it and I think that's right."
On Gini Wijnaldum's potential departure…
Klopp also was keen to wax lyrical about Gini Wijnaldum, whose time on Merseyside was all but confirmed to be coming to an end by his manager when speaking to the press post-match.
"From the first moment it clicked between us. He is a very friendly, very smart, very open person, and that never changed, that just improved. Yes, it is very emotional for me because I lose a friend and I will miss him, that's how it is. But it's normal in football that these kind of things happen – it's not always nice, but normal, and I am really sure he will find a great place."
The Dutchman's longstanding contract renewal dispute with the club was a hot topic of conversation for months on end at Anfield, reportedly concerning pay disputes and Liverpool upholding their policy of awarding contracts to younger players entering their prime, according to Dave Maddock of The Mirror.
Wijnaldum led the side out as captain on what looks to be his final game at Anfield, with the manager also emphasising his importance in the success enjoyed in Klopp's tenure.
"He was not only always available, he played 90 per cent of the time really, really good… from a young kid he was an offensive No.10, to a winger at Newcastle, to coming here and becoming such a controlling midfielder. That's a massive step and you only can do that when you understood the game, really, in the right way. He scored incredibly important goals: Barcelona, Cardiff I think was very, very important, Middlesbrough was very important. So many top, top-class performances.
On where qualifying for Europe sits among his successes at Liverpool…
"It ranks in the third position! Who cares?! It's great, it's absolutely great, it's outstanding."
In typical jovial fashion, the boss was hesitant to precisely rank where the feat of finishing in the top four ranked in his career highlights reel.
Nevertheless, Klopp underlined the grit and determination required from his squad to achieve such in difficult circumstances.
"From outside you cannot really understand because we are just Liverpool: we have to perform, we have to win, we have to become champion or whatever. It was not possible for us this year so you have to fight through and in the harder moments you can learn the most, in the harder moments you can show the most and we really stuck together all the time.
"We were constantly sorting problems and that's so nice to see that we could use the last five, six, seven weeks to give this season a proper turnaround.
"I'm really happy for the Champions League that they don't have to play without us!"
On the emotions of the season and playing in front of fans...
"I cannot sum it up, too much happened to be honest. But to have the opportunity to do this, to have this last game in front of 10,000 people means really the world to us."
The Premier League announced in April that the final two rounds of fixtures would be pushed back in order to allow each team to have a fixture in front of their fans, some for the very first time this season.
Liverpool and Merseyside rivals Everton were two of the last clubs to have fans allowed before the city of Liverpool moved into tier three of coronavirus restrictions before the turn of the year.
"And I have to say, I don't want to blame the other 45,000 who are usually here but the 10,000 did a really good job today. When we came out it felt like, 'Oh, it's sold out!' That was absolutely incredible, it was so nice to have this experience again together."
It would be safe to say Jurgen Klopp is looking forward to life after Covid in every respect from next season onward.
"We can fight more when people are in the stadium because they support us, they give us a boost, they help us. That we did it without them makes the achievement even bigger, to be honest, but I don't want to try it a second time, if I am 100 per cent honest!"