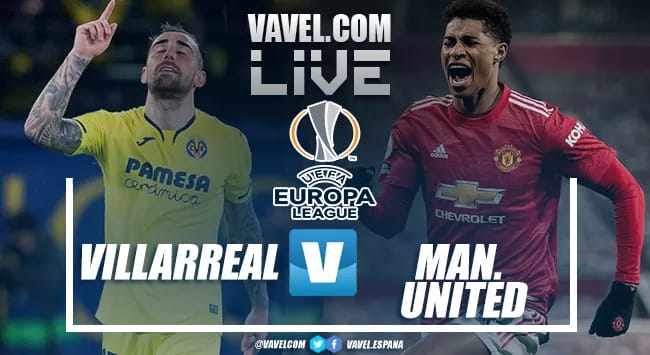 FT: Villarreal win the Europa League
MUN - De Gea (11-10)
VIL - Rulli (11-10)
MUN - Lindelof (10-10)
VIL - Torres (10-9)
MUN - Tuanzebe (9-9)
VIL - Gaspar (9-8)
MUN - Shaw (8-8)
VIL - Coquelin (8-7)
MUN - James (7-7)
VIL - Albiol (7-6)
MUN - Fred (6-6)
VIL - Gomez (6-5)
MUN - Cavani (5-5)
VIL - Parejo (5-4)
MUN - Rashford (4-4)
VIL - Moreno (4-3)
MUN - Fernandes (3-3)
VIL - Alcacer (3-2)
MUN - Telles (2-2)
VIL - Dani Raba (2-1)
MUN - Mata (1-1)
VIL - Moreno (1-0)
FTET: Penalties.
120' Three minutes of extras
116' Substitutions have been made - but they're odd
108' Rashford should be winning that
106' Back underway
HTET: Villarreal 1-1 Manchester United
100' Substitution for United
98' How has there not been a change?
ET: We're underway in extra-time
FT: Villarreal 1-1 Manchester United
89' Great move from United - Pogba should be scoring
85' Into the final five
78' McTominay to take the game by the scruff of the neck?
69' Rashford misses a sitter
65' Urgency resumed from United
GOAL CONFIRMED
55' GOAL FOR MANCHESTER UNITED!
54' Good move from United
50' More of the same from United
46' Back underway
HT: Villarreal 1-0 Manchester United
45' Two minutes of extras here
35' A result of poor team selection?
29' GOAL FOR VILLARREAL
27' Pino drags a shot wide
24' Good move for United, unlucky not to score
20' CHANCE! United almost take the lead.
19' United looking dangerous
7' McTominay hits wide
5' Cagey opening five minutes
1' Kick-off!
The teams are out...
Kick-off is imminent...
On this day in United history...
Villarreal: Confirmed starting XI
Manchester United: Reaction from the team
Manchester United: Confirmed starting XI
Solskjaer: "We've worked to change the mentality"
Parejo: "We'll win as a team"
How to watch Villarreal vs Manchester United Live TV and Stream
Manchester United: Predicted line-up
Villarreal: Predicted line-up
Manchester United: Team News
Villarreal: Team News
Time for silverware at Old Trafford?
A fourth title for Emery?
How the land lies...
Kick-off time
Welcome to this evening's coverage of Europa League final live