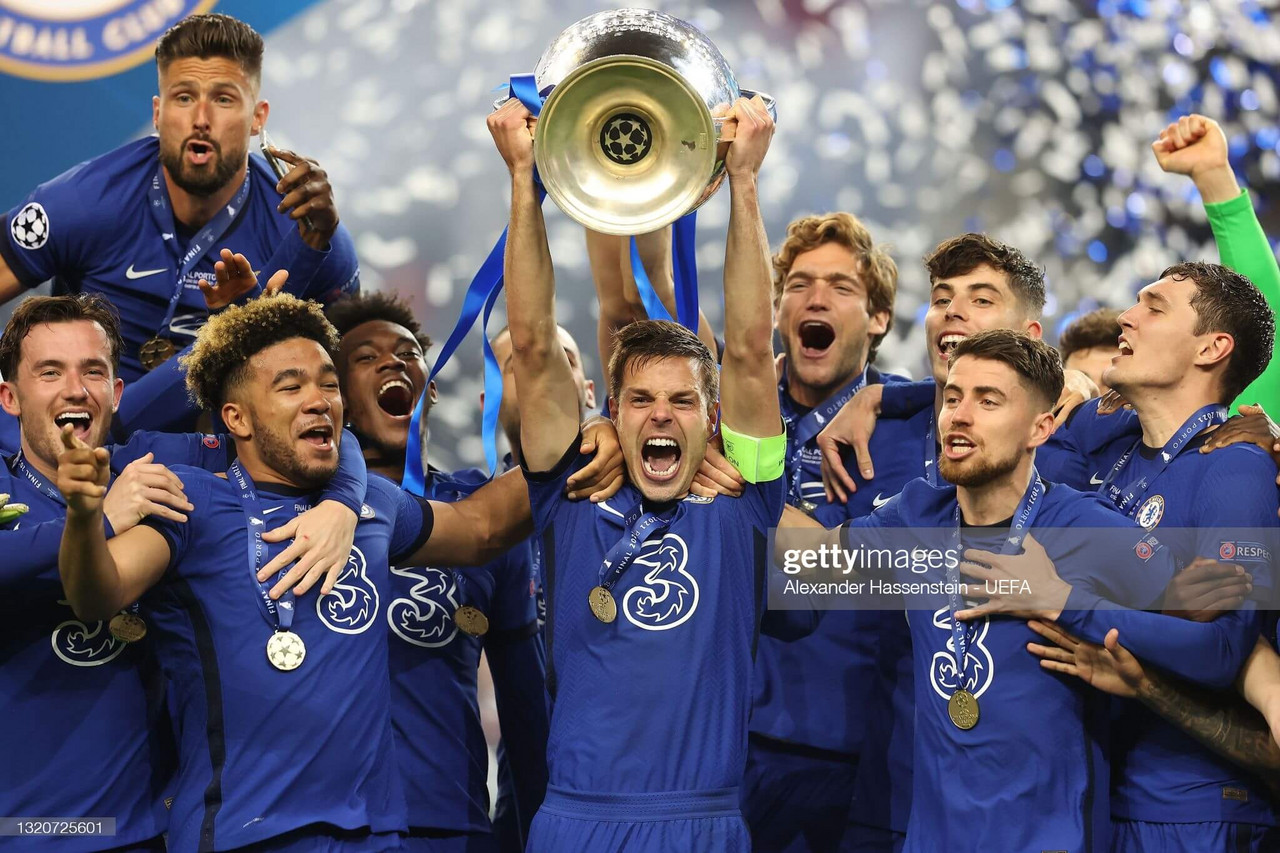 Written in the stars, 816.49 miles away, a message to the mane, ohhh. Seasons come and go, but Chelsea will never change…
From changing leadership at the helm of Stamford Bridge halfway through the season to a Merseyside goalkeeper scoring a goal, Chelsea's illustrious UEFA Champions League triumph was just simply written in the stars.
The Blues' 2020/21 campaign has been etched into European history as one of the great underdog stories, however, it had to be done the Chelsea way. The hard way.
Since Roman Abramovich took ownership of the Blues in the summer of 2003, the Russian billionaire mutated the club's managerial employment strategy into a ruthless conveyor belt.
As the common denominator to Chelsea's success since his takeover, no manager is safe. Not even Frank Lampard.
The Blues' all-time top goal scorer was aware of the challenges and demands imposed by Abramovich, especially after a busy transfer window. However, in typical Chelsea fashion, Lampard was sacked, and Thomas Tuchel was drafted in as the club plummeted down the Premier League.
The former Paris Saint Germain manager took centre stage in his first press conference as the Chelsea manager left the media chuckling, with his incredible charisma and charm.
Tuchel was asked: "Does it concern you that Chelsea has a reputation of getting rid of managers quite quickly?"
He replied: "Yes and no."
Immediately, a blanket of tranquillity was thrown over the club and a glimmer of hope flickered in the distance.
A buzz began to reverberate around the club again and the Blues went on to write their names in history…
Transfer Business
Ahead of the new season, Abramovich, Marina Granovskaia - the Director at Chelsea - and Lampard aligned their ideas as they began to orchestrate what would be the club's most important transfer window since Jose Mourinho's maiden arrival in West London.
The transfer ban had been lifted and the triumvirate of Stamford Bridge were quick to start the ball rolling, signing Hakim Ziyech from Ajax for £36 million in just February.
It was a statement signing that sent waves around Europe as Chelsea stamped their intent on reclaiming their omnipotent and autocratic status.
The 27-year-old Moroccan was at the heart of Ajax's illustrious Champions League campaign in 2018/19 that reached the semi-final.
Ziyech also featured in Ajax's infamous 4-4 draw with the Blues at the Bridge in 2019/20, earning him his prestigious reputation amongst Chelsea fans.
Chelsea have confirmed that the club have reached an agreement with Ajax to sign Hakem Ziyech in the summer 🤝

Back in November he showed Stamford Bridge exactly what that wand of a left foot is capable of 🔥 pic.twitter.com/14vIuS6k9e

— Football on BT Sport (@btsportfootball) February 13, 2020
Chelsea's number 22, who is often nicknamed the Moroccan Wizard, was brought in to create chances when cutting inside off of the right-wing.
His tenacity and ability to counter-press were also huge factors in his arrival, suiting the front-foot play style Lampard strived to implement.
The 28-year-old attacking technician initially struggled to find his feet, but soon grew into becoming a big game player for Tuchel in the latter stages of the season.
Chelsea soon entered the market for a striker, left-back, centre-back and a goalkeeper in a bid to transform Lampard's young and inexperienced side.
Timo Werner joined from RB Leipzig for £47 million after an incredible season in Germany.
The electrifying striker directly contributed towards 47 goals in 45 games for Leipzig. However, Werner was not able to match the same output on English soil, but remained an important figure in the Blues side.
Thiago Silva joined the Blues on a free from PSG before Edouard Mendy followed the Brazilian across the Channel signing for £21.6 million from Stade Rennais.
After a turbulent start for Silva and a fairy-tale start for Mendy, they each grew into becoming major pieces in Tuchel's Champions League winning puzzle.
Edouard Mendy has been a colossus in net for Chelsea ✋

He's pulled out some big saves in this Champions League campaign... #UCLFinal pic.twitter.com/CmfFBNRNK8

— Football on BT Sport (@btsportfootball) May 27, 2021
Ben Chilwell was also brought in to reinforce the Blues' backline; a defence which in the past had been notoriously tough to break down.
The English left back signed from Leicester City for £36 million, and went on to directly contribute towards eleven goals – as well as an incredible performance in the Champions League Final.
Last but by no means less… Kai Havertz. The 2021 Champions League final differential. Havertz joined Chelsea from Bayer Leverkusen for £72 million and went on to carve his name in the club's history books.
Three players have scored in a Champions League final for Chelsea

Frank Lampard - 2008
Didier Drogba - 2012
Kai Havertz - 2021 pic.twitter.com/VXvESx4IrH

— ⒹⓎⓁ (@ChelseaDyl) May 30, 2021
The German midfielder had a difficult time integrating himself into a new country before contracting COVID-19, but turned his season around with a momentous goal.
The Tu(chel)rning Point
On January 27th, Chelsea welcomed Wolves to Stamford Bridge as Tuchel led the Blues out for first time just hours after his official appointment.
The German manager has his philosophies, he has his tactics, but he also has his remarkable PR team behind the scenes.
By leading the Blues out at such short notice would only begin to heal the bruised hearts of many Chelsea fans who had just seen their club icon discharged. And so, it did.
Tuchel reinvigorated the Blues leading them from ninth to fourth; winning eleven, drawing five and losing just three of the last 19 games.
Lampard lay the foundations to Tuchel's Champions League win in Porto, which the German has always been quick to pay dividends to, with an impressive group stage campaign finishing top of Group E.
The Blues manager picked up where Lampard left off defeating the likes of Porto, Atletico Madrid, Real Madrid and finally Manchester City.
Tuchel's side were often labelled the underdogs in Europe, but Chelsea persevered whilst standout performances from the likes of Antonio Rudiger, Mount, and of course N'Golo Kante helped steer the Blues to glory.
Player of the Season
N'Golo Kante
The French midfielder has had a great season for Chelsea, but it was not until the final stages when push came to shove.
Kante stepped up and spearheaded the Blues to glory, elevating his game to a level that is very rarely seen in football aside from that of Cristiano Ronaldo and Lionel Messi.
🔝 N'Golo Kanté:

𝗣𝗹𝗮𝘆𝗲𝗿 𝗼𝗳 𝘁𝗵𝗲 𝗠𝗮𝘁𝗰𝗵 🆚 Manchester City, final
𝗣𝗹𝗮𝘆𝗲𝗿 𝗼𝗳 𝘁𝗵𝗲 𝗠𝗮𝘁𝗰𝗵 🆚 Real Madrid, semi-finals
𝗣𝗹𝗮𝘆𝗲𝗿 𝗼𝗳 𝘁𝗵𝗲 𝗠𝗮𝘁𝗰𝗵 🆚 Real Madrid, semi-finals
𝗣𝗹𝗮𝘆𝗲𝗿 𝗼𝗳 𝘁𝗵𝗲 𝗠𝗮𝘁𝗰𝗵 🆚 Atlético, round of 16#UCL pic.twitter.com/SJt6Biy8j4

— UEFA Champions League (@ChampionsLeague) May 30, 2021
Mount was superb this season; he was the beating heart of the club on and off the pitch and he was often the key to Chelsea's success.
But it is very rare is see such a phenomenal series of performances in the latter stages of the Champions League like Kante's. Therefore, the Frenchman must be rightfully commended.
Young Player of the Season
Mason Mount
Mount has been superb all season for the Blues, consistently performing at the highest level and will continue to do so for years to come. Whether he has played in a double pivot or as a ten, Mount has been exceptional.
2020/21 League + Champions League chances created:

Lionel Messi - 100
Mason Mount - 99
Kevin de Bruyne - 95

Mount is the youngest of the three by 7 and 11 years respectively. Gem. pic.twitter.com/QbhSfVlOFU

— LDN (@LDNFootbalI) June 1, 2021
The 22-year-old truly epitomised what it takes to become a world class player at a leading club for an academy graduate.
How it started How it's going pic.twitter.com/pRWKFChDyH

— Mason Mount (@masonmount_10) May 29, 2021
If it was not for Kante's spectacular showings in the twilight stages of the Champions League, Mount would be the Chelsea VAVEL POTS.
Most Improved Player
Andreas Christensen
Andreas Christensen has been criminally underrated this season. He has not always been the first name of the team sheet but it seems as if Tuchel has baptised the Great Dane with a breath of fresh air.
The 25-year-old seamlessly slotted in for Silva at the heart of Tuchel's back three when the Brazilian was brought off injured versus Tottenham Hotspur.
Christensen's performance after Thiago Silva went off isn't spoken about enough. He's grown so much full of confidence and composure.

— Olieć (@EddieOliech) May 30, 2021
Christensen went on to enjoy a great run of form which Blues fans have not seen since his infamous mistake versus Barcelona in 2018 in the Champions League.
The Dane then went on to do so again, replacing the injured Silva, in the Champions League final and excelled.
He has always had his critics, but the centre-back has been faultless this season and he has certainly proven what he is capable of when confidence is instilled in him.
He could be a dark horse next season for the Blues should he follow in the same vein.
Honourable mentions must be handed to Rudiger – after a calamitous and unfortunate period under Lampard – Mount and Reece James.