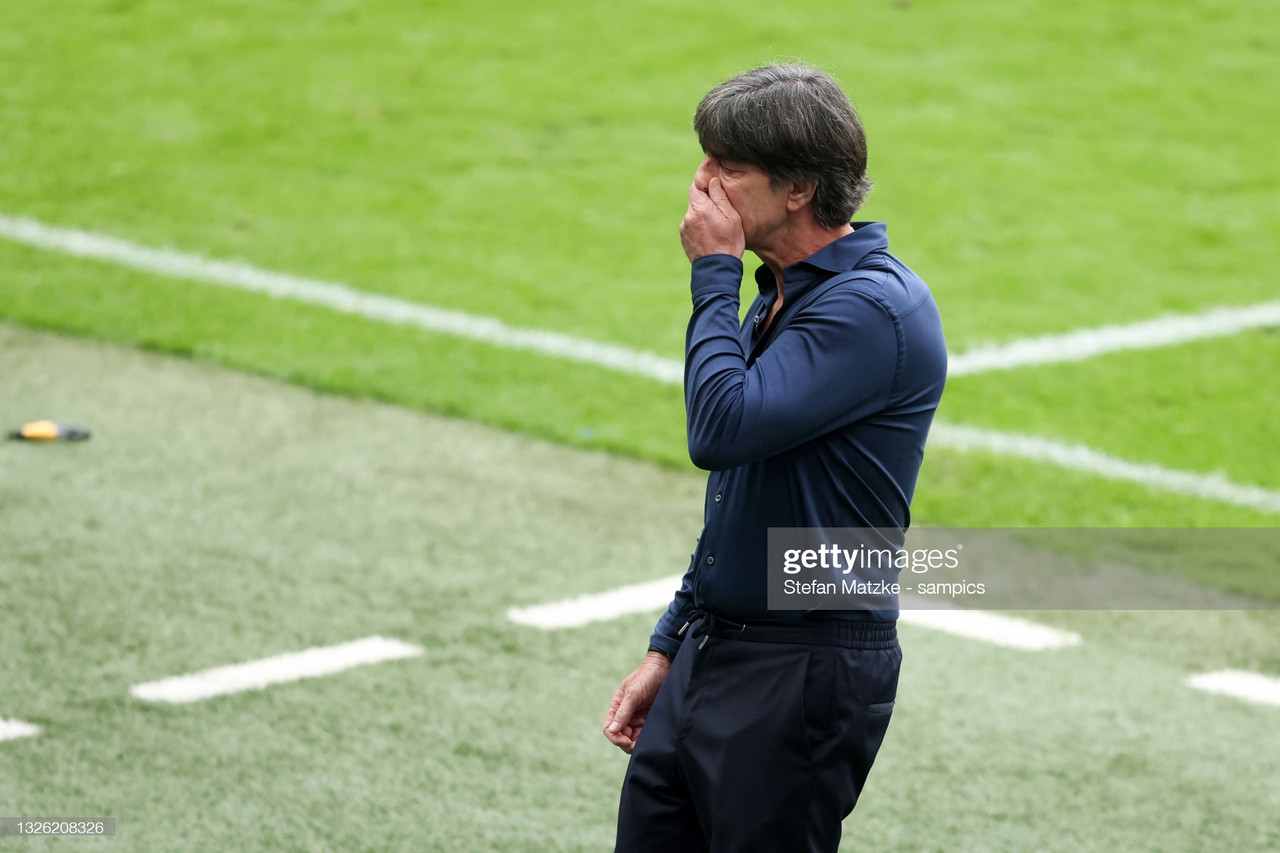 It was unparalleled euphoria for England fans but those emotions were not shared by Germany. Two bitter rivals but, in unprecedented times such as these, it really is a shame that there have to be winners and losers. For the Germans, this was another case of what might have been and it marks the end of an era for their long-serving leader.
Joachim Low was one of international footballers strongest managers. He inherited a young German team and made them challengers, eventually building towards their wonderful World Cup success of 2014.
However, since then, it has been a steady descent into mediocrity for the 61-year-old and, while his reputation should remain untarnished, he will be disappointed that his moment of glory was so short-lived.
Resurrection
Low brought his tried-and-trusted back into the fold but they couldn't deliver the spark. Thomas Muller, an apparently ageless assassin, did start to look like more of an elder statesman. No goals for the Bayern Munich man in the tournament, and Muller's lasting memory from Euro 2020 was a glaring miss as he stared down Jordan Pickford.
Likewise Mats Hummels returned to the fold and, in his first competitive clash since international exile, he put through his own net to hand the French a victory. In defence of Hummels, he grew into the tournament and he put in some assured displays in the middle of their back-three.
Germany haven't been the first team in this tournament who have lacked a tactical rigour. France and Portugal looked very dependent on their individuals and too many of them went missing.
Systems
Low's wing-back system terrorised Portugal in their second match but they struggled to lay a glove on other opponents. Hungary was a real slog because the Hungarians sat rigidly in a back-five, forcing crosses from deep that were relatively easy to defend against.
Plan A worked wonderfully. Unfortunately, plan A was stifled with a strong French defensive display, a Hungary back-five and an England setup that mimicked their own. A lack of a plan B or in-game tactical counters was evident on a number of occasions.
Leon Goretzka squeezed home a late equaliser against Hungary to prevent a second group stage exit in two consecutive major international tournaments. They struggled badly against the deep-block shape and it more more luck, than judgement, that got them over the line.
Low had a wonderful array of talents but he struggled to tie them together in a cohesive system. Didier Deschamps had been heavily reliant on individual moments of brilliance in recent tournaments, and the French manager came up short this time around. Low's back-three was quite rigid, lacking in excessive positional play, and his individuals couldn't grab the game by the scruff of the neck.
Disappointment
It was the third film in a trilogy for Germany. Low wanted to go out with a bang, getting the old gang back together and fitting them into his new back-three system. Everything felt a little haphazard and desperate but Low was a Muller finish away from a very different narrative.
If Germany got the better of the fine margins against England then the criticisms would all be deflected over to Gareth Southgate. Too negative. Lacking an attacking plan. Wasting an abundance of talent. Still, this is the second consecutive time that Germany have flopped at an international tournament; this resentment has been building.
Low will reflect on what might have been but the day of reckoning has been coming for some time. He is a managerial legend in his home country but it's time for a new dawn.