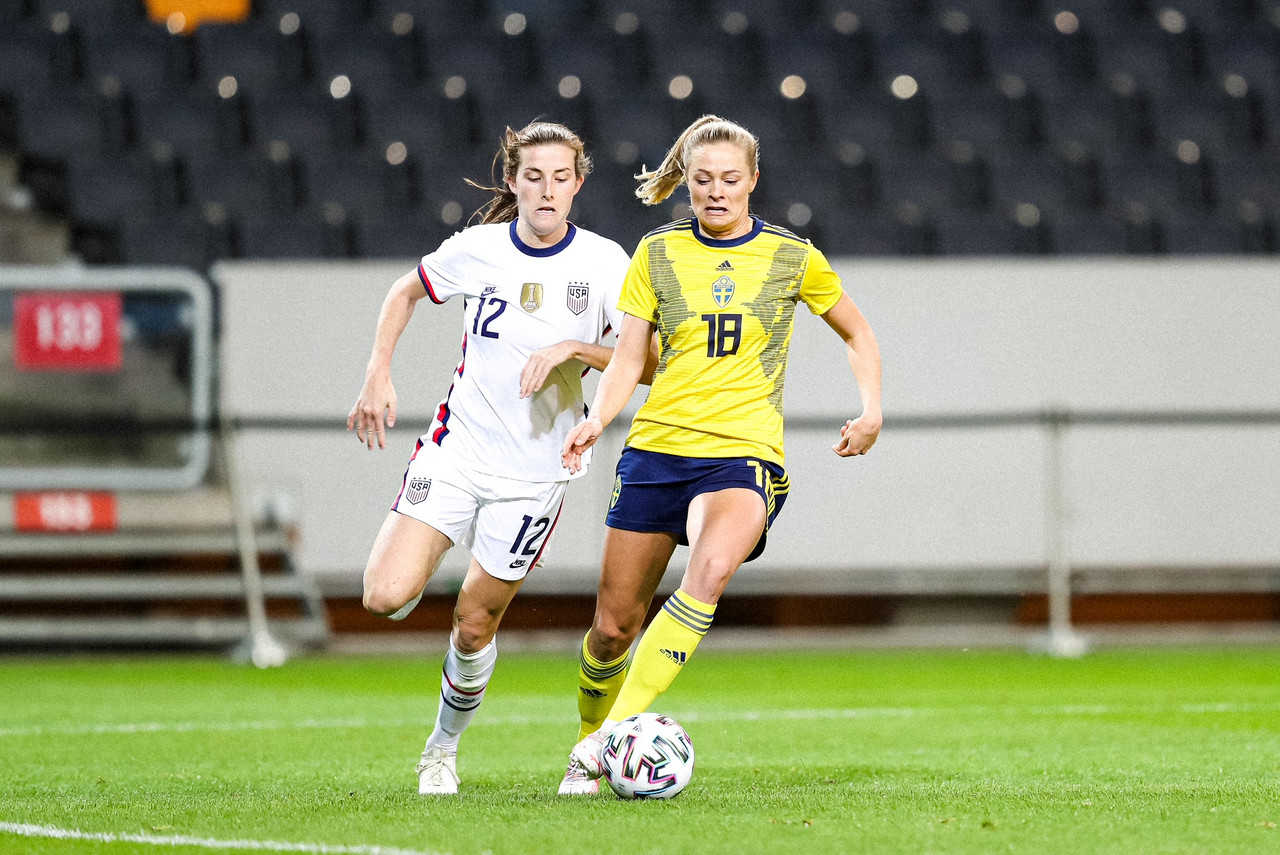 Fridolina Rolfö has joined Primera Iberdrola champions FC Barcelona on a two-year deal ahead of the 2021/22 campaign.
She left Sweden and Linköping FC back in 2017 after having won the Damallsvenskan. Together with several other players such as Pernille Harder, Magdalena Eriksson, Jonna Andersson and Claudia Neto, to mention a few she was a part of great success with Linköping.
Since then, Rolfö has had success both at an international level with Sweden and in Europe with German clubs FC Bayern München and VfL Wolfsburg. She scored the winning goal against Barcelona in the semi-final of the Champions League back in 2020 and now she has signed a two-year deal with the current title holders.
"THIS IS BIG DAY FOR ME," Rolfö wrote on her Instagram account.
Rolfö established herself as a key player from Sweden's senior national team back in 2014. She was a part of former head coach Pia Sundhage's squad that got the silver medal in the Olympics in Brazil back in 2016.
In current head coach Peter Gerhardsson's national team she's no less important. Rolfö is used both as a winger on the left-hand side and as an attacking midfielder with the role of a playmaker in Sweden. With great ball-carrying abilities, shots from her left foot and her strong aerial quality, she is consistently a threat in the middle of the park. It's no surprise that Rolfö is among those selected to go to Tokyo with Sweden later this summer.
Rolfö has 50 caps for her country and has scored 14 goals thus far.
In Linköping during her three seasons with the team, Rolfö scored 16 goals and made 9 assists. At Bayern and in the Frauen Bundesliga although she has had some bad luck with injuries – she managed to prove herself worthy of playing on the biggest stage in Europe. The Swede hit the back of the net 27 times during her German league stay: 18 times for Bayern and 9 times for Wolfsburg.
With Bayern, she never won titles, but joining Wolfsburg resulted in both the Cup and the league title last season. This last season with the Wolves she had to see her former team lift the league title trophy while Wolfsburg collected their 7th Cup title in a row. Rolfö reached the Champions League final with Wolfsburg in the 2019/20 campaign but had to see the giants from France, Lyon win the title once again after a 3-1 loss.
Rolfö explained to SVT Sport why she joined Barcelona: "I wanted to try a new league and a new football culture which I think will differ quite a bit from the German style of play. Hopefully, I can develop even more; both as a player and person."
"This is an incredible team. I believe and hope that this will give me the opportunity to win titles. I also believe that I will fit into their system of play even if I think I might differ a bit from their type of players but I think I will provide much to this team."