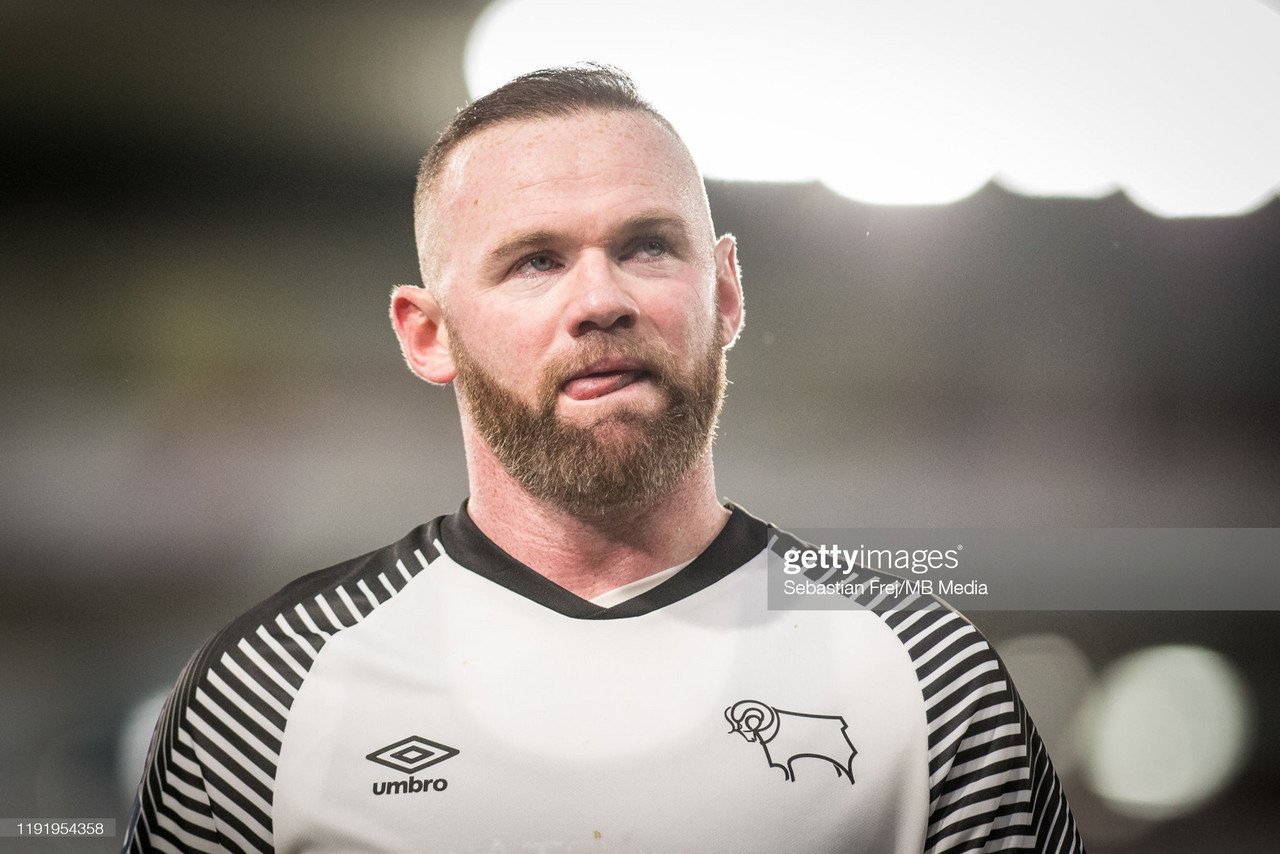 Wayne Rooney arrived at Derby County to massive fanfare. Signed in August 2019, Rooney couldn't actually play for the Rams until January due to his commitments to finishing the MLS season with DC United, but when he did arrive he certainly made an instant impact.
Slotting in the centre of midfield in a diamond alongside Jason Knight, Duane Holmes and Max Bird, Rooney controlled the game for the full 90 minutes. He created a plethora of chances, with one eventually being taken by Jack Marriott, as Derby won 2-1. Derby fans were wondering if this was a sign of things to come, and it certainly was.
Rooney's calming presence alongside Bird sparked a remarkable run of six wins, three draws and three defeats in 12 games. This is remarkable primarily because Derby had managed only seven wins in their 25 previous games that season.
However, after Derby's 3-0 mauling of Blackburn Rovers, everything fell apart. The COVID-19 pandemic put the football season on hold for over three months, and Rooney struggled to retain his fitness and physique during the lockdown period.
Images were released by Derby of a training game in early June, with Rooney looking much larger than when he was last seen in a Derby shirt. Whispers that Rooney hadn't trained at all over lockdown spread across social media, with many believing that Rooney had given up on keeping himself fit entirely.
Despite this, Derby actually continued their superb mid-season form on the return of football in late June, with Rooney managing to get on the scoresheet with a fantastic freekick against Preston North End. With three wins on the bounce, it looked as if Derby would kick on and push for a late play-off place, but that couldn't have been further from the truth.
Derby went on to lose four games in a row, and Rooney's form never recovered. His lack of fitness started to cost him as games began to pass him by, leaving young Max Bird isolated in the centre of midfield. Errors started to creep in, with unforced errors against Brentford, Leeds United and Birmingham City triggering alarm bells among Derby's fanbase.
Derby ended the season with a win, and the short break before the next season should have left enough time for Rooney to regain his fitness right? Well, Rooney looked the most unfit he'd ever been when he returned to league action at the start of September.
Injury had plagued the majority of his pre-season, and he returned only as a substitute in an opening day defeat to Reading. Despite his best efforts, Rooney just looked massively off the pace, epitomised by his three mistakes leading to goals in a 4-0 defeat to Blackburn Rovers.
Rooney's role changed throughout his final 13 games as a footballer, with Derby reluctant to play him in midfield due to his lack of fitness. He made a number of appearances as either an attacking midfielder or a striker and did manage a single goal, a freekick against Norwich City.
However, aside from that freekick, Rooney's brilliance was fleeting. A player who looked like arguably the Championship's best back in March had declined into one of the divisions worst in the space of just six months.
After his impressive form early on, it's hard not to wonder what Rooney could have achieved with this Derby team without the COVID-19 pandemic. He registered three goals and two assists for Derby in just 11 games before the pandemic, managing just three goals and one assist in the 22 games following.
In conclusion, a combination of a lack of fitness and injury were the main causes of the dramatic decline of one of England's greatest ever players. A sad end to a career that yielded so many incredible moments, an abundance of titles, and hundreds of goals.
As manager of Derby County, Rooney has a tough job on his hands to keep Derby in the Championship this season. Derby are dealing with EFL sanctions, a takeover and an embargo all at once, leaving Rooney with little maneuverability in the transfer market.
Rooney has a difficult task on his hands, but with the experience he's collected throughout his career, he has a real chance to make a name for himself as manager of Derby.
Can Rooney keep Derby in the Championship? Let us know in the comments.