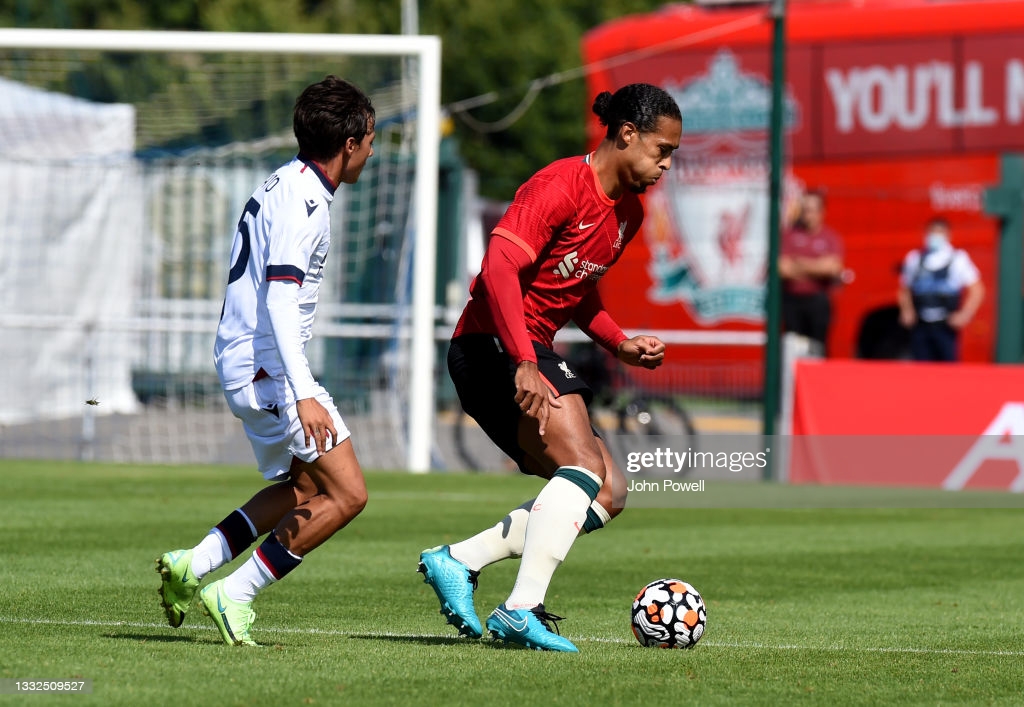 It was a very positive first half from Liverpool, who played with a good intensity throughout the opening 30 minutes. The Reds looked sharp and made good use of their regular movement patterns, like building from the back and overloading the wings. There was plenty of attacking play and Liverpool looked very dangerous in attack.
They were rewarded with two early goals due their high pressing, forcing the Bologna defenders in to mistakes. Diogo Jota scored Liverpool's first goal in the 7th minute. He won the ball back just outside of Bologna's half due to Liverpool pressing high and in numbers. From there, he cutely dribbled past a defender and calmly took his chance.
Bologna struggled greatly when Liverpool pressed them. This was in a similar vein to how Norwich struggled in the opening game of the 2019/20 season. Jurgen Klopp could be using this game to drill high pressing in readiness for the opening game of the season in nine days' time against the Canaries.
Liverpool scored their second goal of the game in the 13th minute. Sadio Mane was the player to benefit from a Bologna defender gifting the ball away. Mane was composed and dribbled past the goalkeeper, before putting his effort away through the legs of the oncoming defender.
For the remainder of the second 30 minutes, Liverpool continued to press well and created other chances to score, but failed to take them.
Minutes under the belt of van Dijk
It was a landmark game for Virgil van Dijk, making his first start for Liverpool since the injury he suffered against Everton 10 months again.
It was great to see him back in a Liverpool shirt and this game was good progress from playing 15 minutes in the previous friendly against Hertha Berlin.
He played around 40 minutes, before being replaced by Rhys Williams.
All told, he and the defence did not have a great deal to do during this game as Liverpool dominated possession. However, it would have been extremely important for him to get more minutes under his belt and get used to playing in the shape again.
As expected, Klopp and the medical team are managing his minutes. It will be interesting to see how many minutes he is given in the next game, with making it through 60 minutes of play probably being the next milestone for his comeback.
Elliott in midfield
An interesting talking point seen in the game was Harvey Elliott playing in midfield.
He was given a free role and often drifted into the wing positions and also into a more central forward role when there was space to move in to. Elliott had a positive game and was a constant threat for Bologna. He had a number of chances at goal but couldn't quite get himself a goal.
It will be interesting to see whether Elliott plays in midfield in the future or if this is merely to give the youngster minutes with the team.
Elliott played 50 minutes before being replaced by Ben Woodburn.