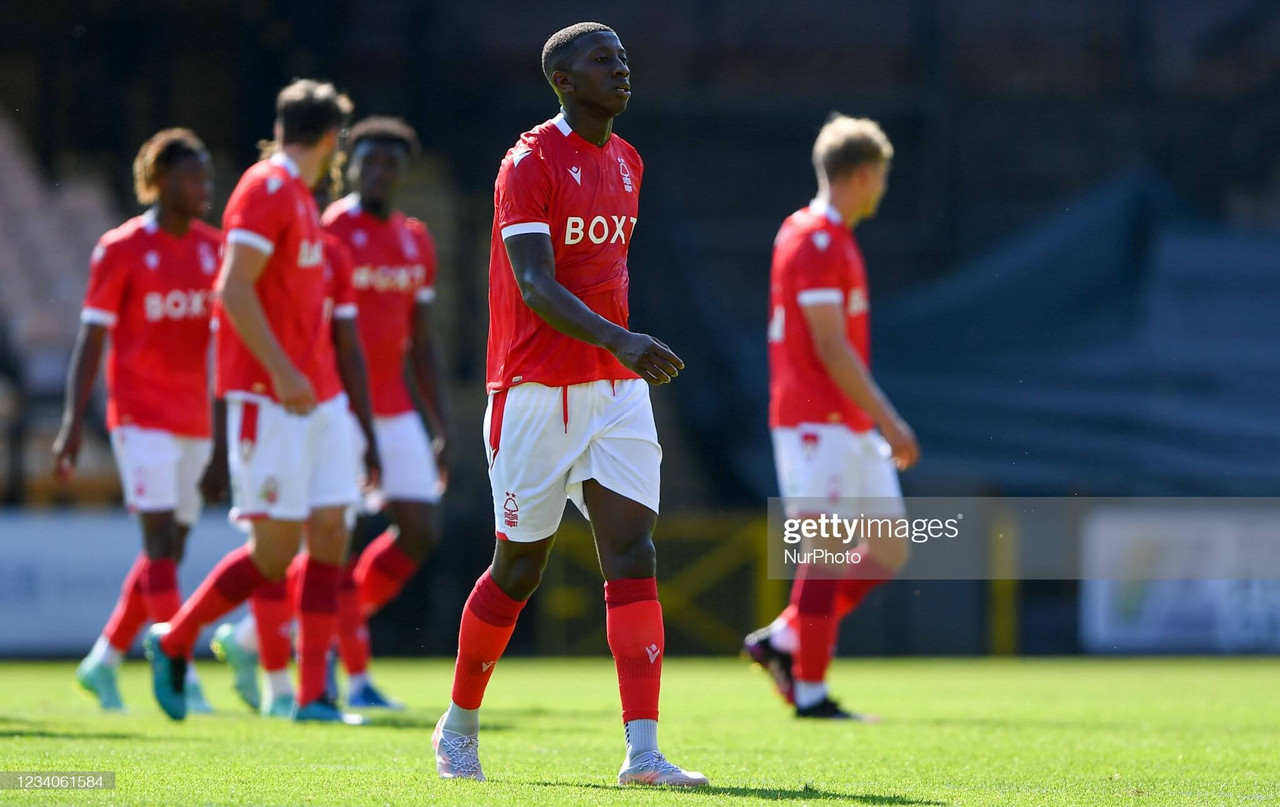 On a night that saw as many as seven Nottingham Forest academy graduates start in the first round of the EFL Cup, the performance of returning loanee Tyrese Fornah caught the eye of everyone in the City Ground.
It's quite hard to believe that Fornah pulled on the Garibaldi red for just the second time last night, after such a commanding and complete central midfield performance.
The 21-year-old left the City Ground pitch following the victory against Bradford City with the man of the match accolade, but most importantly a huge smile on his face following a performance much more mature than his years and experience.

Big ambitions
When speaking to Tyrese post-match last night, he spoke so confidently and positively, which was refreshing to hear. After a dazzling performance in the centre, Fornah is looking ahead with big ambitions on Trentside.
"I'm ready for whatever comes my way, nothing phases me because I know that this is what I was born to do, this is my destiny to play for the club I love. There's no other club I want to play for other than Nottingham Forest, today is such a dream and I've been waiting so long for this opportunity."
After a successful loan spell last campaign at Sky Bet League One side Plymouth Argyle, Fornah reiterated his desire to be apart of manager Chris Hughton's plans this season and battle for the shirt.
"The loan was an experience, building my character. I'm so grateful to Ryan Lowe for the trust he had in me.
"I want to be the main number four, six or eight in Chris' team and that's what I'm back here to do." For me, I'm not looking for another loan, I've done Plymouth. The gaffer knows what I want, the club knows what I want, so for me I just have to perform in games like this and let my football do the talking."
A plethora of academy graduates made up Hughton's starting lineup last night, as he made 10 changes from the Reds opening day league defeat to Coventry City and Fornah relished the opportunity to play alongside his teammates that he's grown up with.
"A lot of the boys that started today, I've played with them growing up in the academy, so it's the stuff of dreams really - this is what it's all about"
Man of the match display
After being announced as man of the match, Fornah was grateful for the coaches involved at the Nigel Doughty Academy, who headed by Gary Brazil, have produced some extraordinary talent over recent years.
"During the match, I saw I was man of the match and I couldn't believe it. I'm really humbled and grateful for the journey I've had as a player, the journey I've had here coming through as a young lad and I'm so thankful to every coach in the academy that's helped me get here today.
"They're all top people, they really care about us and for them this is what it's all about. They just want to see us down here playing regularly for the first team and hopefully with performances like tonight I can get more chances."
For a youngster that has played the lion share of his games behind closed doors during the global pandemic, stepping over the white line in front of the crowd could've served as a daunting prospect, but Fornah relished the opportunity and stayed calm.
"It's just confidence", he said.
"When you get your first few touches it can be quite nervy with the fans, but once you've settled down after 10 to 15 minutes you get comfortable. If you can't handle it here, when can you handle it?
"I've played games here at the City Ground before, maybe not with the first team but with the academy, so I'm used to the surroundings and settings here, so I felt really comfortable at home."
With a number of experienced midfield faces on the books at Forest already, and the likelihood of further additions this summer transfer window, Tyrese remains focused with a professional attitude, whilst training hard to impress Hughton.
"All I can do is give the manager a headache with performances like that, and let the rest do the talking for itself.
"The manager picks the team, but if he doesn't pick me then I keep my head up in training, I work hard, I fight hard and hopefully I'll get that chance.
"I need to let my football do the talking, believe in myself and not go out there and be shy. This is a platform for me, no stage and no amount of fans scares me. I know what I need to do on the pitch and I'll try do that to the best of my ability."
Fornah concluded his post-match thought towards Derek Adams' Bradford side, who put up a valiant effort on the night but fell to a 2-1 defeat.
Forest face a more stern test in round two now though, as they welcome Premier League outfit Wolverhampton Wanderers to the City Ground.
"Tests like this today, it was never going to be easy - against a Bradford side who really came at us in the first and second half. As boys, we've got to be men. We can't be considered as boys on this pitch, so we had to fight and dig deep, which we did."