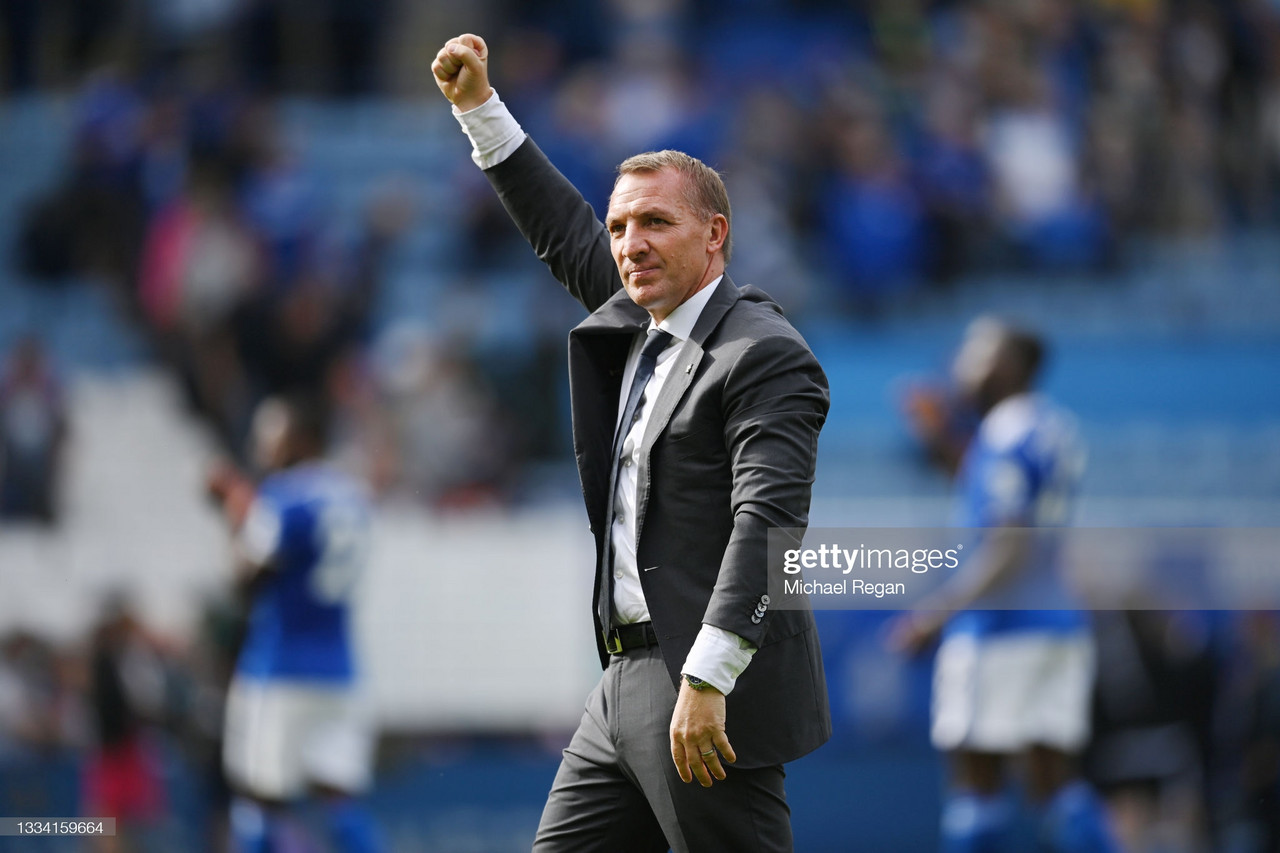 Leicester City beat Wolverhampton Wanderers yesterday in their opening game of the new Premier League season.
Jamie Vardy scored the only goal of the game in the first half with a smart finish, after some exquisite trickery from Ricardo Pereira.
It was the first time that there was 30,000 fans in the Premier League for the Foxes in over 500 days. The day was special for all kinds of reasons.
Brendan Rodgersspoke to BBC Radio Leicester...
Leicester were on form in the first half, but in the second half they seemed to have a lot more pressure on them, when Rodgers switched to the wing back system with three centre halves, Wolves looked to turn up the heat, and had a goal ruled out for offside too.
The boss had his say: "It was a fantastic win, really enjoyed it. First half we played some great football, there were a couple of moments on the counter we need to look at.
"But defending like we did shows spirit. The fans looked and sounded like they enjoyed it, we did as well."
Vardy scored the only goal of the match... and what a goal it was too.
Rodgers was fond of the movement: "It was a sublime finish. IT was a great piece of skill by Ricky P and then to pick him out... Jamie's work rate, intensity and threatening - he was excellent.

Ricky does brilliantly on the side. It was a great piece of skill, cuts in, makes the cross and it's a great finish by Jamie."
The last game that there was 30,000 + fans down Filbert Way was all the way back in March 2020 when the Foxes beat Aston Villa 4-0.
Rodgers said: "For us all to connect with fans again was important. Home form was ok last year but for me the difference today was supporters.

"They got us over the line. The atmosphere they provided, the encouragement, a big thanks for that. Let's get ready for another exciting season."
James Maddison took a knock in the first half and came off in the second...
Rodgers reassured the fans: "He took a whack on his back. He was moving okay but I felt we needed more energy. He will get some treatment and we'll see how it is."
Ryan Bertrand was also missing from the squad, which fans were shocked by considering he had been so good in pre-season, and at Wembley last weekend.
Rodgers said: "It was unfortunate. He had a lateral flow test that showed he was positive. I just need to get more information from the guys. But Luke came in and he was absolutely brilliant."
Jannik Vestergaard made his debut for the Foxes after he came on in the second half..
Rodgers was happy with his cameo: "Jannik, I said to him: 'Can you come on the bench?' He hasn't hardly trained, he's only been back for about 10 days at Southampton, I said: 'Maybe give us five or 10 minutes at the end of the game?'.
"He came in and you saw he turns the defence into attack very quickly with his quality of passing, and he was obviously good for us in the air as well."
Ricardo seemed to be back to his old self too, after his ACL injury that kept him out of action for a long time.
Rodgers said: "He's looking back to his best. Over the end of last season it was tough for him because he knew what he wanted to do but he wasn't physically at the level to do it.
He's getting his legs back."