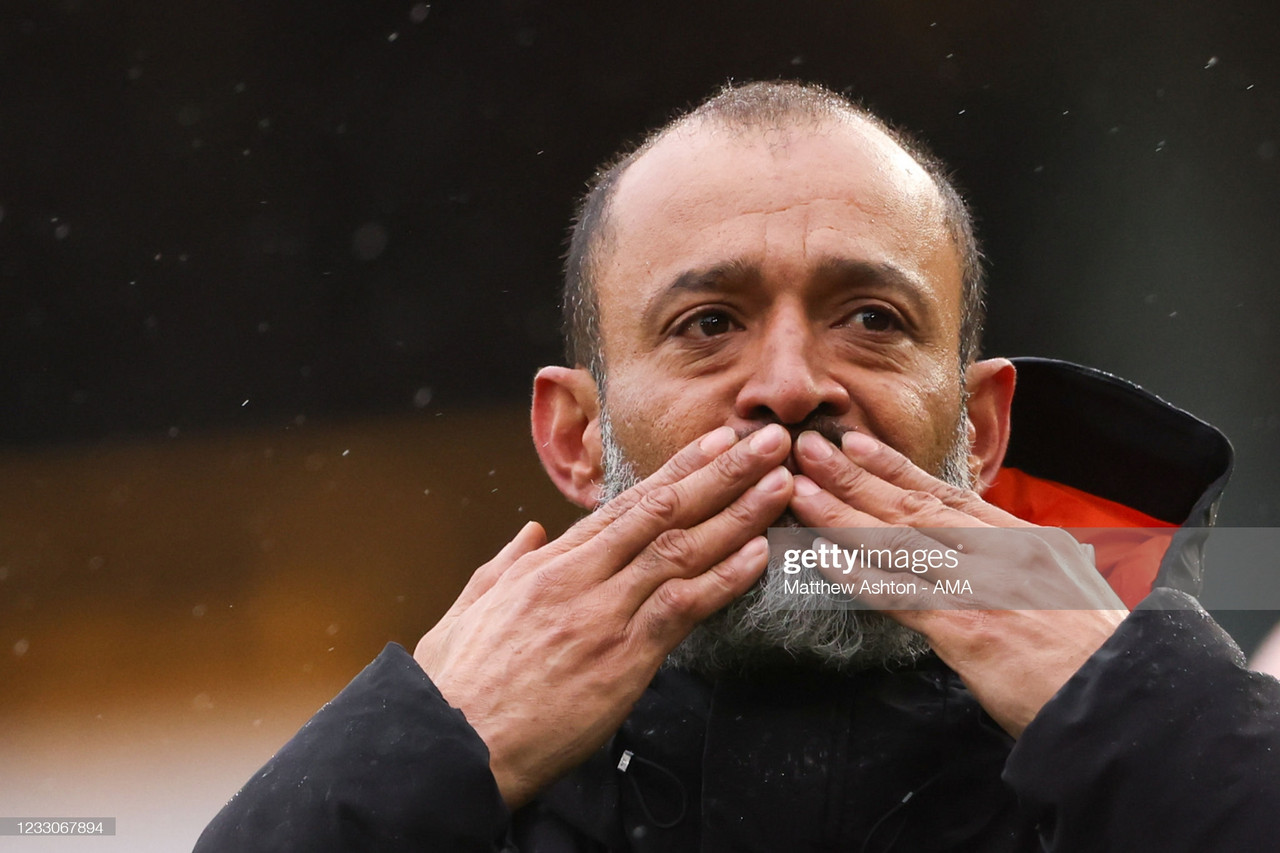 The pre-match buzz surrounding Wolverhampton Wanderers' fixture against Tottenham Hotspur will inevitably revolve heavily around the return of Nuno Espirito Santo.
Santo departed Wolves after four seasons filled with joyous occasions: an emphatic promotion, a succession of seventh placed finishes, and a European campaign; his legacy will stand as a veritable pillar in the upper echelon of the clubs history.
And now he returns. His second match since he bid an emotional farewell to the Molineux faithful three months ago; as he steps out onto the pitch he adores he will be applauded by an endearing fanbase.
However, now he stands in the dugout of the opposition.
Bruno Lage - Wolves' new head coach - will be eager to earn his first victory against the man he has replaced, and a good result will indeed be implored after falling short to FA Cup winners Leicester City in his maiden match.
Stylistic contest to ensue
With Santo's return to Wolverhampton imminent there will be an edge to proceedings - and the match up will be enticing, with both sides capable of victory on the day.
Santo's defensive pedigree was evidenced once again as Spurs defeated reigning champions Manchester City on Sunday; there was a fortified discipline to the clubs game that was reminiscent of his era in Wolverhampton.
In the forthcoming affair, Tottenham will likely attack more freely against Wolves, who do not possess the same wealth of offensive talent that City do.
That is not to say that Wolves can't clinch an excellent victory, and the cohesion and confidence will be building over the coming weeks as Lage's new system integrates.
A new approach
Although Wolves were defeated by Leicester last Saturday in Lage's first competitive fixture there were still plenty of promising takeaways that his squad can rally upon.
Under Santo's tutelage Wolves were a solid outfit: sturdy, resolute and capable. What you see is what you get, kind of thing.
This largely came at the expense of free-flowing and 'positive' football, and Lage has intended to refashion the mould; more appealing on the eye, abiding by the adage: "Offence is the best defence".
There were certainly glimpses of this new playing style despite the 1-0 defeat - Wolves managed 17 shots in the match, although only three found the target.
It's important to remember that Wolves faced the Foxes, an established outfit with attacking potency in abundance; a result would have been an excellent thing, but there were still plenty of encouraging takeaways.
It is optimistically hoped that such fortunes will indeed sway in Lage's favour, and over time a refined clinical edge will bear the fruits of the Portuguese's labour.
Trincao and Traore to prove the difference?
It is imperative that certain players in Lage's squad improve on clinical ability, composure in key moments, and match intuition in order for this new system to thrive in the division.
Adama Traore and Francisco Trincao - both immensely talented and previously on Barcelona's books - can serve as effective focal points in Wolves' swift offensive transitional play, especially in the absence of the injured Pedro Neto.
Like so often, Traore served as then talismanic force behind his teams offensive manoeuvres but failed to deliver in the decisive moment, this will need to be rectified and could be refined by a more attack-minded coach.
Santo will undoubtedly be prepared - he nurtured this crop of players over the past four years. But equally, the players know the manager, they know his intricacies and will be raring for the chance to secure what would be a magnificent victory.