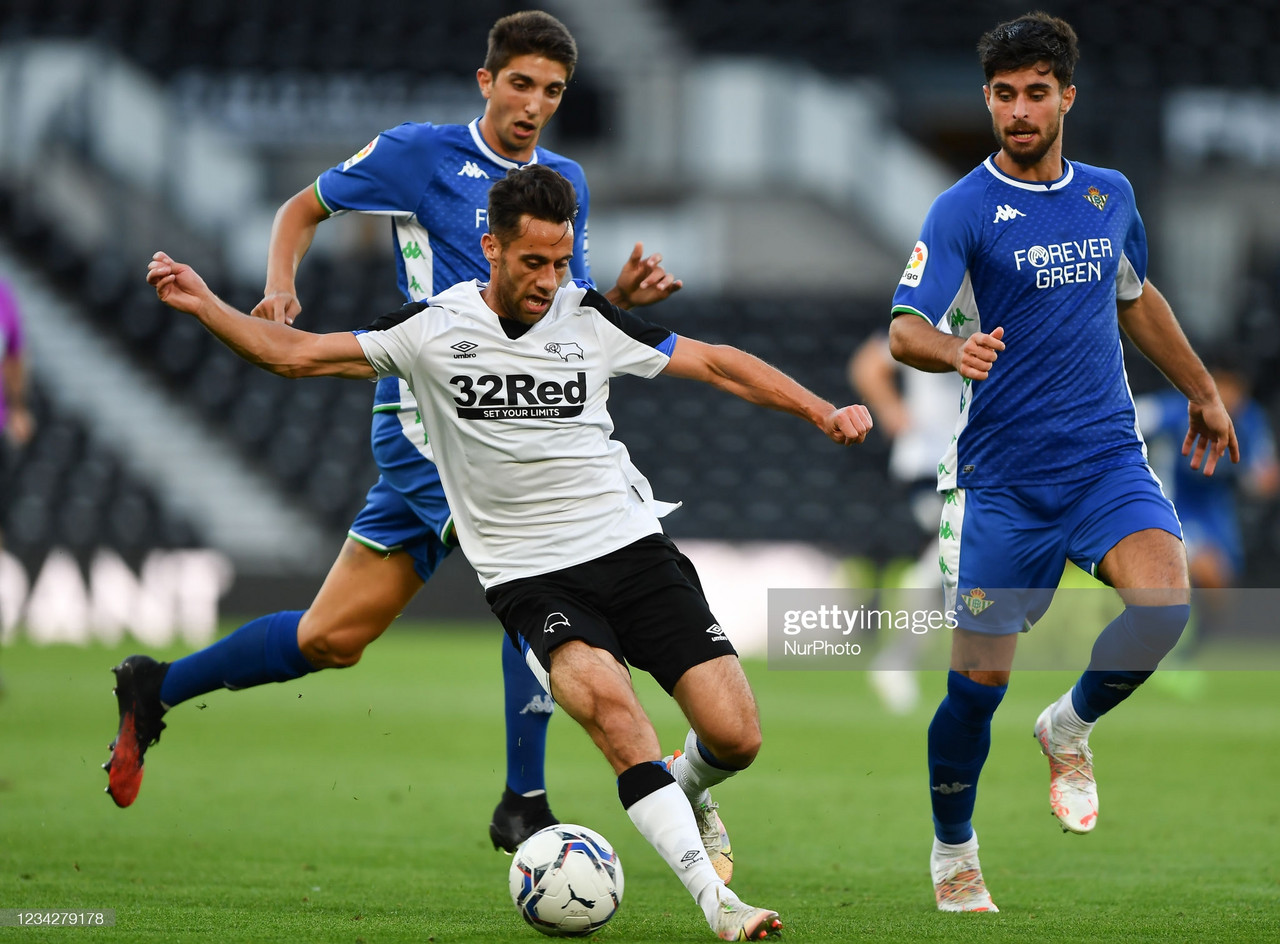 Derby's 1-0 victory over Hull City was a long time coming. It had been over six months since the Rams had last tasted victory on the road, and the performance was probably their best in this calendar year. Despite this, Derby did manage to grind out a convincing result against the Tigers, with new signing Sam Baldock bagging the winning goal.
Just a day prior to the game, eyebrows were raised when Derby announced the signing of Baldock, alongside veteran defender Phil Jagielka. The 32 year old hadn't scored in over a calendar year, and with the loss of Colin Kazim-Richards on Saturday there was justifiable concern over Baldock's ability at this level. However, he got off to a dream start, and seemed to add a completely new element to Derby's style of play. But how did this affect the Rams?
Colin Kazim-Richards isn't the quickest player around, and his acceleration often holds him back in goalscoring situations. Baldock doesn't suffer from such problems. The dimunitive striker was quick off the mark all evening, and his movement and reactions were what created the chance for the winning goal, reacting quickest after the ball was spilled by the goalkeeper.
Baldock's pace off the line was useful in tight spaces, often helping him to combine with Kamil Jozwiak and Louie Sibley, creating a number of chances in the first half that could have put the game to bed. This is a quality which Derby have lacked for a number of years.
Defenders hate running back towards their own goal, and Baldock is an expert in getting them into those situations. On a number of occasions, most notably from passes from Ravel Morrison and Max Bird, Baldock made central runs into the space, pulling the centre halves out of position.
These runs don't just create space for Baldock. His run in the first half opened up the space for Kamil Jozwiak to run in behind, with his effort incredibly unlucky not to hit the back of the net. Jozwiak and Sibley benefited from this on numerous occasions, targeting the holes in the Hull back line created by Baldock.
Last season, Max Bird and Graeme Shinnie struggled with progressive passes, with the pair both averaging under five per game. However, with Baldock up front the midfield duo now have an out ball, with Derby's number nine a willing runner for almost any ball played in behind the opposition defence.
This relieves some of the pressure from both Shinnie and Bird, as they know they'll always have an out-ball if under considerable pressure. This should also reduce the amount of sideways and backwards passing, as defences will be monitoring Baldock, leaving more space for the three attacking midfielders to move into.
From that Hull City performance, Sam Baldock proved what Derby had been missing for years. Movement. His acceleration, quick thinking, vision and smart finishing helped to completely change a previously pedestrian Derby side.
His presence and style seemed to help get the best out of Jozwiak, with the wide man benefitting from the space created by Baldock, and this made Derby look much more threatening on the counter attack. This is emphasised by Derby managing to create three "big chances", more than they managed in their previous two league fixtures combined.
Iff the Hull performance is anything to go by, Derby fans can look forward to a more exciting style of football from their team, with lighning fast counter attacks and plenty of chances created. A far cry from the somewhat pedestrian football of the 2020-21 season.
If Wayne Rooney can work his magic and set up the team for more performances like that, Derby will have a real chance at staying in the Championship this season.