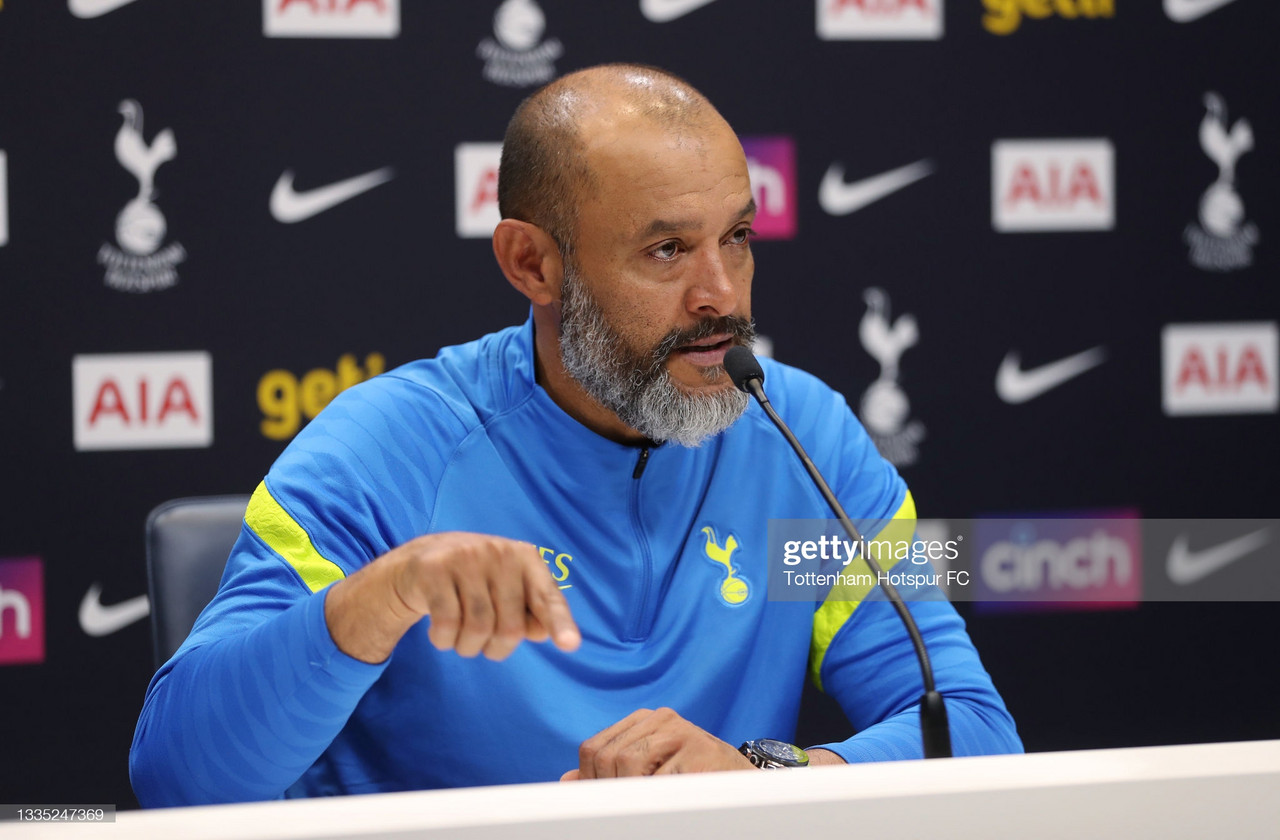 Tottenham Hotspur host Watford on Sunday in a bid to continue their perfect start in the Premier League.
Nuno Espirito Santo's side are yet to concede a goal but Watford, a newly-promoted side, will be ready to give Spurs a tough test.
Nuno faced the media ahead of the Premier League clash.
Here are the key quotes:
Spurs have made three signings this window, and with less than a week left until the window shuts - Nuno was quizzed on whether there will be any more incomings:
"As long as it is open anything can happen. We have to be aware of the situation for all the teams, it [the transfer window] is going to finish on Tuesday. Until then, let's see."
In terms of outgoings, the latest rumour is that Moussa Sissoko is moving to Watford.
Nuno refused to comment on the deal:
"Until the moment, Moussa is a Spurs player. Nothing is done. So, I don't have much to add on that."
Later in the press conference, Nuno was again asked on what transfers Spurs potentially need:
"What we need and what we believe we will keep it between ourselves. We speak, we see, we analyse and then we have to decide. It's not easy to find the right players."
Watford won their opening game against Aston Villa but were disappointing in their last fixture against Brighton. Nuno, however, had nothing but praise for the fellow London club:
"Good team. It's a good team, very intense and competitive. Good players. We expect a tough match on Sunday."
Nuno also gave an update on team news ahead of the encounter:
"We did the recovery with the players that were on the pitch yesterday. We did a good training session today and we are preparing for the match against Watford.
"But Joe [Rodon] is not with us in the group, he still has problems, and Cameron [Carter-Vickers] is the same.
"The rest are available."
Tanguy Ndombelehas not played a minute of football under Nuno. It has been heavily reported that he has asked to leave the club.
When Nuno was asked whether the situation has changed, he simply said:
"No, we speak yesterday and we speak the day before, Tanguy is with us. He's not been an option. Nothing has changed really."
There has been some controversy surrounding the upcoming international break. Some players, including Giovani Lo Celso and Christian Romero, would have to quarantine and therefore miss vital Premier League fixtures.
However, it has been reported that clubs will stop players like this from travelling in order to save them for the Premier League.
Nuno gave his say on this:
"I think they understand the situation. It's natural to understand it. I know that it's not a pleasant situation, all of the players want to play for their countries.
"It's the highlight of their careers but due to the pandemic, they have to stay here. It's just too complicated."