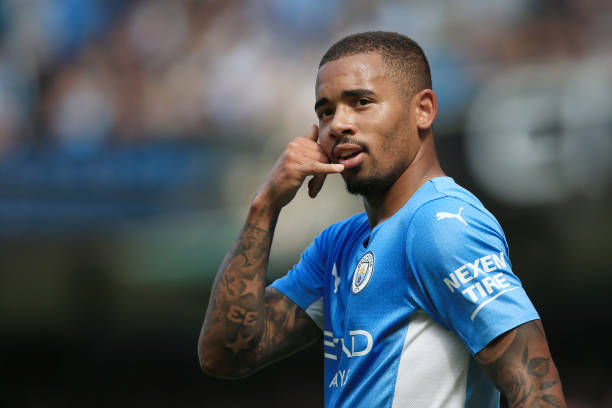 Story of the match
Despite some early pressure from the visitors, Manchester City quickly turned on the style with İlkay Gündoğan powering home a stunning Gabriel Jesus cross.
Ferran Torres added a second just three minutes later. With a little bit of luck, and some questionable defending, the winger-turned-striker was unmarked to tap the ball in at the back post.
What would make things worse for the trailing side? A Granit Xhaka red card. A lunge with both feet at Joao Cancelo gave Martin Atkison only one option.
City's £100m man was in behind once again. No one could bring Jack Grealish down, leaving the Englishman to slide the ball across for Jesus to smash home. Jesus has scored in 43 Premier League games, losing none of them - not a stat that bodes well for Mikel Arteta's Arsenal.
A sweeping Rodri shot then added a fourth in style before Torres' second of the day made it five.
City's striker situation
"Raheem [Sterling] can play striker, Ferran [Torres] can play there, Gabriel [Jesus] can play there, even Riyad [Mahrez] and Jack Grealish can play there," explained Pep Guardiola.
And after his display against Arsenal, it sure seems that Torres might answer City's problems upfront this season.
Citizens were not best pleased after missing out on the signing of Harry Kane and Cristiano Ronaldo, and felt that this season could be a struggle without an out-and-out striker in the squad.
Liam Delap may also get his chance in the first team, especially if the plan is to play winger Torres through the middle.
With an average of 54 minutes per game last Premier League season, Torres was mainly used as a substitute but was still able to record seven goals and two assists.
Torres has hit the ground running this season. He was unlucky not to get on the scoresheet against Norwich City last Saturday and was even more unlucky not to bag a hattrick against Arsenal.
If the club are unable to bring a striker in before the transfer window closes on Tuesday, it seems that Torres may have be getting a lot more minutes.
German powerhouse
It was as if Gündoğan's season had carried on from the last. In 46 games (in all competitions), the midfielder was Man City's leading goalscorer with 17 goals.
After a difficult start to the 2020/21 season, Gündoğan was, arguably, one of the most important factors in City's rise to the top of the Premier League table.
Two against Liverpool. Two against Tottenham Hotspur. Definitely two of his best performances last season. He was unstoppable.
His performance against Arsenal on Saturday earned him the BT Sport Man of the Match.
Could his seventh-minute opener against Arsenal this season be the start of another record-breaking season?
Unveiling of legends
The word 'legend' is used far too often in football nowadays. But that is exactly what Vincent Kompany and David Silva were to the Noisy Neighbours, and to the Premier League.
In 2010, Silva (or El Mago) joined the club and never looked back, appearing over 400 times. In that time, the midfielder racked up 77 goals and 141 assists.
No words will ever describe how good a player Silva was, and still is.
An example. A gladiator. A man for the big occasion. A true leader.
Kompany deserves so much more than just a statue. The Belgian carried the team on his back since signing all the way back in 2008. He gave back to the community in Manchester. Kompany did just as much off the pitch as he did on.
Kompany announced his retirement in 2019, 13 days after scoring THAT screamer against Leicester City to help City retain the Premier League title. So many tears shed for one of City's best ever players.
Both players had a massive part to play in City's history, and were extremely important in a lot of City victories - such as the 6-1 thumping of Manchester United at Old Trafford.