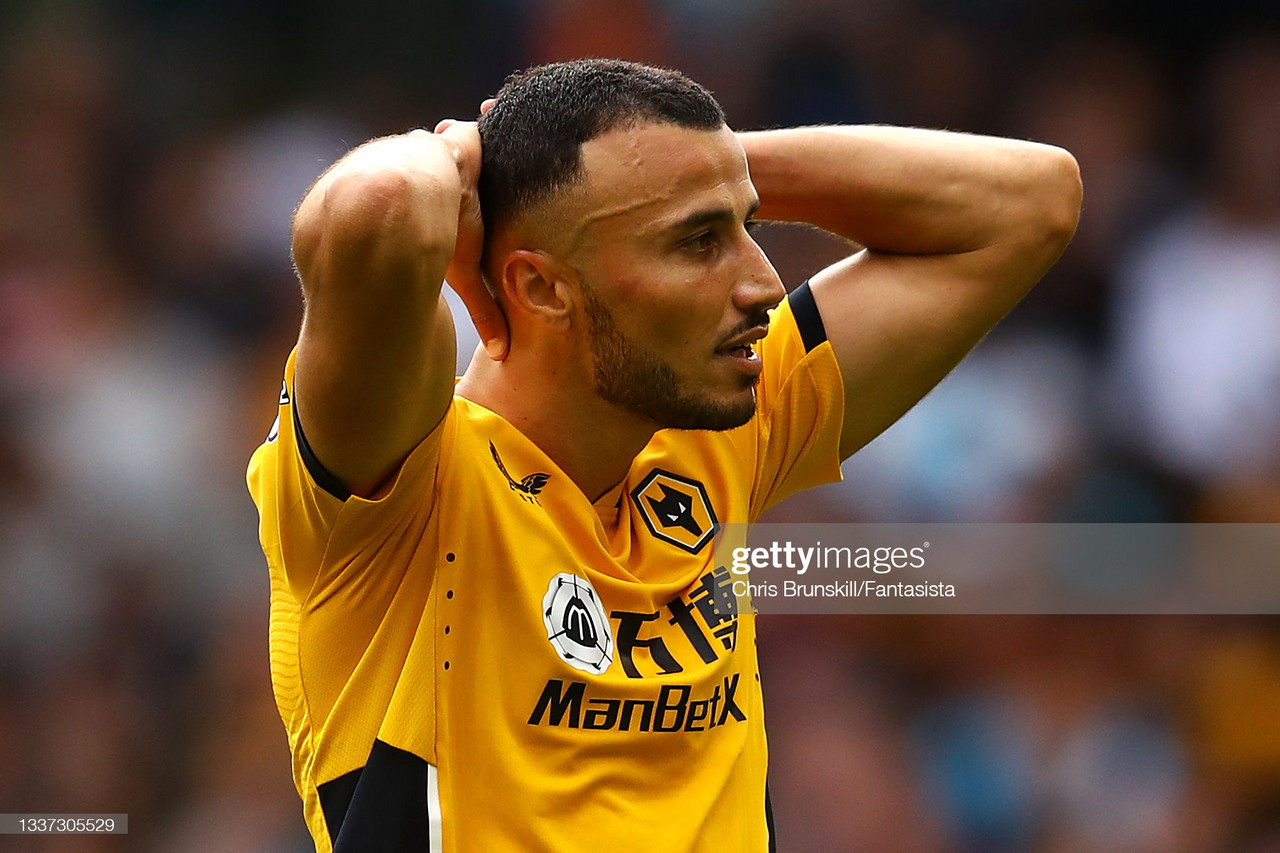 Football's a funny old game, isn't it? Wolverhampton Wanderers have displayed promise and attacking intent across the three games that have been played out since the seasons inception - and Bruno Lage's appointment as head coach.
Well, three games have passed and Wolves have no goals or points to show for it in the Premier League; however, oddly enough there is a somewhat optimistic outlook on the clubs prospects this campaign.
On Sunday, Wolves lost yet again against Manchester United after exhibiting offensive prowess and a newfound ideology, but were felled to the prodigious Mason Greenwood's artful strike late into the second half.
The defeat means that Wolves have lost 1-0 in each of their three games thus far, languishing with nothing to show in the relegation zone alongside Norwich City and Arsenal.
A challenging start
It was never going to be easy for Lage as he commenced life in Wolverhampton; not only was he taking the reins from Nuno Espirito Santo, esteemed and adored by the black and gold faithful, but he had to endure a hapless run of fixtures.
Leicester City, Tottenham Hotspur, Man United. Yes, the Portuguese manager has nothing to show for it, but the performances displayed will surely breed confidence.
Against Leicester, Wolves were the better team in the second half and certainly deserved a point for their efforts. Against Spurs, Lage's men threw 25 shots at a resolute defence, yet came away with nothing.
In the game just concluded, supporters slumped with incredulous dejection after besting United in all the key areas only to depart the pitch with nothing to boast once again.
It's also worth noting that the outcome may be oh-so different had David De Gea not produced a double save to deny Romain Saiss moments before the conclusive goal.
The forthcoming period offers much more to be enticed by, a run of foes consisting of Watford, Brentford, and Southampton evokes confidence when assessing hopes of climbing up the league table.
In fact, the Wanderers do not face an established 'top-six' team until December - a welcome opportunity presents itself for the squad to gain momentum and absorb Lage's tactical strategy.
So yes, life under Lage could have started better, but the signs are promising and there is plenty yet to come.
A stirring ideology
The club are adapting to a flowing, offensive style of football whilst maintaining the Portuguese philosophy instilled into the clubs very core.
Change takes time, and it speaks volumes that the majority of supporters are encouraged by Lage despite languishing at the deep end of the division.
Additionally, with the talismanic Raul Jimenez now fit and starting once again after his detrimental injury last year, one would imagine it is merely a matter of time before he begins firing on all cylinders once again.
Last year, one of the clubs most profound issues was that there wasn't an established figure in the box - this year, Jimenez is back and can bask in an offensive match-plan that has alluded the city of Wolverhampton for some time, albeit to commendable success under the tutelage of Espirito Santo.
Wasteful finishing a familiar foe
A new style can be implemented with all the positive conviction in the world, but attempts will remain fruitless if a clinical edge cannot be unearthed.
Wolves have registered 57 shots so far this season, a statistic bettered only by Liverpool and Manchester City; those sides have six and ten goals respectively. Wolves have zero.
This is no fresh problem, wayward finishing was a major issue last season.
However, Lage's short career in senior management has produced goals in abundance - during his tenure at S.L. Benfica, in the 18/19 season, his side equalled the clubs record of 103 goals in a single season.
Given time, Wolves can become a force that produce swift attacking movements that are capped with ruthless and precise finishes. There is a lot of work to do, but the belief is there.