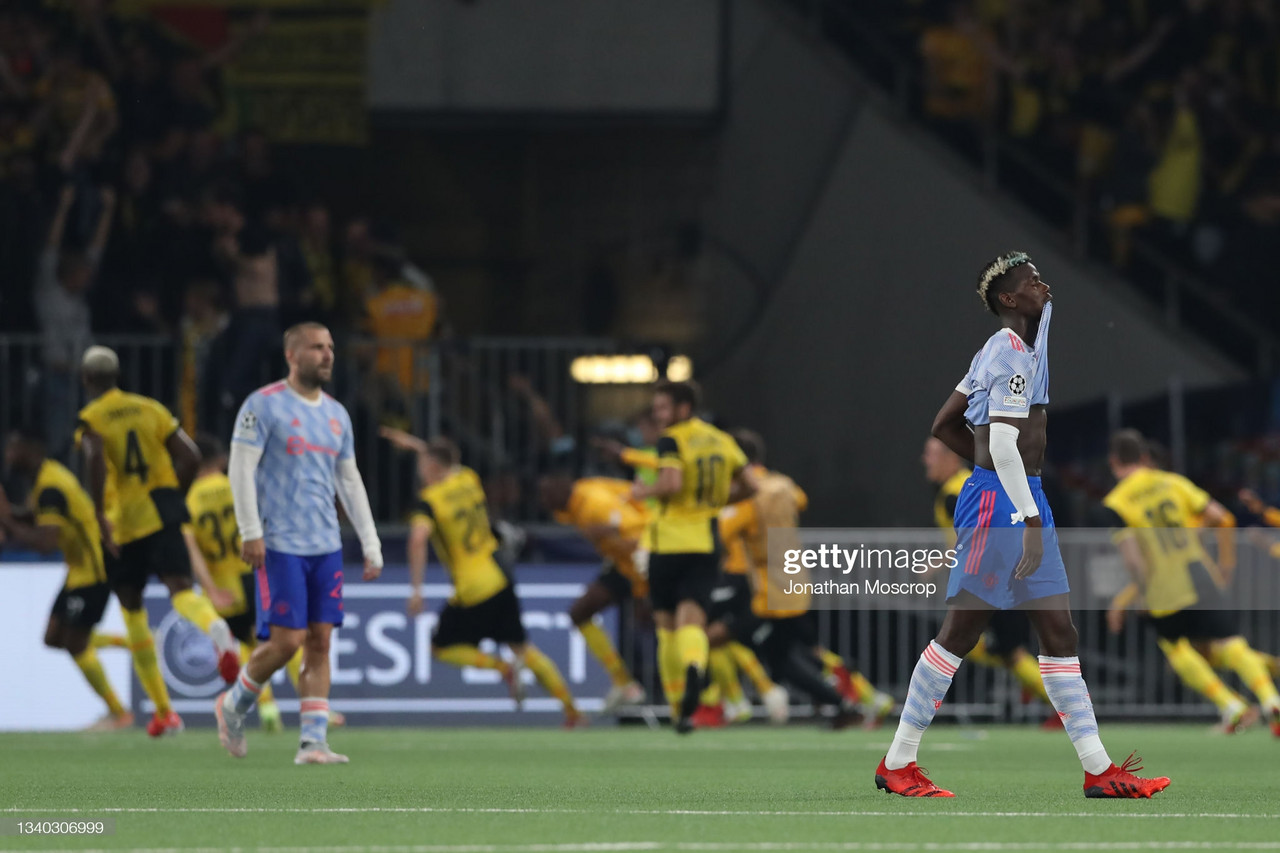 This match will have been circled on the calendar with red pen prior to this season's UEFA Champions League kick-off, with a note saying 'must-win'.
For a side of Manchester United's magnitude, a winning start is always crucial in Europe, but there were too many avoidable errors that saw the Reds fall to a defeat on Matchday One against a resilient BSC Young Boys side.
Though Cristiano Ronaldo got United off to a flying start, toeing home a sumptuous cross from Bruno Fernandes, the sending-off of Aaron Wan-Bissaka put United on the back-foot for the rest of the match.
The second period was too much for the stoic defence to handle, with the hosts claiming two goals - the winning effort coming deep into stoppage time - to upset Ole Gunnar Solskjaer's side.
But with the group only getting more difficult from here, the Red Devils will rue on what could have been with an opening-day defeat.
A sending-off that changed the game
For the first half-hour of the contest in Switzerland, the visitors didn't need to find third gear.
Though Victor Lindelof returned to the first-team and Donny van de Beek won a first start of the season, United were mostly comfortable in possession with only the lack of a settled midfield discombobulating the performance.
Playing on an artificial turf noticeably threw United into a state of quasi-confusion, with the surface banned in England's top four divisions.
When Wan-Bissaka threw himself into a reckless challenge to recover his own poor first touch, referee Francois Letexier had no choice but to brandish a red card, sending the right-back for an early bath.
Wan-Bissaka has had a difficult start to the new season, with a considerable number of minutes over the last four seasons clearly catching up with him in spite of his youth.
Respite was hoped to be offered to the winger-turned-full-back in the form of Kieran Trippier, but the move never materialised this summer. As such, Diogo Dalot was the man to slot into the right-back position this evening after the red card.
For the English right-back, it may be best giving him an extended run outside of the first-team. His dribbling and crossing will be an issue with a demanding Ronaldo now in the box; with Dalot perhaps giving United a better chance in breaking down lesser sides.
The sending-off saw Solskjaer's mentality change to become more defensive, prioritising rigidity at the back rather than pushing for the cushion a second goal would provide.
In such, the attacking output of Cristiano Ronaldo became impotent with the Portugal international isolated up front; taking off Jadon Sancho and Van de Beek early were necessary but did not help United's cause.
Tactical mismanagement from Solskjaer
For Solskjaer, United supporters would rather criticise a player for a defeat rather than the manager - but sadly this one is the fault of the Norwegian.
Stringently sticking to a defensive mentality only works if your whole team can be relied upon - not just your back four (or five, as it later became).
Ronaldo is perhaps the best finisher in the world, but his movement only works when there is creativity around him to perform and as such a quicker and more pressing attacker should have been brought on earlier.
Providing Fred with a partner took far too long as well, and then taking the Brazilian off for Jesse Lingard was a poor move from the manager, given Fred's capability of closing down.
Lingard may have provided United with legs up front, but by the time of his introduction, the Reds had given up on a victory.
There has been talk of a culture change at United and the fact they have signed so many quality players this summer has shown there is still the desire to kick on.
But tonight it was old errors once again; defeats in isolation can be handled but when the same mistakes again become frustrating bordering on maddening.
The Einstein quote rings true here: "Insanity is doing the same thing over and over again and expecting different results." This was a very eerie echo of their trip to Istanbul Basaksehir in last term's competition.
Make no mistake, United will not go down to ten men in every European match they play. But the reaction once they did was concerning, especially with Villarreal and Atalanta still to play: two complex attacking sides that will prove a much greater threat than the one they faced tonight.
The Swiss champions are clearly a good side - they had to win six matches just to qualify for the Group Stage - but they were not exactly a free-flowing attacking side.
United made them look as such tonight, and they were punished for it.