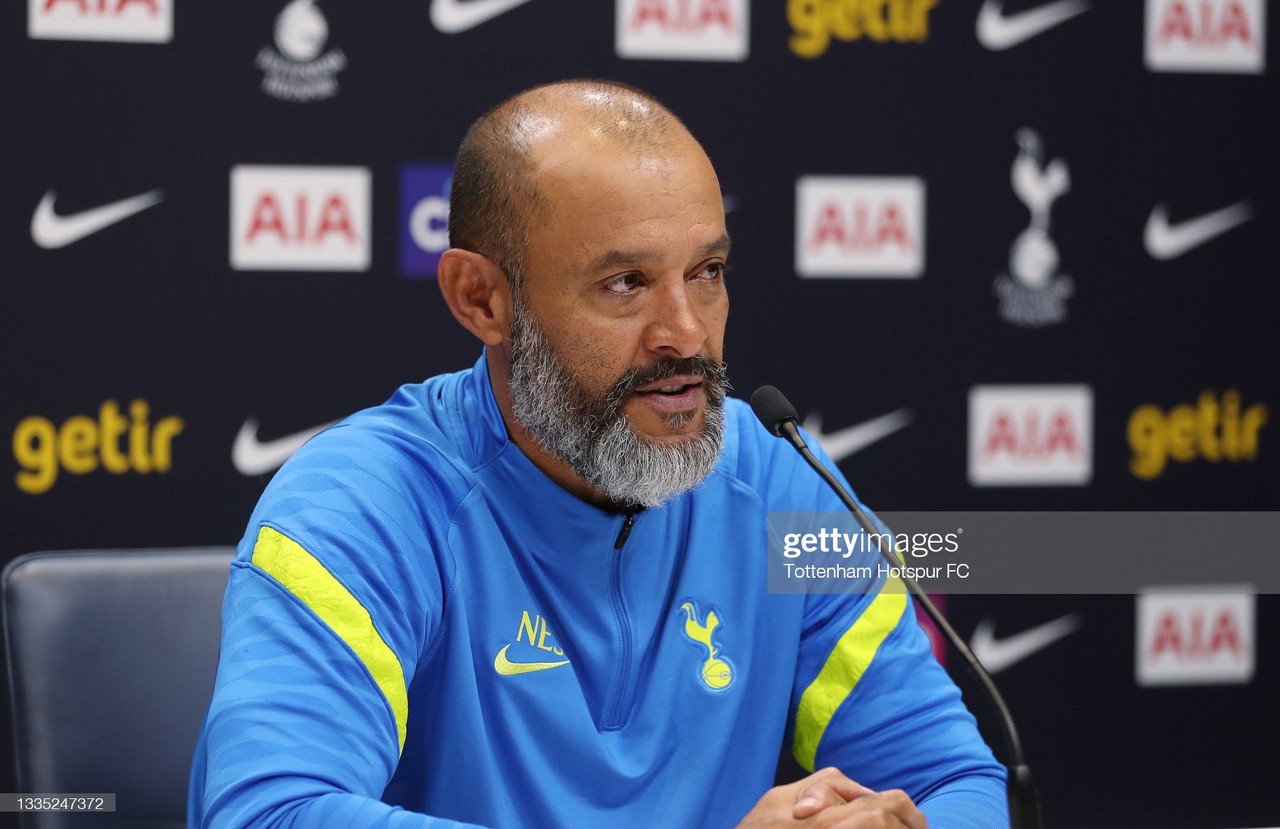 Tottenham Hotspur take on Rennes in their Europa Conference League opener on Thursday evening and Nuno Espirito Santo spoke to the press ahead of the European encounter.
Tottenham had to make it through a two-legged qualifier against Pacos de Ferreira to reach this point and will be looking to top their group over the coming months.
With Spurs having gone over 13 years without a trophy, the Conference League could represent the best chance for silverware under Nuno this season.
However, the Lilywhites come into the away match in France off the back of an embarrassing 3-0 Premier League defeat at the hands of Crystal Palace.
Not only will Nuno want to see his players bounce back, but also make a positive start to their group stage campaign.
In his press conference, he was asked what he learned from the defeat to Palace on Saturday: "That we need to compete better. That we must avoid and minimise mistakes. That it was a tough match that we didn't perform well. That we have to react and play better tomorrow."
On whether his players fell short of his expectations, he added: "I think everybody realises we didn't perform as we wanted, and the first ones who realise this are ourselves.
"I think the best way to improve is when you arrive, analyse personally and are able to identify the things you need to do well. This is the first step to improvement.
"It's up to us. All of us. We give the players our help to try to find solutions to perform better. That's our job. And they have a responsibility to perform."
Nuno was asked about the latest team news ahead of the Thursday evening match, especially considering the absences against Palace. Heung-min Son, Steven Bergwijn, Giovani Lo Celso, Cristian Romero and Davinson Sanchez all missed the game, while Eric Dier went off injured early on and Japhet Tanganga saw red.
He said: "I can tell you the players that did not travel. Son did not travel, Dier did not travel and Sessegnon did not travel. That's the team news."
On whether those three would be available for Sunday against Chelsea, he added: "I cannot say. They are improving, day by day they are better, but alongside the South American players, we still have to assess."
Another journalist also posed a question on how Nuno was going to go about his selection with a big London derby on the horizon: "We focus on our own game. We focus on tomorrow, and we are ready. We're prepared. It's game by game. Each thing at a time. We have to focus on our match [today]."
When asked about Bergwijn, Nuno also revealed: "Bergwijn is better, he travelled with us, he trained yesterday and today, he is much better."
Asked whether Tanguy Ndombele could start, he replied: "All the players who travelled are ready to start, but I can't tell you who because I haven't even told them yet!"
Tottenham have failed to create an abundance of chances in any of their opening four Premier League matches, especially against Crystal Palace. Nuno was asked how he plans on fixing the creativity problems.
He said: "Training, training, spending as much time as we can on the training ground. Preparing the players, trying to find solutions and then give them the support and the confidence to compete and try to improve their performances.
"I don't know any other recipes for success. It's hard work. Hard work and the boys are doing it. They are realising that in football there are ups and downs and what's important is how you react to it."
Finally, talk turned to Rennes themselves and Nuno was full of compliments: "Tough team. We had a chance to see them, and now we're going to prepare the meeting and pass on all the details we can to the players. But we expect a tough match. They're a good team."
On his analysis of the French side, he added: "We looked at Rennes and analyse them as a team from the previous game and the game before.
"We know we are going to find a tough match, a tough team, one that is very aggressive on the pressing, playing at home, we know it is going to be harder.
"We also have a lot of experience in Europe. The past doesn't mean big things now, this is the present and we have to deal with the situation now and Rennes represent a tough, tough challenge for us and we have to raise up our standards."
Tottenham kick-off against Rennes at the Stade de la Route de Lorient on Thursday evening at 17:45.