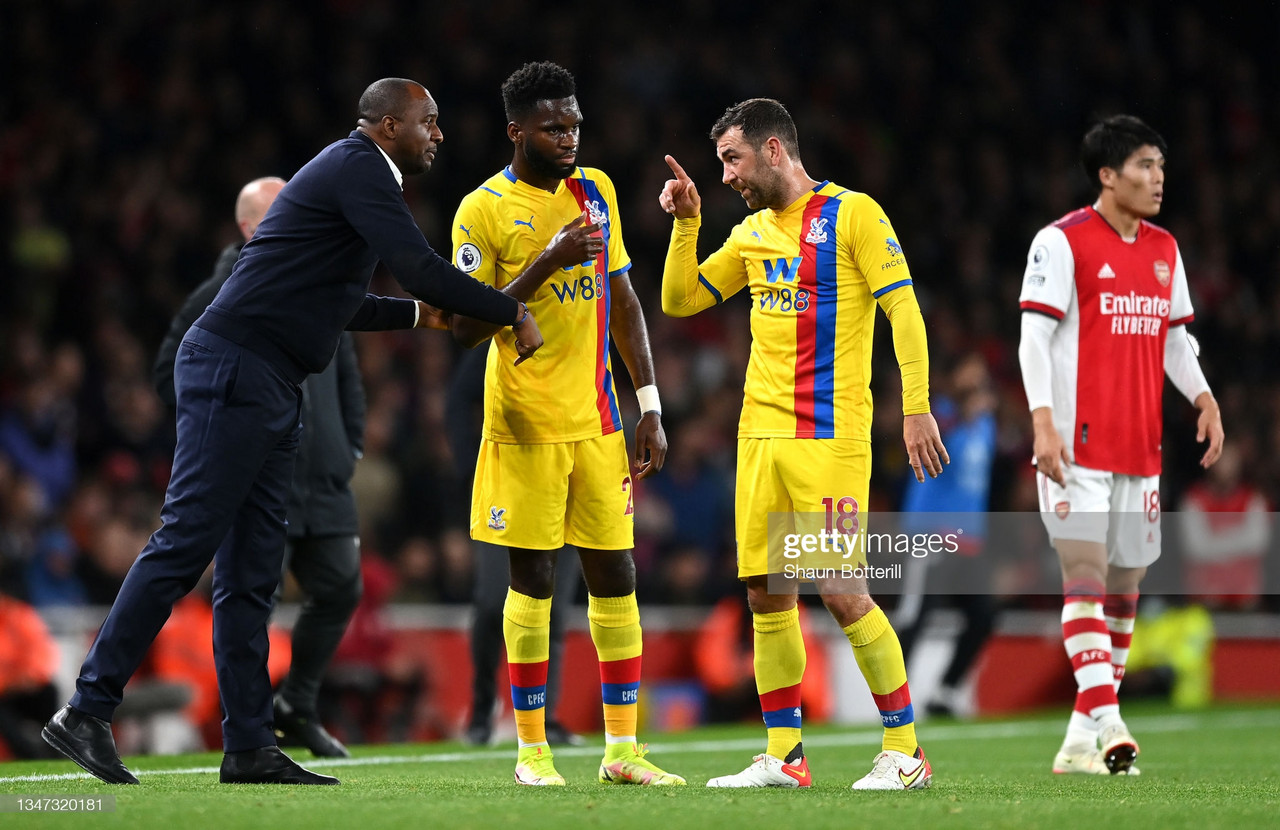 Crystal Palace came into their ninth Premier League game under Patrick Vieira with a weight of expectation for the first time since his arrival to south London on Saturday when Saudi-led Newcastle United visited Selhurst Park.
Eight games had been navigated by the Frenchman in a dignified and sufficient manner, which saw the Eagles maintain a 14th position in the Premier League table. The position in which they finished last season, and the campaign before that for that matter.
In those eight previous encounters, Vieira had shown all the potential to succeed, so a game against relegation candidates seemed like the perfect platform for providing evidence to the overwhelming notion that Premier League fans had laid upon his squad of youthful talents.
Upon the final whistle on Saturday, though, Patrick Vieira could be spotted crestfallen as he watched his side sink to a fourth straight stalemate in the league.
Arguably, it was a fourth consecutive game that the Eagles deserved all three points from.
Christian Benteke had scored twice during the ninety minutes that Palace had dominated, notching 75% of the overall possession stats throughout. But a tug in the box for the Belgian's second meant the target man was condemned to just the one goal, leaving the game 1-1 following a VAR review.
Results are a concern for Palace this season, but unlike previous managers, there is an intangible creed that Vieira will go far with the resources he has discovered during his first project in the Premier League since he called time on his playing career.
Excitement is embedded at the club upon the genesis of the new era
London is entrenched with famous football clubs. For instance, the north is home to the invincibles, and the west operates as a goldmine for more recent triumphs, drawing attention with the newfound Tuchel dynamism at Chelsea.
So that begs the question: Why is there so much excitement filtering through the cracks and crevices of Croydon, a town with little-known significance in the south?
The answer? Patrick Vieira and his exuberant new brand of free-flowing, high-pressing football at the helm of Crystal Palace.
Now, let us not get things twisted; one win since the start of the campaign doesn't by any means show an inconceivable rectification to Roy Hodgson's guarded approach to the beautiful game that exhausted the remaining fumes of Selhurst Park last term.
Palace have suffered from some crushing defeats along the way, losing 3-0 at Anfield and Stamford Bridge alike. They have also suffered from similar headaches to what they would have grown enervated by in the Hodgson era.
Similar goalscoring impotence throughout was a burden at the start, failing to score a single goal in their first three fixtures in all competitions. Additionally, they have endured the amicable affliction that comes with letting results slip out of their grasp.
Crystal Palace are unbeaten in their opening five home league matches of a season for the first time since 1996-97, however, last doing so in the top flight in 1990-91. The trouble is, only one of those was a victory. It is four successive draws and one win from nine in the league this season in total.
Nevertheless, there has to be some reason that The Eagles dare to dream again, right?
Correct.
For many years, Crystal Palace looked inherently confined to fundamental football where a 1-0 defeat would be regarded unlucky and a 1-1 draw would be lauded fair and acceptable. One thing that Vieira has shown in the last three fixtures is that - no matter who the opponent is, a win is the only sufficient scoreline for the reanimated Eagles.
A transparent disparity to former timeworn British managers of old.
Elements of fearlessness and optimism filtrate effortlessly through the club under the new leadership. The introduction of Michael Olise, Conor Gallagher and Odsonne Edouard have brought life to Palace's attacking verve, and old stars such as Wilfried Zaha and Tyrick Mitchell continue to shine, piecing together a bedrock layer that underpins an expectation for success.
A shift in recruitment processes and overall tactical outlooks has conjured an exciting new path for the Croydon club, but results in the near future must change to represent a distinct transfer in fortunes.
Pressure and possession must be turned into points
In his next fixture, Patrick Vieira will be faced with a daunting trip north to the Champions, Manchester City. After that, they are matched against more manageable opposition, playing Wolves, Burnley, Aston Villa and Leeds United
For Patrick Vieira, this run of fixtures that follow the tie at the Etihad Stadium will be coined as another chance to turn their impressive performances into valuable results. Crystal Palace have the foundations to reap rewards, but they must prove it now.
Pressure and possession are two facets of Crystal Palace's game that have been endemic this term. In this league season already, Patrick Vieira's squad have maintained an average possession stat of 50.1% per game, which outweighs last season's 39.9% stat considerably.
Furthermore, Vieira has instilled a fluid football strategy that has seen his team's passing success rate improve by 5% from the last term, exemplifying the shift in positive attitudes from the negative under previous managers.
Now, these stats that typify dominance must be used to convert chances and see out games, something that was shown in the 3-0 victory against Tottenham Hotspur.
Every week, Vieira is asked whether the performance shows how much his team has progressed, even despite the failure to win.
"There is a really good understanding of what we want to do and how we want to do it," was his response after the Newcastle game. "But I want to win football matches," he added, before saying his team needed to be "more clinical".
These are words that become all the more familiar as the week's pass. They now have the players and attitude of a squad that are capable of running away with victories. Even with the criticism of their finishing, they have scored six goals in their last four games, a return that wouldn't hint at a crisis.
It is more to do with the number of chances that the Eagles do miss during a game that has become a topic of disturbance. Jordan Ayew has missed his fair share of chances across the season, and when Palace have gone long periods of games with spells of dominance, they have failed to get that all-important deficit opener.
In the coming weeks, Palace must get the goals that they rightfully should notch and start pulling away from teams rather than waiting impatiently to lead a comeback, or better yet, hold on to one-goal leads.
In the results business, there is still time to convert exciting displays and reward them with good results, especially when your tenure is currently so short-lived. Besides, Crystal Palace have had a tough start to the campaign, playing four of last season's top six in the space of their first eight games, but they have held their own under the new direction of the Frenchman; this is just the beginning.