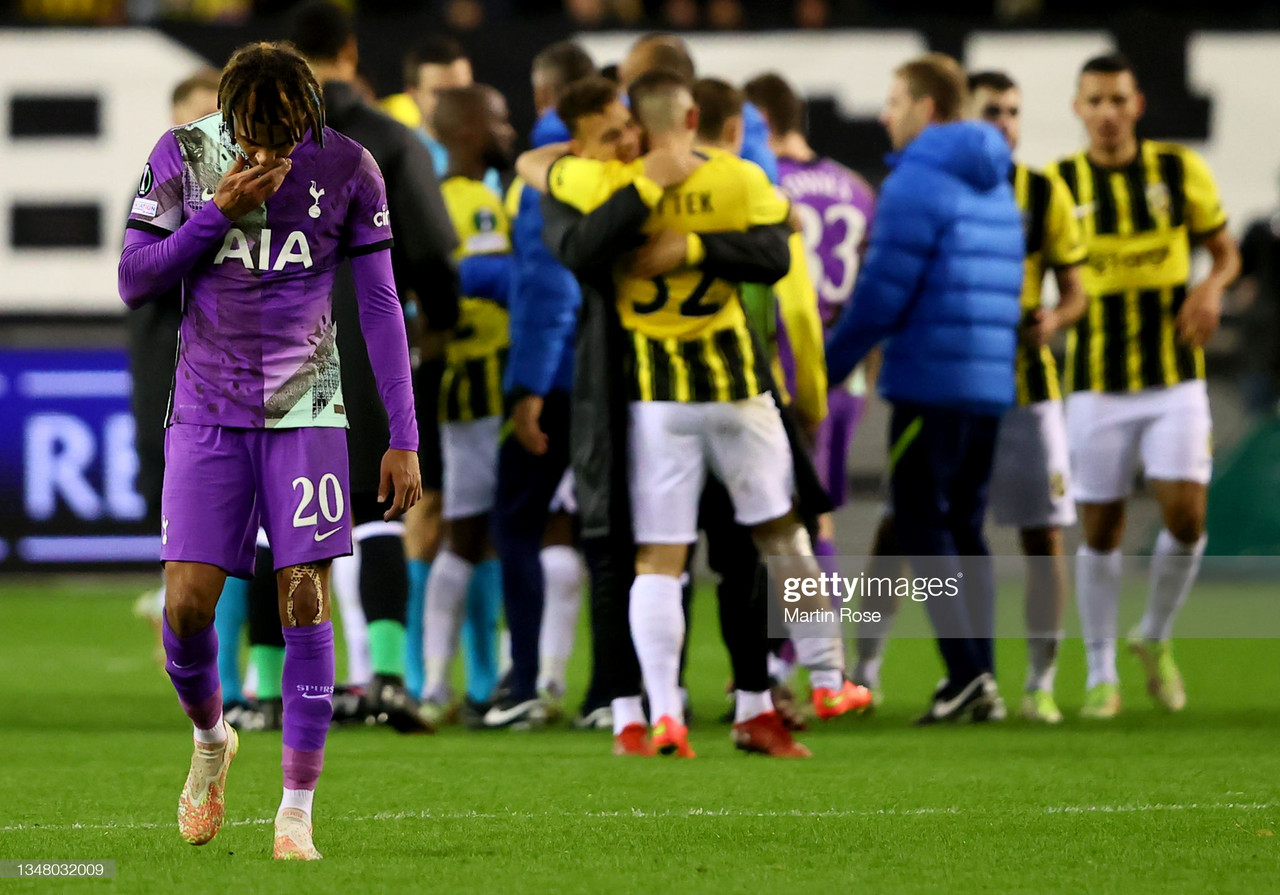 The whole narrative of the evening could've been written a minute after the ball started rolling.
Joe Rodon, after receiving a pass from goalkeeper Pierluigi Gollini, looked up for options while he had the ball in his own box.
He tried to punch a pass into Giovani Lo Celso but got it horribly wrong - shanking the ball straight into the path of a Vitesse striker.
After that, you just knew what type of game it was going to be. That incident came to nothing but what it did was set the scene for the disjointed and grim display.
Little bits of sloppy play like that begin the program: the crowd sniff blood, making the stadium a cauldron of intimating noise, then slowly the opponents start to realise they can cause Tottenham Hotspur's second-string team problems - and they did all evening.
This lack of cohesion and quality is a normal sight when Spurs have the task of playing without their best players, especially away from home in Europe.
Once again, the more fringe members of the squad failed to conjure up anything apart from disappointment.
In the last Europa Conference match, Spurs even needed Harry Kane and Son-Heung Min to finish off Mura: a team currently fifth in the Slovenian league who were formed when Dane Scarlett was eight years old.
It all boils down to the alarming lack of depth Spurs have.
The Europa Conference should be a platform for young players to develop while also a chance for fringe players to knock on the door towards a starting place in the Premier League but all it has done so far has put on full blast how fragile Spurs really are without their crown jewels.
Spurs' best XI, at the moment, writes itself and that is because the backup players once again threw away a golden opportunity.
Same players, same problem
In games like last night, you look to your senior and long-serving players to calm the game and make a difference when it matters - Harry Winks, Dele Alli, Davinson Sanchez, and Ben Davies for example.
All of the players listed above have represented their countries and played in the Premier League for years. They should be stepping up in these games and they're not - it can't keep happening.
Young players like Bryan Gil and Scarlett you can obviously excuse. They deserve a platform where they can thrive due to the stability and balance around them, however, in games like last night - they are set up to fail.
It isn't a new development either.
This was seen last year in the Europa League under Jose Mourinho: a campaign which saw them lose to Royal Antwerp away, luckily draw to LASK in Austria, and well - no one needs reminding of Tottenham's harrowing visit to Croatia.
The ninety minutes in the Netherlands yesterday was just another example of Spurs' lack of squad depth.
None of the players even made you want to see them come off the bench against West Ham.
This is an issue that needs sorting: every top team has to have a good squad, not just a starting XI (even Spurs' starting XI is far from perfect).
How this problem gets fixed is another thing. Do you give the fringe players more time, or just accept they're not good enough?
Either way, it's a bleak situation.